Whew! We made it through another year. 2022 was a bit rocky at times, but I learned so much about other people, as well as myself. This was the year or self-reflection and boundary setting. Also, even though I didn't post as much as I would have liked this year, I was able to enjoy many different experiences. This post is going to be a list of my favorite things and posts, as well as my hopes for future content, so enjoy!
Live Concerts & Fan-Girl Experiences!
I ended up going to a lot more concerts than I thought I would have this past year. There were plenty that I wanted to go to but couldn't, so the ones I was able to attend, I am more than happy with. They were mainly K-Pop experience, but I have to say that the one that sticks out to me the most was seeing Big Krit in New Orleans. I wasn't too far from home, it was a smaller, more intimate venue, and I got to enjoy this artist with my boyfriend.
Check out my Experience Posts Below!
More Online Concerts…
And I can't forget about the online concerts! I basically watched all of BTS' PTD (Permission too Dance) concerts, from Seoul, Los Angeles, and Las Vegas. I was honestly plotting on going to either Las Vegas or Los Angeles, but things just couldn't come together for me. Now, it looks like I'll be waiting until 2025 to see them, because of their current "break" and military enlistment.
But I also got to experience my Favorites, Monsta X, as well, for their Fanclub concert. It was the first time I've got to see this, and it was so great!
Published Youtube Videos!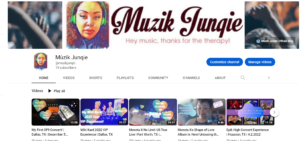 At least I didn't have as many unboxings this year, LOL. I did purchase a lot of albums, and recorded videos for them, but I was doubting myself. After recording those, I just didn't feel confident posting them, so they are still sitting in my video folder. I'm working on doing better and building that confidence in 2023.
For now, though, you can check out the videos that I did post 😊
Check Out My Youtube Page Here!
Favorite Artists/ Albums/ Music from 2022!
Every year, there will always be a list of music and artists that I don't post about. I listen to a lot of music, especially to help me get through the day with work. On top of me discovering things on my own, I have made some amazing, music loving, friends online, who share new artists with me. I hope to do more posts around those recommendations in 2023.
More Music from My Favs!
With my solid favorites Monsta X, Got7, BTS, ATEEZ and KARD dropping new music this year, I was beyond happy. All their music was in heavy rotation for me. I also enjoyed groups like CIX, Seventeen, SF9; as well as some of the younger groups like: P1Harmony, Treasure, TNX, and DKB. Plus, there's always room a little K Hip Hop and R&B in the rotation, so I was also loving the new projects from PH-1, Gemini, and Heize.
Some of my favorite K-Pop Posts!
Some Favorite Solo Projects!
Of course I listened to a lot of K-Pop artists this year, but they have become my "comfort playlists". So when I am in one of those moods where I don't know what to listen to, or some music only agitates me, that's the music I go back to. BUT, I did listen to a large number of non K-Pop artists this year as well, even if they didn't make the blog. They were mainly posted on my IG, but artists like Maurice Moore and Luke Christopher came back with gems, per usual.
Other Favorites!
Getting Back to Emo/ Alt Girl Days!
Because of being on Tik Tok more this year, I found groups like Nightlife and Polyphia. Nightlife being a black punk band, and Polyphia being an alternative/ metal group, brought back a lot of memories for me. I ended up going back to my pre-teen/ teen days of listening to bands like Linkin Park and My Chemical Romance. Plus, I had a lot of fun doing research on this bands and putting these posts together!
Favorite K-Dramas, Anime, & Manga!
I didn't watch as many K-Dramas as I was planning to, my Netflix queue full of unwatched or half-watched series. Binge watching Anime seemed to be more of my jam this year, though; so series like Tokyo Revengers, Jujitsu Kaisen, Chainsaw Man, and Fire Force were fun for me to dive into or dive BACK into in a couple of cases.
One of my favorites is a K-Drama I watched while being out with Covid back in August called Tomorrow. I had been hearing about it for a while, and a good friend of mine recommended it as well. Plus, one of the actors is in one of my favorite K-Pop groups, so I was curious and excited about that. This K-Drama is at the top of my list of favorite K-dramas.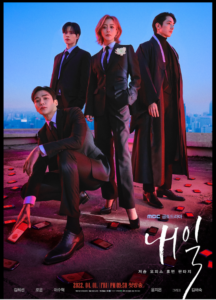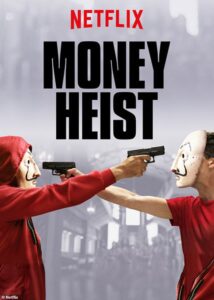 I also watched Part 1 of the series Money Heist – Joint Economic Area. Part 2 is out now and of course I plan on binge watching over the holiday weekend 🙂 Check out my review below!
Also, I came across the Japanese series HIGH/LOW on Netflix. The series was a cast full of singers and dancers, and crazy choreographed fight scenes. And even though some of the dialogue was corny at times, it was fun to watch. It also led to some artist/ music discoveries for me, like the boy group J Soul and solo artist Elly aka CrazyBoy.
*TRIGGER WARNING! VIDEO BELOW CONTAINS VIOLENCE*
Life Update!
I don't even know where to really start when it comes to what's been going on in both my professional and personal life. When it comes to my personal life, like my overall health, for example, I feel like I am still recovering from Covid. I caught it back in early August, and I haven't felt the same since. I can say, though, mentally, holiday depression aside, I have been doing better.
With the help of therapy, I have done more this past year to prioritize myself. Even if that meant separating myself from certain people and situations. It was difficult but I did notice some positive changes. I am looking forward to a lot more solo adventures in the future, if it'll continue to help my sanity and overall peace.
As for my career, I left what I felt like was a very draining and negative environment, and finally took a chance on myself. After submitting applications and sending my resume, close to giving up and strategizing, I was approached by a recruiter. I was unsure about staying in Media, but something about this felt right. So, you are looking at a new member of iHeart Media's Digital Solutions Engineer team 😊
I hope you all have a very Merry Christmas, Happy Holidays, or however you choose to celebrate the Holiday season. Stay safe, healthy, and happy. I'll be back soon! Love ya'll!