Every time I buy streaming passes for these BTS online concerts, I ask myself, how did I get here? (LOL) I was so adamant about NOT stanning them, but now they have become one of my Favorite K-Pop artists, artists in general really. Getting to experience BTS during this "Permission to Dance" promo has been fun. So, of course I was hyped about getting online streaming passes again!
Permission to Dance Live in Seoul Breakdown
So, they announced these shows right after their shows in Los Angeles, Ca. This set of shows and live streaming were a bit different. The first and last live shows would be streamed online, like normal. The second show would be replayed in select movie theaters around the world.
The fans in South Korea were provided with "clappers" since they were not able to scream or loudly sing along with BTS. They weren't even allowed to stand up, all due to very strict guidelines. But after 2 and ½ years, I'm sure many of them were just happy to be there. Of course, the guys couldn't help but comment and tease, but I know they were grateful for all of it.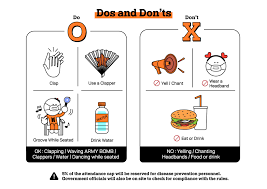 Experiencing Permission to Dance "Live On Stage" (AGAIN)…
Now, this was my 2nd time watching their Permission to Dance show, since I had bought a streaming pass for the last PTD show in LA. There were some similarities when it came to the set, styling, set list (songs), and the videos shown on the big screen. But it was still different, especially since there was only a track of recording fans screaming. Plus, they were outside at the Olympic Stadium in Seoul.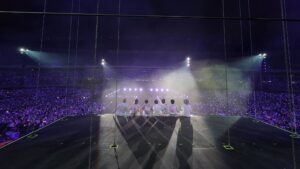 They also couldn't fill up the stadium due to the arena, and the city I'm sure, not making a lot of the seats available. It was still beautiful sea of colorful Army bombs (light sticks) nonetheless. But let's get to the show and how amazing the guys looked and sounded. I will say that I was in love with all their looks for this show.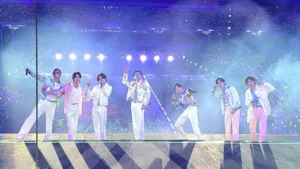 They opened with "ON" with their backup dancers and went into a mix of some of their older songs. Some "new" mixes of fan favorites like "Dope", "Fire", "So What", "Blood, Sweat, and Tears", "DNA", "IDOL", "Fake Love", and even "Interlude: Wings" were performed. And of course, they performed their recent English-language hits, "Dynamite", "Butter", and "Permission to Dance" for the second half of the concert. You can always queue the waterworks when they sing "We Are Bulletproof: The Eternal" at the end.
Fangirl Moment!
It was interesting to see how many people were falling for Suga, who aren't normally Suga-biased, like I am LOL. Was I surprised? Of course not, because I know why he's MY Bias and he proved that during all of these recent shows. My Bias Wrecker, V, did the same, and it all just brought a smile to my face. But, don't get me wrong, all 7 of them looked and sounded amazing, and make me so proud each and every time.
And their outfits brought out my inner fashionista and sneakerhead. The red fits, and the bandana print inspired fits were my favorite. Then most of their outfits were paired with some dope Nike Dunk lows, so I was in love! Put all of that with their perfectly styled hair, and fun personalities… They could do no wrong 🙂
What's Next?
Their next set of shows for this "Permission to Dance Live on Stage" series is going to be held in Las Vegas next month (April). We were all kind of waiting on some more dates to be announced after these shows, but we didn't get anything. I wasn't able to go to LA and won't be able to got to Vegas, so I'm going to try to be patient. Those of us who haven't been able to experience them can only hope that they announce more dates in other areas of the country.
Maybe after the new album?…
Follow Them!
Official: http://bts.ibighit.com
Twitter @bts_bighit
Instagram @bts.bighitofficial
Youtube: www.youtube.com/user/BANGTANTV
Final Thoughts!
The more I listen to K-Pop and watch their live shows, the more the question of "Why do ya'll like them so much?". I can only speak for myself when I say that as someone who was a teenager when boybands were popular, seeing his now means A LOT. Not many artists are doing BIG shows with BIG productions anymore. That's what caught my attention then, and it's keeping my attention now.
And even though, a lot of these groups are "manufactured" and having more talented songwriters and producers behind their music, the fans are connecting with them. I do still love other genres of music and the talented artists within them. But not everyone gives me that nostalgic feeling or allows me to feel deeply connected to the artists themselves. Maybe one day I'll truly be able to describe what they do for me, and other fans as well.
And to Follow Me on this Fangirl journey 🙂
Facebook: www.facebook.com/muzikjunqie
Twitter @muzikjunqie
Instagram @muzikjunqie
Pinterest @muzikjunqie
Red Bubble Shop: Official Muzik Junqie Merchandise