When I tell ya'll that particular week was BUSY, it is not an exaggeration. I was already in Dallas/ Fort Worth for my Monsta X concert, June 6th. But I had made last minute plans to go with my boyfriend to New Orleans to see his favorite artist, Big Krit. That was an experience I couldn't pass up, so I left Fort Worth super early and got back home in time to shower, change, and be ready to hit the road again (he drove lol).
Just a little quick background… Big Krit is a rapper/singer/ songwriter/ producer, to name a few. He is from Meridian, Mississippi, and a TRUE southern rapper. His music hits us a little differently because we come from right next door, in the Country lol. But even if you aren't, he just has a way with words, his tone, and overall vibe, will win you over.
Digital Roses Don't Die… The Concert!!

The show was at the House of Blues in New Orleans. We had VIP/ Meet & Greet but since my bf is the one who got everything, I wasn't 100% sure what that all entailed. But we got there around 6:30 and were able to get our wristbands (1 for drinking and 1 for VIP). Of course, we ended up getting drinks, and bought a couple of t-shirts.
The show started after 8 'ish. I was hoping to see ELHAE, but he wasn't at this show. There were 3 other opening acts, though, who I had never heard of, but they were cool. The energy was definitely there. Once Big Krit came out, he, of course, did not disappoint. I was honestly hypnotized by his stage presence, especially being that it was just him and his DJ. I already love his voice, but that, with his overall presence, made for an amazing show.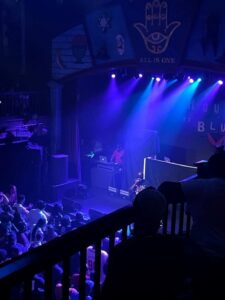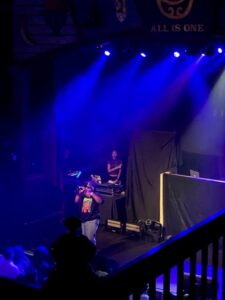 He did a lot of songs from his recent album, Digital Roses Don't Die, like: "Southside of the Moon", "Rhode Clean", "Just 4 You", and "Generational – Weighed Down"; as well as some of his classics. Thanks to my boyfriend playing his music all the time, I was actually familiar with the older songs he performed. See the crowd react to those older songs was a fun moment, for sure.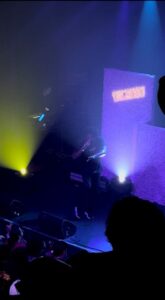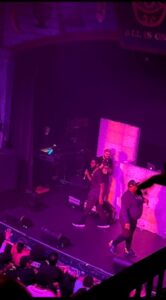 Our VIP Experience… Meeting Big Krit!
For VIP, after standing around for a while, we were told to line up downstairs. We ended up having to go back upstairs to sit and wait, anyway. And since me and my boyfriend didn't get our lanyards when we got there, we had to get out of "line" and to sign in and get them. That put us at the end of the line for Meet & Greet, but that ended up being perfect.
We got to watch everyone interact with Krit, which was fun. Then it was our turn, my boyfriend having me go first. Right off the bat, Krit (aka Justin) was super sweet, holding his hands out to me as I walked up to him. I introduced myself and told him that I was there with my boyfriend, who is the one who put me on to his music. Krit looked at my boyfriend and thanked him for sharing the music with me.
We ended up taking a picture together, all 3 of us, me squeezed in the middle 😊 Then we took individual ones with him. His music has gotten my bf through a lot, so seeing them interact was the highlight of my night. Plus, we're all Virgos, so the vibes and energy were magical for sure!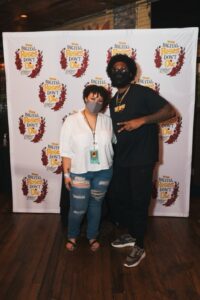 (I always feel like I'm so awkward at these things plus you can tell I'm big cheesing under my mask lol)
Final Thoughts!
Other than getting to be in one of my favorite cities (close to home), and experiencing Big Krit for the first time, I was mainly looking forward to watching my boyfriend have fun and enjoy someone he admires so much. It's been fun having him teach me some things about Krit and his music. Plus, I mean, we got to meet him together. That was one of my favorite artist experiences so far, and I am looking forward to more like that.