This is probably one of my favorite music discoveries. I don't exactly remember how I came across One OK Rock, but I think it was on IG and some people I follow were talking about them going on tour. Then they popped up when the new album Luxury Disease came out, so I figured it was a great time to get into them. Also, I've been going back to my love of Punk/ Rock/ Alternative music, which is mixing with my love of Korean and Japanese music.
I'll try to not be all over the place with my excitement (LOL), so check the rest of this post to learn more about the group and their music.
Who Are ONE OK ROCK?
Firstly, One Ok Rock is a Japanese rock band consists of 4 members: Toru (leader, guitar, vocal), Tomoya (drummer), Taka (main vocal), and Ryota (bass guitar and backing vocals). They were formed in 2005 and debuted in 2007 under A-Sketch and are currently signed to Fueled by Ramen. And they are late 80s babies like myself, so that just made it even cooler to me 🙂
Since debuting, One Ok Rock has grown quickly with the immense support by the younger generation for its emo and rock-based sounds along with aggressive live performances. They've had many successful concerts. In 2015, the band signed a worldwide distribution deal with Warner Bros and have since held tours in the US, Europe, South America and Australia.
"ONE OK ROCK will continue towards their goal to be Japan's first globally recognized band and in turn have a strong impact on today's younger generation and the Alternative music scene as a whole." (oneokrock.com)
Their Latest Album, Luxury Disease!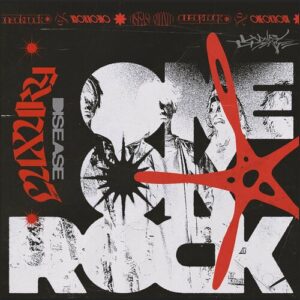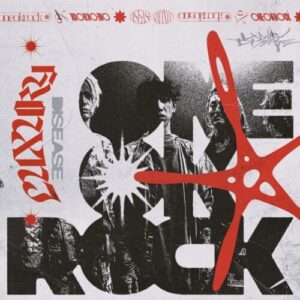 Luxury Disease is their 10th album and the first in three and a half years. There is a Japanese and English version available. In their interview with Apple Music, they were waiting for the right moment to drop this album and make more of a push in the states,
"Years passed without a resurgence of rock culture in the US, and we wanted the emo and punk scenes we admired so much to make a comeback… However, we felt that it wouldn't make sense for us to suddenly start making rock music in the US, as we lacked the knowledge and experience to do so. Convinced that maybe rock could be revived once again, we wanted to make an album that captures the essence of rock music." (Taka, Apple Music)
This album was produced by Rob Cavallo, who has worked with bands likes: Green Day, My Chemical Romance (once of my favorites), and many other bands like them. Cavallo made sure to sit with the band to find out the message they wanted to get across with this album. This led to a lot of time to reflect on music. This process produced one of the best albums I have heard in a while, in my opinion.
My Review!
I love every single song, all the vocals, the musicality… All of it! But I will attempt to give you a good feel for this album, and what some of my favorite songs are. Off the top, I will say that my favorites are: "Save Yourself", "When They Turn the Lights On", "Let Me Let You Go", "Renegades", and "Your Tears Are Mine". Keep in mind that this album has 13 songs, and there are honestly no skips.
The songs that I listed hit me in a different way than the others. When it comes to "Save Yourself" and "Renegades", the powerful vocal from the chorus is what won me over. My love for "When They Turn the Lights On" comes from my love of rock music from the 70s and being a fan of groups like The Who and Queen. Obviously, that's rock royalty, but the soft music and vocals leading to the big chorus moment.
"Let Me Let You Go" and "Your Tears Are Mine" are slower tempo, and more ballad-like. The lyrics are beautiful, and I just fall more in love with Taka's voice. Of course, the chorus for "Let Me Let You Go" got me, and especially after watching a video for it, it made me love it even more.
"I'm black and blue to tell the truth

It's breaking me

I'm not just losing you

I'm losing what you saw in me

Why'd you let me let you go

I can't breathe

Without you here I wished you never watch me leave

Why'd you let me let you go?"
I definitely cried when I first listened to "Your Tears Are Mine" (and I still cry when I listen to it). Life has been a little hard for me, and though I have been going to therapy regularly, it's hard to really heal those parts of myself. Anyway, these lyrics are beautiful and relatable, and it's seriously at the top of the list for me.
"I'll be right here and there's nothing to hide

Everyone needs understanding sometimes

You're beautiful even when you feel broken

I'm right by you

We'll make it through

I'll stay with you till the dark fades"
Follow Them!
Instagram: https://www.instagram.com/oneokrockof…
Twitter: https://twitter.com/ONEOKROCK_japan
TikTok: http://tiktok.com/@oneokrock_official
Facebook: https://www.facebook.com/ONEOKROCK/
Final Thoughts!
Listening to One OK Rock is such a beautiful, yet emotional experience. They are super talented, and I am so happy to have come across them and their music. I'm a bit sad that I can't see them when they go on tour here in the states. But, maybe one day… 🙂