This past week has been super hectic. So much planning went into this, and I feel like it all came and went too fast. I went to 2 concerts in 2 days, and will be recovering for a while, but today I want to share that first experience with you. After waiting 2+ years, I was finally able to see my Ult group Monsta X Live, and had VIP (Send-Off) this time.
Pre-Concert… 
My friend and I had been in Fort Worth since Sunday night, which I am glad we were. We got to take our time the next day, even though I was probably anxious the whole time, leading up to heading to the arena. We got there in pretty good time, taking an Uber because it was too hot to walk from the hotel. And, we did have a slight issue with getting our VIP passes, but it all worked out.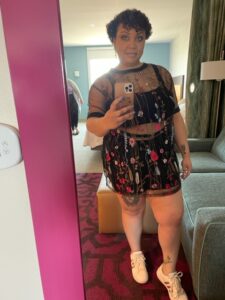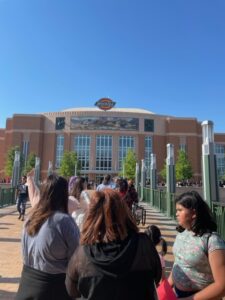 We also got to meet some cool people in line, which is always fun. I need to get better at networking, and exchanging info, though. It was all just so much to take in, so I wasn't thinking clearly at the time. Seeing Monsta X had obviously taken up every part of my mind.
The Concert… My Favorite Moments!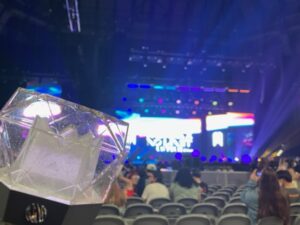 Once we made it inside the arena, we got merch and water, then headed to our seats. We were a lot closer than I originally thought. Of course, I wish we were closer, but being there really was more than enough for me. Plus, I got to sit next to an amazing Monbebe, who I got to fangirl with.
Now, I loved every single second of this concert, but of course there were some moments that stuck out for me. First things first, though, they opened the concert with "Gambler" which reminded me of when they opened with "Shoot Out" for the We Are Here tour back in 2019. I'm glad that they were able to do a lot of songs form their many comebacks they've had. Now let's talk about these solo stages, where each member performed solo (OMG!!!)…
Hyungwon performed a remix of "Wildfire" from their latest album, with the dancers.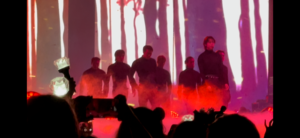 I.M. performed "God Damn" and "Happy to Die" from his mixtape.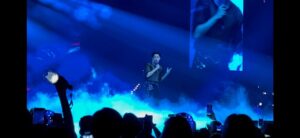 Minhyuk performed "Ong Shimi" (a song written by Joohoney).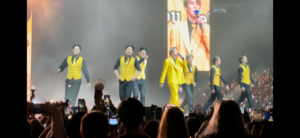 Kihyun performed "Rain" from his debut solo EP.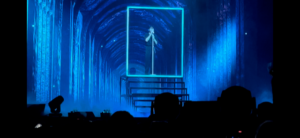 And Joohoney performed "Smoky" from his last EP and a new song called "Voices".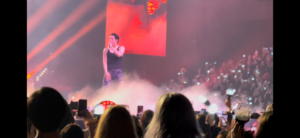 Another favorite moment is when they performed "Stand Together" which is one of my favorite B-Sides from their Fatal Love album. The energy from the guys and the dancers was electric then they got to Joohoney's rap part, and he did not disappoint. I made sure to get the close-up of him on the big screen for that part.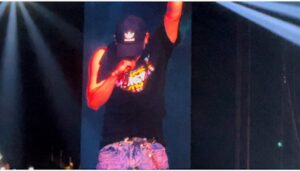 Overall, though, the interactions between us and the guys were beautiful. They had a lot of moments where they would do a repeat of some of the songs to hear the crowd sing again. They were impressed with our Korean when singing along, and our energy in general. Whether or not that's a part of their script for the tour, it still feels good to hear that, and see their reactions when we were singing along.
The VIP- Send Off Experience… 
Getting lined up for this was a whole MESS. I almost expect the disorganization but I would love it if ONE arena would prove me wrong. From them getting all the non-VIP out of the arena, to setting up the barricades, to constantly moving where the line of people started and ended, it was chaos. But once we were finally ready, it was time for the boys to walk out. I wasn't as close as I wanted to be but I squeezed in as much as I could (thank God I had my mask on).
Even though I feel like I spent a lot of the night trying to get some type of interaction from Joohoney, I did get some from I.M. and Kihyun. That was plenty, and doesn't make me love Joohoney, or the rest of them, any less. I was honestly just so grateful to be there and get to see them. I mean, yes, I regret not getting tickets to Atlanta or this Los Angeles show, but it's okay. I know now more than ever that if I can see them then I am going to make it work. They are HOME for me.
Final Thoughts! 
I am kind of still an emotional wreck from the concert, mainly because it feels like once it finally got here, it was already over. The post-concert depression has been slowly setting in and I miss them horribly. There's always going to be things that I wish I would've done differently, but I can only hold onto that for next time. This experience was a step up from my last one, so we're headed in the right direction.
Every time I see Monsta X, I come home with a new sense of inspiration, if that makes sense. They make me realize what I really want to do with my life, other than just follow them around on tour or something lol. I've let a lot of things stop me from pursuing my passions and finding what I really want to be doing with my life. I'm slowly getting there, with the help of therapy, and doing what I can do continue blogging/ writing.
Check my Concert Footage Below!!! 🙂
Don't forget to Follow Me!!!
Facebook: www.facebook.com/muzikjunqie
Twitter @muzikjunqie
Instagram @muzikjunqie
TikTok @muzikjunqie
Pinterest @muzikjunqie
Red Bubble Shop: Official Muzik Junqie Merchandise