I originally wasn't going to do an update like this right now, but after posting one on my Instagram and realizing that we've passed the 2020 halfway mark, I guess I should, right? To say that this year, especially the last 9 months or so, has been some of the hardest times of my life, is an understatement. Every time I felt like things were finally getting better and starting to make sense for me, something happened, I got knocked back another 100 steps, and I had to start over, again. I guess, this is my story, so far…
Dealing with Lay-Offs and Making My Own Way
So, it started when I was laid off back in September (2019) from a very toxic job environment, the experience that still gives me nightmares. As much as I was worried about my finances and insurance, it was a blessing in disguise. I was able to go right into another job, what I thought would be a better job and environment about a month later. But after almost 6 months of being there, COVID happened and I was laid off. The distress and depression that I have felt since then has been disheartening, to say the least.
About a month ago, though, after a job posting was shared to me, I was hired for a part time job in the art/ creative space. I'm able to work from home which is cool. It's not much but it's a good starting place since I literally feel like I'm starting from scratch (again) – career -wise. I do miss the structure and consistency of a more established, full-time job, but I am holding on to the belief that things happen for a reason.
New and Up-Coming Projects for Muzik Junqie!
I am now offering Shout-Outs on my Pinterest account (currently with 180k monthly viewers & growing).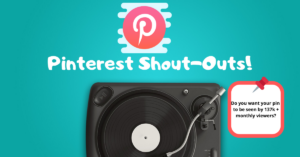 Click HERE for more information!
I have become a Brand Ambassador for a dope black owned apparel brand @greenwooddist (Link in a Bio for 10% off if you use my code 'muzikjunqie')… More Collabs to come!

Click HERE to shop and save!
I am also working on Merchandise ideas – It's definitely been about timing for me but I'll keep y'all updated.
Final Thoughts!
I had to take a little break from posting "regular" Blog content for a bit. One of my favorite topics to blog about, K-Pop, has become a more negative topic on social media, effecting the black fans even more than before. I do want to shine more of a light on it but I'm conflicted because I still love the music & the artists that I follow aren't really problematic, it's just some bad apples within the fandom & the (US) media definitely doesn't help. I am working on a post that goes more into all of that, though, so keep an eye out for that.
Thank you to all of my old and new readers/ followers, though. I appreciate all of you so much. Your support really does mean the world to me. I hope all of you are being safe and taking care of yourselves, physically, mentally, and emotionally during these crazy times that we are living in. Feel free to message me. I pray for all of you every day!
Follow Me!
Personal: Twitter @CreoleChic24 , Instagram @creolemasterpiece
Twitter & Instagram @muzikjunqie
Pinterest @muzikjunqie
Youtube: www.youtube.com/channel/UCO4erzBeTT75rcz8pzk0Nhg?view_as=subscriber