Juice Wrld came up in a recent conversation for me, when we were talking about the younger generation and how these rappers are so different. I had said that Juice was one of the few young rappers that I enjoyed and didn't mind listening to. I still have an appreciation for these Emo/ Rock-inspired rappers, that also sing, like Juice. They are truly a representation of what our young African Americans who may be considered "weird" or "different" than their peers, are dealing with.
Remembering Juice Wrld…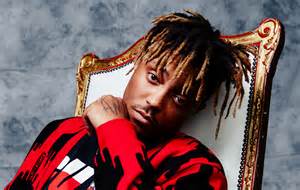 Jarad Anthony Higgins, better known as Juice Wrld was an American rapper, singer, and songwriter from Chicago, Illinois. I can appreciate his musical influences and overall themes when it came to him as an artist. Jarad, himself, revealed his musical influences going from rock music to rap music. Some of his biggest influences were rappers Travis Scott, Chief Keef, Kanye West, and British rock singer Billy Idol.
Juice Wrld was easily becoming a leading figure for the current era of hip-hop, achieving the most mainstream success of any artist in the sub-genre. Higgins himself considered the emo label to be both negative and positive. He felt that music sometimes has to be a bit dark to reflect his belief that the world is not really a light or a happy place. Juice took pride in his ability in being one of few contemporary SoundCloud artists who could create" soul-bearing ballads and odes" but still reestyle rap over classic hip hop beats.
"Having built a following through emo rap, Higgins offered lyrics that touch on heartbreak and fragmented feelings. Though not entirely groundbreaking, his musical approach provided a sense of familiarity that heartbroken adolescents of the current generation could gravitate towards. Higgins maintained that he only wrote from personal experience, and found strength in his pain and vulnerability."
Legends Never Die… My Review!
The "Anxiety-Intro" has Juice talking about how he felt that God put him here to do what he was doing and speaking about, making him an "agent of change". He was so thankful for the spot he was in and knowing the struggle with anxiety and addiction. Juice knew that materialistic things didn't matter and there were more important things to shine a light on. I feel that the next 20 tracks reflect where he was mentally and emotionally.
Overall, I really do love this entire album and don't really need to skip any songs. Juice really has such a beautiful voice and I have to say that I really have been impressed by his music. I do have some easy favorites like: "Bad Energy", "Righteous", "Tell Me U Luv Me" featuring Trippie Redd, "Life's A Mess" featuring Halsey, "Come and Go" featuring Marshmello. But the more I listen to this album, the more I can find something in every song.
Also, his short and simple message in "Get Through It – Interlude" pulled at my heart strings because it's something a lot of us need right now. From the very beginning, "Can't Die" hit me deep. I guess hearing someone so young who is gone sing about death and loss, is just heartbreaking. He was more than aware of himself and the world around him, the harsh reality of it all.
Official: www.juicewrld999.com
Youtube: www.youtube.com/channel/UC0BletW9phE4xHFM44q4qKA
Final Thoughts!
And the more I listen to this album, the more favorites I find. I could probably find a line from every song that's totally relatable to what I'm going through right now. This is seriously the soundtrack that I need, especially when I find myself in a darker place and when I feel like I just can't catch my breath. Sometimes sad songs don't make you sadder, they can just make me feel like you're not alone.
                                         THANK YOU, JUICE. YOU WILL TRULY BE MISSED.