When I say I don't know where to start, I REALLY don't know where to start. But that's only because this last experience seeing IKON was so incredible that it's hard to put all of it into words! The number of good things that came out of this overall trip almost put me in tears. So, please bear with me as I try to share as much as I can 😊
To start, the trip itself was a huge learning experience. This was the first time I have traveled solo, out of state. I'm used to driving and going places nearby alone, but this was a new adventure for me. It was eye-opening and almost liberating. I finally trusted myself, my gut, and my overall ability to handle this on my own, without worrying about anyone else, and what they thought I was capable of (which is another story).
Whether you would enjoy reading a more detailed account of my experience or would rather watch a video, a more animated version of my experience LOL, you can keep reading and/ or check out the video below!
New Promo Company & Ticket Buying Experience…


Not to say that this is a brand-new tour promo company, but they are new to me. I have had bad experiences with K-Pop promo companies in the past so, of course, I was a little hesitant. Plus, they were using Ticket Web instead of Ticketmaster/ Live Nation. But the ticket & VIP buying process was surprisingly easy, and not as stress-inducing as my previous experiences.
I bought the 2nd section (general admission), Soundcheck, and Group photo. Not sure why I didn't just get the front section, but it's okay. I ended up really close to the stage for Soundcheck so I will take that. Plus, group photo experience was everything and more, even though it went by quick.
I would go through them again for another concert and VIP experience.
The Venue and My Pre-Concert Experience…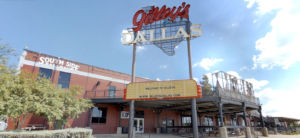 The concert was held at Gilley's Dallas, which has several event rooms inside of it. I went to a concert in the Music Hall section, which was a bit smaller than this Ballroom section. But it was nice and had a lot of space. I do wish there was more shade outside, though.
I say that because I was out there around 1:30-2p to stand in line, not fully knowing how any of it would work out, but I was curious for the experience. It ended up being extremely fun, minus the sun and heat being intense at times. My fellow IKONICS (fans) in line were so fun and sweet. We also got a lot of freebies (IKONICS are super creative!).
They did hand out wristbands; I didn't get my second section wristband until we were inside. But we ended up lining up by number for Soundcheck around 4pm. I was thankful to be close for this part of the day. After the soundcheck, I had to leave my new friends and go to the second section, where I ended up by the barricade, which was great.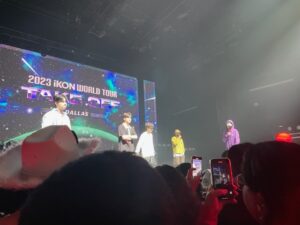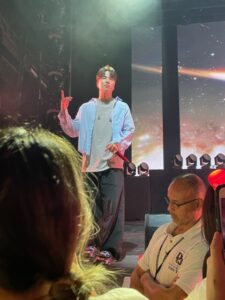 THE Concert Experience!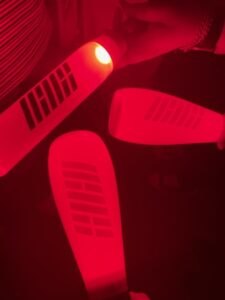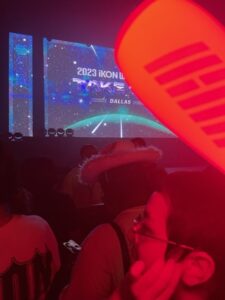 It was non-stop energy from start to finish. They opened the concert with the lead single from their latest album, "Tantara". Throughout the show, they did all of the classics, "Love Scenario", "Killing Me", "Bling Bling", "Dumb & Dumber", and "BDay". I was surprised that they performed their song "At Ease", from their time on the "survival show" Kingdom.
They even had some solo/ unit stages. Most of the solo songs they performed were from this last album. DK did his song "Kiss Me", Ju-ne sang "Want U Back" and played guitar, Song performed his Trot song "Fighting" (his energy is unreal), and Bobby performed one of his older solo track "Heartbroken Playboy". I was also excited to see Ju-ne and Bobby do their duet "Deep Night".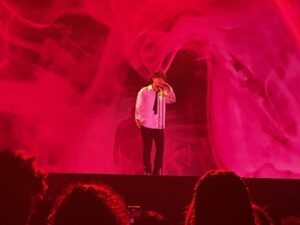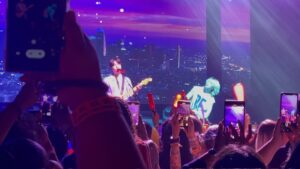 Everyone always looks forward to the encore and the boys did not disappoint. They ended with the same energy they came in with. And of course they took a picture with the crowd, from the stage. They usually post it on social media after the show, and this is the first time I can actually see myself in the photo LOL.
VIP/ Post-Concert Experience…
So, after the concert was over, we started lining up for the group photo. I was happy to meet up with the girls I met in line earlier in the day. We did end up in the same group of 10 for the photo. The wait wasn't too bad while they got organized and tried to figure out the set up.
Then the line started moving. We kept trying to see how the boys were seated but it was hard. But, as we walked up, I was greeted by Bobby (my bias wrecker) and he gave me dap (love him! LOL). The rest of the members greeted me as well, and I got the cutest smile and wave from Chanwoo. My Bias, Ju-ne, was cute and reserved as expected, but the fact that I ended up next to him for this photo was so unreal!
GROUP PHOTO COMING SOON!
Final Thoughts!
I have been in a bit of a creative and concert slump lately. Finding inspiration and motivation to write or post content on social media has become difficult again. And concerts were starting to feel "different". But after taking this solo trip and doing things the way I wanted to do them, felt good.
VIP isn't always necessary to enjoy a concert experience, but if you are able and it's done right, it's a great addition. I love the overall live music experience, no matter where I am in the venue or whether I have VIP or not. I do hope to see some of my non-K-pop favorites soon. And who knows, we might even get an NSYNC reunion next year 😊
Don't Forget to Follow Me for More Fangirl Adventures!
Twitter (X) @muzikjunqie
Instagram/ Threads @muzikjunqie
Pinterest @muzikjunqie
TikTok: muzikjunqie