I hope ya'll haven't gotten sick of these lol. For me, I am just trying to enjoy my life outside of work and my other responsibilities, and hopefully able to encourage some of you to do the same, if you can. Life really is too short, and we should all learn to live more and not just survive. But today, I want to share a little concert experience. I was able to see the co-ed K-Pop group KARD in Dallas over the weekend (July 29th) for the second year in a row and want to share my thoughts.
Looking back on how I was feeling leading up to this concert, it's funny because I almost sold my tickets. I was having a hard time dealing with some personal things and didn't know if I'd have the energy to even go. But something told me that I needed this, so I held on to my tickets. And thanks to my love and my homegirl, I had an amazing experience 😊
The KARD Playground Experience!
They performed everything off their recent Ep ICKY, opening and ending the show (encore) with "Icky". How can we be upset with hearing Matthew's sexy verse twice?! Matthew had a solo stage, performing "LIE (Lost in Euphoria)" and "Broken Me", two of my favorites from him. J.Seph came out to join him for "Been That Boy" and Jiwoo and Somin had a stage together for their song "Fxxk You".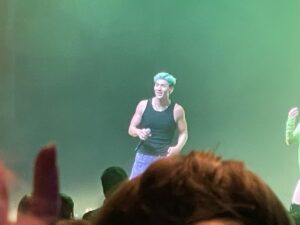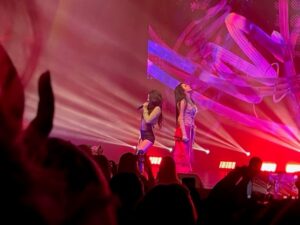 Of course, they performed some of the fan favorites, like: "Hola Hola", "Oh na na", "Dumb Litty", "Bomb Bomb". And they even spun a wheel to choose one of the last songs, which ended up being "Red Moon". But overall, the energy was electric in that building and I was proud to be a part of it, even if I felt like I was going to lose my hearing afterwards lol. They always put on a great show, and with them being co-ed, it makes it even more fun, in my opinion.
One of the things that really stuck with me was when Matthew was explaining the meaning behind this tour being called the "Playground Tour". It's supposed to remind us of those days as kids, on the playground, where we had no care in the world, no responsibilities, no stress, or anything. We were happy and felt safe. They wanted the concert, the time with them, to feel like that for us.
*They did. And I am so very thankful to all of them for that beautiful night and new memory.
 More Concert/ Travel Tips!
So, I learned a couple of things when it comes to getting around with Uber when traveling/ out of town. One of those new things is that (if you didn't know), you can add multiple stops to 1 trip. For example, I scheduled my Uber to pick up my home girl first, putting in her info from my address book, then had the Uber pick me up at my hotel, and lastly bring us both to the venue. It worked out perfectly.
Another tip, something I have done before, but found out from one of my Uber drivers that people don't do it often enough. So, when you are being picked up, after a concert for example, let's say it's crowded, or you must move away from the original pick-up spot. You can message your designated driver and tell them "Hey I had to move from the original pick-up spot, I am not at (Street A) or the corner of (Street A &B)". I promise you that they will thank you for it. You can also ask one of the parking attendants where a good pick-up spot would be.
Also, don't be like me and not bring ear plugs, just in case. Especially for my "older" fans (30+ like myself) or even those who attend a lot of concerts, let's hold on to our hearing for as long as we can lol. I've already added some cute ear plugs to my Amazon wish list, along with some other concert necessities I'll need before my next concert adventure.
Follow Me to Keep Up with my upcoming adventures!
Twitter (X) @muzikjunqie
Instagram/ Threads @muzikjunqie
Pinterest @muzikjunqie
TikTok: muzikjunqie