Well, it has been about a week since I went to Houston, TX to see the Hype Tour featuring Hoodie Allen, Luke Christopher, and Myles Parrish. I got there the Friday night before and stayed with my baby cousin and her wifey (I am super grateful for both of them). On top of that, I actually went to the concert by myself but met up with a fellow fan who I met through Twitter via Hoodie's "Hoodie Find" and "Hoodie Friend" hashtags. The Hoodie Mob community is awesome and I can't wait to meet more of them!
I am currently working on getting some YouTube videos together with my experience and some concert footage. Check out my YouTube and Social Media links below for updates when the videos are posted. Like and subscribe while you guys are there if you haven't already. I would really appreciate it 🙂 But for now, keep reading if you want to know what happened on one of the best days I have had in a while…
Twitter @CreoleChic24
Instagram @creolemasterpiece
Snapchat @ creolpatra30
YouTube: www.youtube.com/channel/UCO4erzBeTT75rcz8pzk0Nhg?view_as=subscriber
Pre-Show & My VIP Experience
So, my cousin, who I was staying with, dropped me off at the House of Blues around 4-4:30'ish. After getting directions to the elevators (because it was located on the 3rd floor), made it upstairs, and now had to figure out where to go because I had to get my VIP pass and wasn't sure how they handling all of that. During this time, though, I was messaging back and forth on Twitter with my new Hoodie Friend, Carrine 🙂 I ended up standing by the ticket will call area with a few other people who were waiting for the same thing.
While we were waiting, Luke Christopher poked his cute little self out of one of the doors, looked around, and went back inside. I couldn't even freak out properly because I couldn't believe it was actually him! After all of that, they started to line up the 2 VIPS, the one for Hoodie and the one for Myles. My friend finally made it (love her btw) and I met someone who came from Louisiana and was also a fan of Luke too 🙂
I'm not quite sure how long we waited until we were brought inside but it really wasn't bad. Myles' VIP group went inside first but had to come back out afterwards because only our VIP was able to stay inside after meeting Hoodie. After given a few instructions, we were led inside and lined up near the bar area to wait for Hoodie to come out. I continued to make some new friends while waiting inside as well. The Hoodie Mob are seriously some of the sweetest fans that I've met.
*I'll skip to when it was my turn to meet Hoodie*
One of the security guards took your name and told Hoodie who you were when it was your turn (loved that). We said "Hi" and hugged and I told him that I drove 3 1/2 – 4 hours to see the show and he couldn't believe it, thanking me for coming. He also asked me where I came from then we got into a little conversation about having to travel for shows because we don't always get a lot of acts down this way. Then we asked what I wanted to do for our pictures; we got 1 picture on our phones and a Polaroid.
For my phone picture, I had a regular pose then for the Polaroid I said, "Can we just do a really cute, huggy picture?" and he was like "Of course" :). His photographer had to refill the Polaroid so while we waited Hoodie said, "Well we'll just hug until you're ready" (freaking adorable, right?). After the pictures, we hugged, he told me that he hoped that I enjoy the show, and I left to grab a spot for me and my friend at the barricade.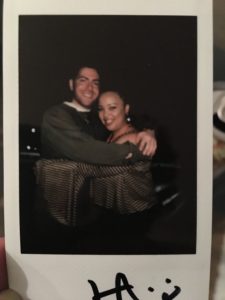 *Hoodie also did a quick Q&A before the show started*
ShowTime!
Music played in the loud speakers before anyone came out on stage. First, Jake (Myles' brother & DJ) came out to set up. It wasn't long before he introduced Myles and he came running out. He did so good and looked super cute up on that stage. He did a lot of his new stuff but I loved the fact that he did a couple of Kalin & Myles' classics "Trampoline" and "Do My Step". Once Myles was done with his set, they played more music, and soon it was Luke's (cute a$$) DJ setting up.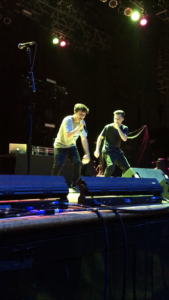 *Between Luke, his DJ, and photographer, I was stuck LOL*
Then he started playing the music and introduced Luke, who you could hear before he finally came out. I don't think I will ever be able to fully describe how it felt to finally see Luke, that close, after following him for 3+ years. He performed a lot of his older music and I was super happy because those are the songs that people definitely needed to hear from him. I was so freakin' proud of him and getting to see how far he has come since I first started listening to him. And I also appreciate the fact that he showed me some love by coming over and singing to/with me a few times 🙂
*Also, I want to show some appreciation for Luke's fly a$$ outfit and those adorable dimples that I couldn't get enough of*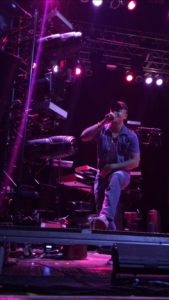 Now it was time for the man of the night, Mr. Hoodie Allen! The intro that his band did before he even came out was AWESOME! They were ON the entire show and added a whole other element to the set. And Hoodie, himself, was everything and more. I think being able to meet him before the show made me appreciate him that much more.
Hoodie did a good mix of his old and new songs. The crowd drowning him out on some songs which you could tell made Hoodie extremely happy especially when his microphone stopped working temporarily. He did get to cake a lot of people (not me, though!) and drench us in water LOL (Luke got us with water too). And, of course, when he came back out to do 2 more songs, he got to crowd surf in his raft for a little bit, which was the coolest thing I have ever seen.
After the Show
When the show was over, for some reason, I decided against going the merchandise table to get the tee shirt that I wanted. And since it looked like security was trying to kick people out, we both were thinking that we might be able to catch Myles and Luke outside, as well as Hoodie. As soon as we walked out of the doors we saw Myles and decided to stay to meet and get a picture with him. After waiting in line, we both met him and got a picture; right as I was about to walk away, Myles asked "Hey, you were in the front row?" "Yea I was" I said, "I saw you" he smiled and I could only smile back 🙂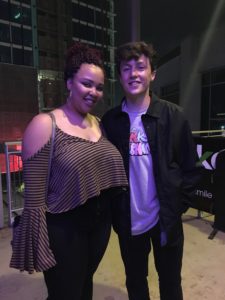 After meeting Myles, we went downstairs and ended up on the side by the buses. Of course I was still hoping to see Luke, which we actually did, but he was on the other side of the street and getting ready to leave. I basically made an idiot out of myself trying to see him and his DJ, but comes with the territory, I guess :/ At least the moments I shared with both of them while they were on stage was awesome, kind of outweighs that other moment, right?
We did get to chat with one of Hoodie's people, Kent, though, and he was super cool and sweet. He was just asking how we enjoyed the show and where we were from. Saying I was from Louisiana always a fun conversation LOL. Carrine did get to see Hoodie again so I was happy for her, even though I was still kicking myself for missing my chance to meet Luke…
What I Would've Done Different…
I know that I shouldn't waste my time on having any regrets, especially when a lot of that day went damn near perfect. BUT, if I could go back (something we all wish for sometimes), there are a few things I would change:
I would buy that awesome N64 inspired Hoodie tee shirt at the merchandise
table while we were lined up for VIP.
I would have gotten to the venue earlier or lined up quicker for VIP so I
could've gotten a chance to get closer to center or right of the barricade.
I would have left my spot, regardless of getting back to it or not, to go and look
for Luke for his meet and greet; or at least checked with someone about it.
I would have planned to go to a second show, either the Texas or the ATL
show.
Now, with all of that said, I don't want you guys to think that I am ungrateful for how things happened. I am super happy and thankful for that day and the entire trip. I met Hoodie and Myles, and got to interact with Luke while he was on stage; so for a brief moment in time, Luke knew who I was and saw that I was a fan of him. And I also met some awesome people who I hope to see again when I go to another Hoodie or Luke show 🙂
Final Thoughts!
I took away so much from this past concert experience. I now see that I can actually have more fun going to a concert by myself and don't have to be afraid or nervous. Also, VIP is one of the best options, especially when it comes to an artist you adore, and you can also get early entry into the venue. And it doesn't hurt to try to go to more than one show; I did it a lot during my NSYNC and B2K days, and especially when tickets are inexpensive for these kind of shows, why the hell not?!
One of the biggest things for me, though, is how proud I was of Luke Christopher. I feel like I have watched him grow so much in the last 3+ years and he is showing how much he deserves all of this. I honestly can't wait to see him live again (and of course meet him this time) and maybe for his own tour. Everything about Luke makes me adore him and only want the best for him and his career. It's rare when you get to watch an artist from almost the beginning of their career; you never know where they'll end up.
I hope that you guys enjoyed reading my little story time. It was a little long but I wanted to share that full experience with you. If you guys have any similar experience, please feel free to share them with me. Keep up with the boys while they're still on tour & try to catch them if you can!
Hoodie Allen:
Official: www.hoodieallen.com
Facebook: www.facebook.com/hoodieallen
Twitter & Instagram @hoodieallen
Youtube: www.youtube.com/user/wearehoodie
Luke Christopher:
Facebook: www.facebook.com/lukechrismuzic
Twitter @aylukechris
Instagram @aylukechristopher
SoundCloud: www.soundcloud.com/lukechristopher
Youtube: www.youtube.com/lukechristophervevo
Myles Parrish:
Official: www.mylesparrish.com
Twitter & Instagram @yourboymyles
Soundcloud: www.soundcloud.com/mylesparrish