Hello and Happy Monday my lovely readers! I hope everyone has been doing well and enjoyed their weekend. I do apologize for any inconsistency with my posting lately but I am still learning how to live my life, work my regular job, and keep up with this blog while I build my brand. And I also want to provide you guys with new and exciting content (I know a lot of people/ creators hate that word LOL).
Now, I was going to take a little more time away before posting until a pretty fun idea hit me, planning for concerts. I have been going to concerts since I was around 11/ 12 years old and have had a lot of crazy, fun, and sometimes disappointing experiences. I still wouldn't necessarily call myself an expert but I still want to share my stories and tips with you guys, a sort of guide in hopes that you can take something positive away from it. It will only get more interesting after this, I promise 🙂
Tour Announcements
First things first, we all have our favorite artists and would love to get a chance to see them live and in person. But how will you know when they go on tour, or start making appearances
1) Social Media – Follow them and turn on their notifications. Most times, when
they announce tour dates, meet ups, or anything like that, they will post it
here first.
2) Mailing List – Sign up to receive emails from their official website (if they
have one).
3) Ticket Websites – Sign up for Ticketmaster, Bands in Town, or Live Nation
alerts.
4) Local Radio Station – Check their event calendar on their website or social
media pages.
5) Local Venue – Check their event calendar on their website or social media
pages.
Buying Tickets & VIP/ Meet & Greet Passes (When Available)
A few things when it comes to actually buying tickets, though. Below I give you a few ways to get tickets, whether you have money or not. In many cases, there is usually a way to your favorite show (legally LOL).
1) Local Radio Station – Check for contests or chances to win free tickets and/ or
passes.
2) The Artists – Keep up with their official websites and social media pages.
Some have contests/ giveaways as well for tickets and passes. Also, if you
don't mind paying for tickets, they will usually have a link that will send
you to the direct site where you can purchase tickets and/ or passes.
3) Local Venue Box Office – (Self-explanatory) Depends on the artist and venue
so check the venue website for more information.
4) Online Ticket Sites – Ticketmaster, Live Nation, Seat Geek, Stub Hub, etc…
Be careful with sites like Stub Hub and other re-sale ticket sites, though,
because you will be paying WAY above regular ticket pricing.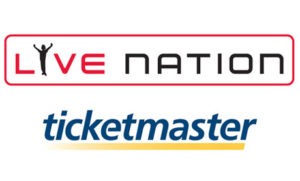 My two favorite ways are either through the artists' website or Ticketmaster directly. It's just always been a fail safe way for me to buy tickets. And just a little FYI, there are 2 kinds of tickets, depending on what venue you will be going to…
1) General Admission – Standing room only, area nearest to the stage. This is
usually your best chance to get up close and personal with your favorite
artists; and usually much cheaper 😉
2) Regular/ Reserved Seating – Seated area, everywhere when in larger stadiums
and sometimes just the upstairs/ balcony area in smaller venues (House of
Blues for example); prices vary.
When it comes to VIP and Meet & Greet passes, though, it always depends on the artists and where the concert is. Some may not even do VIP or Meet & Greet. But if they do, sometimes the ticket and VIP can be purchased together while other times you have to buy a ticket first then upgrade to VIP. In most cases, you will only find VIP information on the artists' website or on their social media pages; Ticketmaster and the venue don't usually have that information. Just remember, every event is different so pay very close attention if you are hoping to get VIP passes.
Pre-Concert Planning
So, now you have your ticket(s) and maybe a VIP/ Meet & Greet pass or two. Here are some questions that I usually ask myself at this point…
1) Who, if anyone, am I going to bring with me?
This decision can be rough especially if most of your friends or family has
no idea who this person or artist is. We want to have fun and be able to
FanGirl with whoever we're with.
2) Travel and Housing Arrangements (if going out of town)
3) What Do I Wear?
For me, it usually depends on where it is; but most times I try to go for
cute and comfortable. I might pull out something with a heel if it's a show
for an older audience and at a club or something like that.
4) What About Hair and Makeup?
When it comes to hair and makeup, I try to keep it simple and natural
because I want for it to last and not end up looking a hot mess afterward,
especially if I'll be meeting any of the artists.
Some fun things that I like to do, though, other than planning the outfit, is I make a playlist full of songs by the artists that I am going to see. I listen to it often and if I am traveling out of town then that is the road trip playlist. If I am going to a meet & greet, I sometimes go to YouTube and watch Concert/ Meet & Greet experience videos, just to see how other people handle that situation.
The Concert
Hopefully, by now, you have everything that you need to go to the concert. But here are some things to keep in mind, other than making sure to have your ticket(s) on you (printed out and/or on your phone to be scanned at the door…
1) Arrival to the Venue – If you have VIP, General Admission, or just want to get a shot at meeting your Fav before the show, get there early! Early can range from camping out over night (which I don't suggest) or getting there early that morning. * I have VIP so I will probably try to get to the venue 2-3 hours before they let us in *
2) What to Bring – A small clutch/ wallet/ lanyard or small backpack/ fanny pack (always check with the venue first to make sure what is allowed); something I can wear around my neck or hook to my belt loop if I'm wearing jeans or something. They will check your bags at the door.
3) Essentials: Money, chapstick/ gloss/ Lipstick that you are wearing, portable phone charger, extra hair bands (long hair), makeup blotting papers or powder to touch up if needed, permanent marker (autographs?), tylenol, and gum… If you are standing in line for a while, bring water and snacks to hold you until you get inside.
4) Tour Merchandise – If you're like me and love to collect memorabilia or to remember your experience, you'll want a tee shirt or something. So, make sure to have enough money on you (preferably cash). Keep in mind that most merchandise, especially shirts, can start around $30. (Also have enough money in case you get hungry or thirsty during or after the concert, if your venue is selling food/ drinks).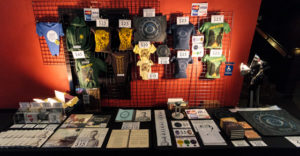 5) ENJOY THE CONCERT! Be ready to be surrounded by a lot of screaming fans (obviously) but be nice to one another. Most importantly, try not to watch the entire concert through your phone; take some time to actually enjoy the moment.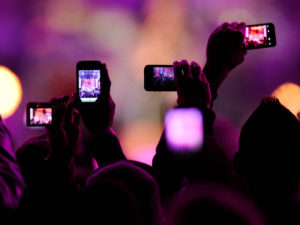 Everyone's experience is different and every artist is different. Some artists are very fan oriented and will be around the venue before and/ or after the show ready to meet fans; while some others may not be so eager to be crowded by fans too much that day. As fans, we must be understanding; so don't go on social media and attack them for not staying behind to take pictures or sign merchandise. They're human, have been up on that stage giving you their all, and also may have to rush off to the next city.
Dealing with PCD aka Post Concert Depression (Yes, it's Real)
Okay, so, this section may seem a little sad and depressing but it's really not meant to be. PCD is something that I have dealt with and know that a lot of people deal with it as well. I'm sure it doesn't happen to everyone but it can happen if you are emotionally invested in an artist. Also, if going to concerts is your escape, then it is definitely possible for you to experience this.
In my experience, what happens is that once the lights turn back on or you are leaving the venue, and you realize that the show is over, it hits you hard. The concert took you away to a happier place, a place where you felt comfortable being yourself. In that short moment of time, you felt close to someone that you admire and may have made some new friends. It's like going back to face reality and a lot of us aren't super happy or content in our everyday lives.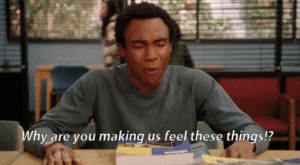 I know that it may seem a little dramatic to some of you but I can tell you that for me, music has been everything to me. Music and the artists who make it have saved my life on several occasions. Those concerts were a safe haven and everything that I was teased about was admired by people I didn't even know, who shared my love of music. I don't know about anyone else but going to concerts just makes my soul happy.
Final Thoughts!
I'm not even going to lie to you guys, with the concert approaching I am getting more and more nervous. I may be going by myself to a lot of this and I haven't really done that, especially not somewhere I haven't been before (House of Blues Houston). I also bought VIP for Hoodie Allen, hoping to get the FULL experience, so I'm a little anxious about it all. I'm really anxious about the possibility of meeting my Fav of the last 3 years or so, Luke Christopher.
I have written about Luke a lot since I started this blog and admire him so much. Watching him do his thing the last year or so, and now he's on his first US tour, I couldn't be more proud. I've interacted with him on social media so I've always felt a little more connected to him than to some of my other Favorites. But, I just really want to be able to have a good time and enjoy myself.
But with all of that being said, I hope that you were able to take away some helpful tips for your next concert experience. If you have been to any concerts recently or will be going to some soon, please drop a comment and let me know. I would love to hear about you guys' experience. Also, if you have any tips or tricks that I may have missed, then please feel free to share.