Happy Friday! I'm trying to be enthusiastic and stay positive. It's been a pretty crazy and stressful week for me. My nerves have been bad lately so having a rough week definitely doesn't help. But, as always, once I put my music on and turned it up, I felt better.
Today, I have 3 artists that I want to talk about. Two of them I am talking about for the first time, while the last is someone that I have mentioned before. But they all have one thing in common; they all have new music that I feel that you should check out. Three different styles and you may have 3 different opinions but at least listen, give it a try 🙂
Introducing Gboogie the Scorpio
*Press Release*
Gboogie the Scorpio, who took his state by storm in 2007 as "Mississippi's Mixtape King" has returned to music in an unexpected way, he's got a new single "The Greatest Night in History" that is destined to become a classic. This hip-hop/dance mashup celebrates anyone who's had a memorable night whether it's at a party, sports event, hanging with friends, wedding, prom and everything in between. Get in on this track early as it makes a major push organically on the internet, radio and in the lives of music lovers everywhere.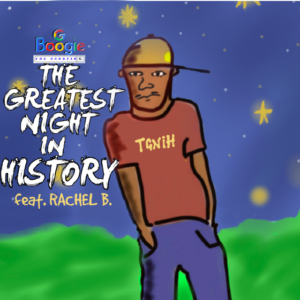 He deftly mixes the heart and soul of a laid-back rap poets like Nas and Fabolous with the celebratory party spirit of artists like Pitbull and Flo-Rida. Gboogie the Scorpio also uniquely name-checks many classic hip-hop artists that influenced him on the pulsating track, which is laced with the beautiful vocals of upcoming songstress Rachel B.
***
Putting Southern-style Hip Hop rap lyrics over a dance type beat is so unique and refreshing. It gives us a break from a lot of the aggressive (and mumble) rap that comes out of the South. It needs to be switched up so this is definitely a great track. I guess we'll have to discuss the current waves in Hip Hop but I'll save that for another time (LOL).
I will say that I am always happy to give an up and coming artist some love and support. It's pne of the biggest reasons why I do this. We connected on Instagram and the thing I love, other than the music, is that he is also a writer/blogger. His articles are amazing and he does a lot of interviews, something I definitely hope to do one day. You guys should definitely go and check out the blog at www.southernlaced.com!
Check Out the Track Here!
Follow him on social media at:
Facebook: https://m.facebook.com/gboogiestamps7
Instagram: http://www.instagram.con/gboogie_the_scorpio
Straight Outta Houston… Fat Tony
Anthony Jude Obi aka Fat Tony is a Nigerian-American rapper out of the 3rd Ward in Houston, TX. Fat Tony is very well known, especially in the underground scene. He won the 2008, 2009, 2010, and 2013 Houston Press Music Awards' Best Underground Hip Hop award, and has been recognized in URB's "Next 1000", a list of emerging new artists anticipated to breakthrough. He is definitely someone to watch for.
I had never heard of him prior to a couple of weeks ago. While I was in Houston for a concert, I was able to spend some time with my family who lives out there. We got on the topic of this blog and one of my cousins mentioned Fat Tony. The way she described him and the type of music that he does, definitely had me curious; I was excited to check him out. She enjoys authentic musicians and Live music as much as I do so I trusted her 🙂
I recently checked out his most recent album, MacGregor Park, and I seriously love it. It's great music to chill to, and even better to ride around and listen to. I have always been a fan of rappers from Texas. There has always been something special about their swag and demeanor while rapping. My next step is to see him live, especially since my cousin says that it's a pretty great experience.
Here is an up to date Discography:
Studio Albums
 RABDARGAB (2010)
 Double Dragon (2012) (with Tom Cruz)
 Smart Ass Black Boy (2013)
 MacGregor Park (2017)
Mixtapes
 RABDARGAB: The EPreview (2010)
EPs
 Love Life (2008)
 Look (2016) (with P. Morris)
 Urban Hall of Fame (2016) (with Kyle Mabson, as Charge It to the Game)
Singles
 "Hood Party" (2013)
 "BKNY (Remix)" (2013)
 "No More" b/w "Love Me" (2014)
 "H-Town to L.A." (2015)
Check out his video for one of my favorite tracks from Macgregor Park, "Drive Thru" 🙂
Check Him Out!
Official: www.fattonyrap.com
Facebook: www.facebook.com/fattonyrap
Twitter & Instagram @fattonyrap
More from a New Favorite… Ferris
To refresh your memory (if you read my earlier feature on him) Ferris is a 20 year old Singer/Rapper/Producer/Fitness Trainer/Entertainer. I first saw who he was on Twitter and immediate fell in love with his EP I Was Wrong. His unique and raw lyrical ability got me hooked. He really is talented and I look forward to more music from him.
Since then he has released some new tracks. This recent one, though, "Bestfriend (Freestyle)" is definitely a favorite right now. And he dropped a visual for it too so I was definitely excited about it. Check the song and video out ASAP!
Check Him Out!
Official: www.ferryferris.com
Twitter @ferrisofficial
Instagram @ferrisofficial1
Soundcloud: www.soundcloud.com/ferrisofficial