It's been a while since I've been able to talk about J.Cole, who is and always has been one of my favorite rappers. So much has happened in his life since the last time he released music, and this new album The Off-season reflects that. And the weekend after the album dropped, he made his basketball debut with an African Basketball Club team. If you want to catch up on my other J.Cole posts, see the links below!
Before I share my thoughts, I recently saw someone say that this particular album is more like a mixtape, and should be more after having the fans so long for this. For me, personally, I have no issue with an album sounding like a mixtape, because that just means that it has that raw, genuine quality to it. Sometimes, an artist's style can change when it's an album, polishing music that doesn't need to be. Does that make sense?
The Off-Season… My Thoughts!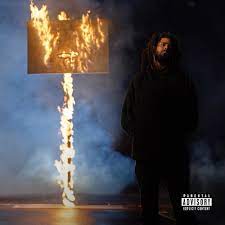 There are a good amount of features on this album, but one of my favorites has to be Morray on "my.life" that also features 21 Savage; but Morray's vocals on the hook is immaculate. Something else I love is Cole's "rant" at the end of "applying.pressure", just saying that sometimes you have to remind people that you still got it, basically. This album also contains many odes to J.Cole's love of basketball and his respect for the players. He even uses a sample from NBA player Damian Lilliard for "punchin'.the.clock". 
No matter what, Cole always has these tracks that speak so much truth that it gives you chills. That song for me has to be "pride.is.the.devil" and it should be self explanatory, but one specific lyric that sticks out to me is when he says:
"Slowly realizing what the root of all my problems be

It got me feeling different when somebody say they proud of me"
Cole's flow on "interlude" is something different and the lyrics will hit you too, especially when he speaks on all of the killings of young black men, including Nipsey Hussle:
"It's a war, niggas runnin' up the score

Jesus said that you should turn the other cheek

Was his niggas gettin' murdered every week?

Dead bodies, smell the odor in the street

My homie' homie got out on parole

He sold more Coca-Cola than the soda industry

Summertime bring the coldest winter breeze

Hella blues like the Rollin' 60s

Christ went to Heaven age thirty-three

And so did Pimp C and so did Nipsey"
Then we get to the end of this experience with "hunger.on.hillside". Hearing a new J.Cole album is so refreshing because we don't have many storytellers like him, unless I'm missing something.  
Follow Him!
Official: www.dreamville.com
Twitter @jcolenc 
Instagram @realcoleworld