I finally have a Fan-Girl experience to share with you guys! I have had some pretty great experiences, but they weren't FAN-GIRL experiences. Honestly, I didn't think that I would be as excited as I was. I felt like a big kid and it felt good, compared to the trials and tribulations of adulting LOL.
So, the comic-con that I attended was the Louisiana Comic Con in Lafayette, Louisiana. I have wanted to go to it since I first heard about it a couple of years ago but never made it. This year, it ended up being a last minute thing, but a part of me is glad that it was. I ended up buying tickets on the first day of the comic-con.
Louisiana Comic Con 2019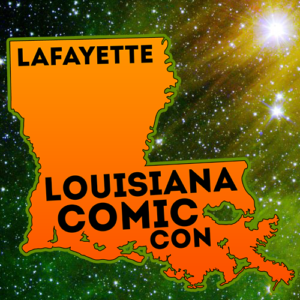 When we walked into the convention center for the first time, my friend and I felt like kids in a candy store. It was so awesome! We were blown away at all of the merchandise (pop culture tees and posters) and the amazing costumes the other convention attendees were sporting for the event. It was one of the most unique and fun environments I have been in.
My mind was already made up that I was going to meet Kel Mitchell and get a picture with him. So, the first thing that I did when we got inside was to go to the photography company's booth to get on the list to meet Kel. It was a quick and simple process and I was told to head upstairs around 12:45 pm to where the picture would be taken. That left us with a lot of time to kill so we walked around a few times.
Meeting Kel Mitchell
I ended up having to wait until 1:30 instead of 1 due to his long line downstairs at his booth. The time kind of flew by and soon we were being led into one of the event rooms to wait. We couldn't see him due to the curtains separating the room but we knew that voice when we heard it. I was the second person called.
I freaked out a little bit and told him I was a huge fan. He thanked me and complimented the fanny pack I had on (totally 90s LOL). We hugged for the picture and said our goodbyes. I hated that it was so quick but I still appreciate the fact that Kel was so sweet and just as hilarious as we thought he would be.
Check out my experience video below for more!
Final Thoughts!
We honestly weren't there that long but had so much fun. They also have a comic con in New Orleans every year so I definitely want to make plans to go to that one. I am honestly so proud of myself for making the decision to go. 2019 is going to be the "year of experience" for me and this is a pretty awesome way to kick it off.
