*Late Post*
I had so many other things that I was hoping to talk about first, even a Fan-girl Concert Guide. But with the recent "rescheduling" of Monsta X's tour, I have a whole new set of emotions and thoughts that I want to share. I was unsure of how I would do this. But after seeing a lot of other fans' reactions, I figured a blog post would be good for now…
Pre-Concert Planning
The way things were looking, even WITH Covid still rearing its ugly head, it looked like they had found a way to still have the tour. So many other concerts and festivals were popping up as well, so I figured that I could really start planning. Being that I live in southern Louisiana, the closest show is in Ft. Worth, Texas, about 5 hours away (by car). So, my first thought was to try to book a hotel that was walking distance to the arena (no worries about arena parking or sketchy Uber/ Lyft/ Cab drivers).
Then I was trying to figure out if I needed to take off from work the day before because you never know what traffic will be like the day of the event. I had even ordered a couple of cute things to possibly wear. Everything was good until around 8pm CST on a Thursday. The record label released a statement regarding the rescheduling, along with a new set of dates.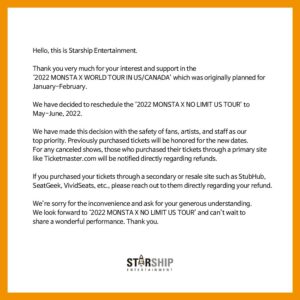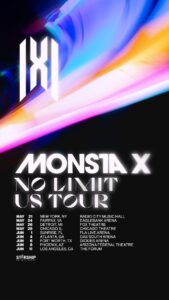 And yes, again, more cities have been removed from the tour schedule completely.
Postponements and Rescheduling
Let's start with how many times this has been postponed and rescheduled. See images below for every Ticketmaster email that I got after originally purchasing tickets in January 2020…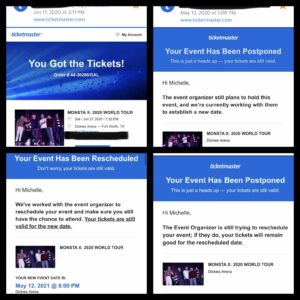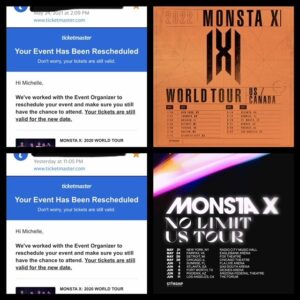 The first couple of rescheduled dates were honestly done too soon and I was making no plans for those dates because I just knew something was going to happen. But for some reason, I thought this one would work out; call me naïve (or concert deprived). The very reason these concerts are being cancelled is the same reason why life has been difficult in general the last 2 years. But I was still looking forward to going and getting away.
Why Does This One Hurt So Much?…
Other than the fact that I will probably lose money because of this, a lot of "K-Pop things" play a large factor. We already were going to be seeing Monsta X as 6 instead of 7 (minus Wonho) with the first set of dates. But after the rescheduling happened again and we had to watch one of the members, Shownu, leave to fulfill his mandatory military service. And I really hope these new dates work out because other than dealing with renewing (or not renewing) their contract, 2 more members may have to leave for military.
*Not everyone has the benefit of military postponement like BTS does*
There are so many different things that come into play in K-Pop as compared to American artists. This is the first time I've really dealt with all of this, but also the first time I've been in a pandemic. As much as I would love to go to more concerts than the 2 I already have tickets for, I just don't know. And to be completely honest, there are a very small number of American artists I am willing to pay for and go through any of this for.
Final Thoughts!
I could talk about this all day, but I won't. If some of you aren't into any of this and read that, then you probably learned some things lol. The excitement around concerts isn't the same for me, for obvious reasons. The only concert I have been to this entire pandemic was one I didn't enjoy that much and spent most of it paranoid. Hopefully things will get "better" soon…
If you got this far, thank you for reading. Please stay safe and healthy. Be kind to one another. And let's get through this together…
Also, check out my Latest Youtube video where I unbox Monsta X's 2nd English language album The Dreaming 🙂
Follow Me!
Facebook: www.facebook.com/muzikjunqie
Twitter @muzikjunqie
Instagram @muzikjunqie
Pinterest @muzikjunqie
Red Bubble Shop: Official Muzik Junqie Merchandise