Happy Tuesday! I am so happy to be back and I am slowly getting back to "normal" with my writing/ blogging. This particular topic really had me excited to get back to writing. For those of you who have been following me for a minute (or not), I love Boybands! And right now is an exciting time because the new generation has arrived and they are not going anywhere anytime soon. Here are 3 groups who stand out to me right now 🙂
Simon Cowell's Newest Boyband… PrettyMuch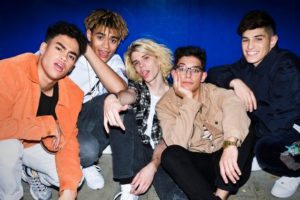 Adorable, right?!
So, it looks like Simon Cowell (X-Factor creator and former American Idol judge) is at it again with another boyband. Remember that he is responsible for the careers of Fifth Harmony, Little Mix, and more importantly One Direction. This new group of his is called Pretty Much and they are based out of Los Angeles, CA. The group consists of teenagers Brandon Arreaga (17), Zion Kuwonu (18), Austin Porter (19), Edwin Honoret (18), and Nick Mara (19).
Now, from what I can see so far, vocally, they are at the same level as One Direction if not a little better and are definitely more R&B, which I love. When it comes to dancing, though, these boys blow 1D out of the water. 1D never really danced and when they did it wasn't exactly the best (Liam was pretty goodJ). All 5 boys are amazing singers and dancers.
I am not too fond of Simon Cowell but I will say that when it comes to talent, he is a freaking genius! His knack for the whole boyband thing is ridiculous and he makes sure that they are more than a gimmick. One Direction was definitely special and Pretty Much looks to be heading the same way. I am a little too old to really Fangirl about these new groups but I will definitely keep up with them because I love seeing young talent do their thing.
The video above is for their first single called "Would You Mind". The music, especially the drum beat at the very beginning, gives me that good old fun 90s, R&B vibe. The song is super catchy and after hearing it on the radio once, I was hooked. And the video definitely does the boys and the song justice.
CHECK THEM OUT!
Twitter & Instagram @prettymuch
Youtube: www.youtube.com/channel/UCfcogCnCcsNZZLQkYJL81Tg
www.youtube.com/channel/UCy_JTXp58oTDBQHAh9Vqbiw (VEVO)
All I'm Saying Is… Why Don't We?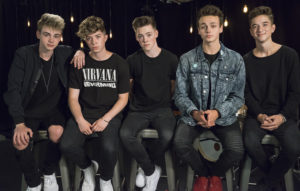 The babies!
This next group I want to introduce is a Pop group (aka Boyband) called Why Don't We. They were formed last year and consist of Jonah Marais (19), Corbyn Besson (18), Daniel Seavey (18), Jack Avery (18) and Zachary Herron (16), each of whom had previously recorded as solo artists and found a following on social media. They are currently signed to Atlantic records and from what I was reading about them, they kind of put themselves together. They were all friends prior to this and were interested in the same kind of music, so they figured "Why don't we" form a group (cute right?!J).
They already have 3 EPs out: Only the Beginning (2016), Something Different (April 2017), and Why Don't We Just (June 2017). I have been listening to their music and I really like it. What's good is that they even though they are really Pop/Dance oriented, they still don't sound like the other groups. No cookie cutter group here either which is awesome. I love to see record labels encourage uniqueness and originality, especially when it comes to Boybands.
That was their most recent video for the song "These Girls". I had watched a couple of their other videos but this one was just really fun and you could really see their personalities. They don't dance as much as the group I mentioned before but it's okay. The boys aren't stiff which is good so they can still keep your attention.
CHECK THEM OUT!
Official: www.whydontwemusic.com
Twitter & Instagram @whydontwemusic
Youtube: www.youtube.com/channel/UCgJMQU7JOIoP-YnrhH_P-bA
Last But Not Least… The YRS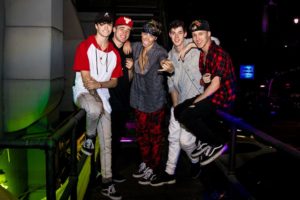 Hot, right?! 😉
With this group, I first heard of them through my good friend Mishy. She's a huge fan of them and got a chance to see them live and meet them. From what I have seen so far, they are pretty adorable, and you guys know I am always down to get to know Boybands. I'm happy that I finally get a chance to talk about these guys.
So, the YRS, are an R&B group based out of Atlanta, GA and consists of Dom, Taylor, Kyle, Nate and Jay. They are signed to Cash Money Records which slightly worries me because I just want them to get promoted enough and the right way, but it can still be a pretty dope opportunity for them. And they did go on tour with Austin Mahone, who I also love (especially his last album For Me + You), and it looked like they did awesome. Other than that, though, I don't really know too much else about them.
I did find this video on Youtube of them performing their song "Party All the Time". They are NOT your typical group AT ALL but I actually dig that about them. And I am in love with their energy, it's contagious! There are more videos like this on Youtube that I plan on watching because I really want to get to know them and find out more 🙂
CHECK THEM OUT!
Facebook: www.facebook.com/yrsofficial
Twitter @the_yrs_
Instagram @the.yrs
Youtube: www.youtube.com/channel/UCzK4S9SyB2xMiHAmUy4utqw
Final Thoughts!
To be honest with you guys, from all of the years I have watched boybands and been a fan of most of them, I would love to be able to work with one and watch them progress from behind the scenes. The process of molding and developing talents fascinates me. And also the opportunity to work with 5 different personalities with different talents to offer just looks fun. I love people, music, and encouraging people to be themselves and show off their talents.
The whole boyband thing has been so much more than being a Fangirl. I know what it was like when I was a teenager. I felt alone and different but listening to my favorite groups made me feel so much better. I know that a lot of the fans of these current fans are dealing with the same things. Yes it may come across as obsessive and overdramatic but you don't know what these kids are going through and why they grown attached to this type of music and the guys who make it.
Music is music and it has a positive effect on just about everyone it touches