It's Friday already?! Do you know what that means? Yes it's the weekend but when you're a music fan like me, Fridays mean so much more. It's the day when a lot of new music is released 🙂
I want to talk about someone I haven't really been talking about much lately… Mr. Zayn Malik. The last thing dealing with him was when he won Best New Artist at the American Music Awards. But recently he and Taylor Swift dropped their new song "I Don't Wanna Live Forever" from the new 50 Shades Darker (sequel to 50 Shades of Grey) movie. To say this was unexpected is an understatement, for me anyway.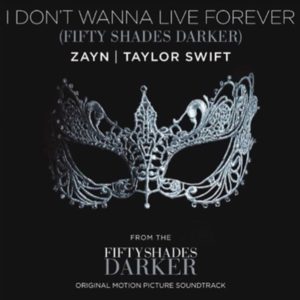 I, honestly, didn't expect any new music from Zayn any time soon. I figured we were lucky enough to get a good glimpse at him at the AMA's. Usually, he'll pop up, shock us all with a new selfie or quote about something, then disappear for a while. I think a lot of us knew a Taylor Swift collaboration was coming but not like this. But since Zayn has been very sexy/ sensual with his music since he went solo, this feels like the perfect vibe for him.
Now, I am not the biggest Taylor Swift fan but I have been known to sing along to many of her songs throughout the years LOL. There has always been something about her that made me just not be able to completely jump on board with the rest of the Taylor fanatics. Plus the fact that she is best friends with Zayn's current girlfriend… But that's definitely a different (and petty) story for another time.
The Song
"I Don't Wanna Live Forever" was dropped back in December of 2016. It definitely came as a surprise to most of us. Even though, it looked as if Zayn and Taylor were hinting at it when they were pictured together a couple of times. Many people, especially fans, were pushing for a collaboration between the two Pop superstars. I, personally, just wanted to hear more music from Zayn. We all got that plus some.
I absolutely love it. Zayn's voice is angelic as always and that falsetto gives me chills. It definitely puts you in the mood for this movie. And even though you don't hear Taylor as much as you do Zayn, her voice is actually pretty awesome on this song. If I didn't know it was her before I listened to it, I wouldn't have recognized it as her voice at all. I never would have thought that a Zayn and Taylor Swift collaboration would sound so good but it does.
The Video
They officially released the video today, well technically 11:00pm central US time. It is an incredible video. Zayn looks so handsome and just perfect as always. I even liked the look they did for Taylor. I could've done without the overly sexy scenes with her though. And I only say that because she could've made it sexy without make it look like she was trying so hard. She looked great but it came across forced for me.
I know Zayn is a special specimen of man but even his "intense" scenes looked so calm and effortless. Taylor totally could have done the same thing. She was dressed perfectly and the way she sings in the song can allow her to embody those lyrics. But, overall, I enjoyed the video and the darkness of it. It was dark, sexy, and dramatic; fitting perfectly with the vibe for 50 Shades Darker.
I am a little curious about the movie now too. I did watch the 50 Shades of Grey but it's not something I can watch over and over again. It was a bit intense. I probably should've read the books but oh well, maybe later. Until then, I am just going to enjoy Zayn's amazing voice because who knows when we'll see or hear him again… Even though they are saying that Zayn is set to release his 1st single off of his 2nd album which is supposed to be coming out in 2017. I would love for that to happen but with Z, you just never know…
Check out the song on iTunes/ Apple Music… The full soundtrack is set to drop on February 10th.
Official: www.50shadesmovie.com