I have so much to say about the magical experience that was Monsta X's 'We Are Here' Tour. So much happened to prepare for this 'We Are Here' concert: Buying tickets (twice), booking a hotel, getting a rental car, figuring out an outfit, buying a light-stick, etc… I will have two videos on my Youtube channel; one with concert footage (forgive me in advance for the shakiness and weird angles), and one with a more sit-down story time/ experience video. This 'We Are Here' tour is definitely up there with my top concerts EVER (so far)…
Check out my Lightstick Unboxing video here
Before the Concert…
I live about 4 hours from Houston (Sugarland), Texas. My best friend Rachel and I made it to Houston around 2:30 or so, checking into the hotel right away. We got settled and decided to find something to eat, and ended up being surrounded by adorable Monbebes. We got back to the hotel and started getting ready.
After I was dressed I was getting out my light-stick and guess what… It wasn't working! Thank God for the concierge desk because I was able to get new batteries. We had already missed the free hotel shuttle and had to get an Uber, and ended up having the dopest driver, who ended up being a new fan of Monsta X before getting to the arena LOL.
Other than slightly freaking out because we didn't get to the arena until close to 7:30 pm and the line was crazy long… Everything was cool. Once they added more lines, it moved a lot faster and we got through security pretty quick. We got inside and I was just determined to get to our seats. The seats were better than I thought so the excitement was definitely setting in, after the initial shock, of course, LOL.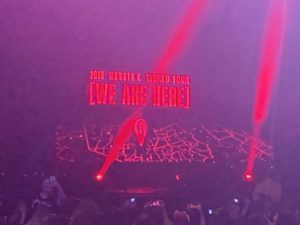 The Concert!
I actually enjoyed the fact that there were no DJ's or opening acts for this concert. The first indication that it was almost time for everything to start was when the 'We Are Here' graphics popped up on the screen then the lights dimmed a little after that. I don't remember when everything happened exactly but the intro video started, showing each member one by one with some "Mission Impossible"-type music. Then there was more music and lights on the stage.
I lost it when the screen lifted and the boys walked out onto the stage in those gorgeous black and gold outfits! It definitely didn't seem real. Their first song was "Shoot Out" and the crowd was READY! Then they went into "Hero" and "Trespass" (Excuse My Charisma!) before changing sets.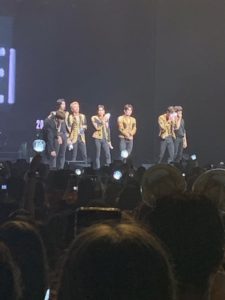 The Stages…
Then we have the next set of songs, "Play It Cool", "Mohae", and "Jealousy". Now it was time for the boys' individual stages. Hyungwon, Minhyuk, and Kihyun performed Bazzi's song "Myself" (my favorite song from that album btw), Jooheon and I.M. performed an original song, danced, and Honey had a drum solo, and Shownu and Wonho did "Mirror" and they had all of us speechless for sure. After those amazing stages, the boys came back together and slowed things down a bit with "Honestly", "Sweetheart", "I Do Love U" and "No Reason". And the moment I was hoping for, they performed "Who Do U Love?" and I was so excited to see the choreography for this.
We went back to partying with songs like "Dramarama", "Oh My", "Special", "Fallin", "Alligator", and "Rodeo". The energy in that building was electric and contagious. But we knew it was all coming to an end when they sang "By My Side". I think we all wanted to cry at this point.
There is so much more to talk about so keep an eye out for a part 2 and hopefully a story time video!
Check Out Part 2 here
Follow Me!
Twitter @CreoleChic24
Instagram @Muzikjunqie