Let me first start by saying that I am not a Horror genre person and neither are my friends who went with me. But between Jordan Peele, Lupita Nyongo, and of course Winston Duke aka M'Bae-Ku, we were curious. Plus, the trailer and the twisted remix to Luniz's "I Got 5 on It" made 'Us' look so dope. The fact that I saw Get Out also made me want to check out this sophomore effort by the evil genius that is Jordan Peele.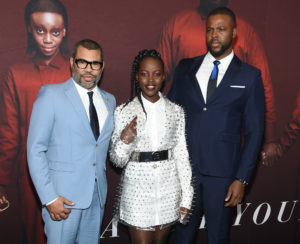 My Thoughts on Us… Horror or Nah?
Where do I start… I guess I will say that even though I am NOT a real horror fan and definitely wouldn't go to a theater and watch it on the big screen. But with this one, I was already a fan of Jordan Peele, Lupita Nyongo, and Winston Duke. Plus, I am a huge fan of psychological thrillers and anything that messes with your head and makes you think, regardless of what genre it's in. Then you mix all of that together… I had to find a way to make this happen.
I really don't want to spoil this movie for anyone who hasn't seen it yet. This movie wasn't as violent and gore-y as I originally thought (but there is violence and A LOT of blood FYI). I absolutely adored Winston Duke's character "Gabe/ Abraham"; he was everything that he was hoping to portray – a dad that was protective, corny, sexy, sensitive, and strong all mixed together. Lupita, being the main character(s) "Adelaide/ Red", was brilliant and terrifying. And the kids (Evan Alex and Shahadi Joseph) were amazing as well, all of them (including those damn twins LOL).
If you have seen the movie, though, and are still trying to figure things out (like me) you should check Youtube. There are a lot of cool theories and easter egg reveals from the movie. You should also watch some the press interviews the cast did 
Final Thoughts!
Other than Jordan Peele getting an Oscar for 'Get Out', Lupita made history being the first African American actress playing the lead in a horror film that grossed as much as it did. This movie and the universe that Jordan is creating is making a large impact on the horror community, movie community, and the African American community. Also, whether some die-hard horror movie buffs out there categorize his work as real horror or not, he's opening up a dialogue about it. I can't wait to see what he does next!
Follow for More!
Twitter & Instagram