I haven't done a Billboard Music Awards' recap since around 2016 but I'm trying to get back to doing these again. To be honest, having a blog like this, I feel that it's important to talk about these awards shows, as corny as they can sometimes be. But it shows where the music industry is heading, especially this year's (2020) Billboard Music Awards. And these awards are more so based on chart data as well as fan voting and interaction:
"Billboard Music Awards nominees and winners are based on key fan interactions with music, including audio, video streaming, album and song saws, radio air play, touring and social engagements. These measurements are tracked by Billboard, MRC Data and Next Big Sound…"
The Show and Some of My Favorite Moments
The show was supposed to happen back in April but of course with COVID, it was postponed. So, this year's Billboard Music Awards was held on October 14th, at a very empty Dolby Theatre in Hollywood. Our host for the night, Kelly Clarkson, opened show with a rendition of Steve Winwood's "Higher Love", and was joined by acapella group Pentatonix & legendary percussionist Sheila E. Kelly was more bearable as a host, for me, than some others.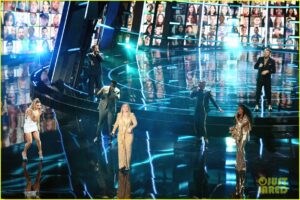 Even though, this was a very "interesting" awards' show, I did have some favorite moments. They had a few popular social media/ Youtube personalities on there, including a pair of young black twins who react to old school music videos. I also enjoyed watching Lil Nas X won Top 100 Song with "Old Town Road", wearing something only he can really pull off, and just his overall cuteness. And one of my favorite people, Lizzo won for Top Song Sales Artist and gave a moving speech about "suppression":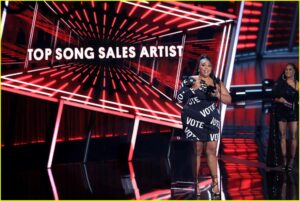 "I've been thinking about suppression, and the voices who refuse to be suppressed. I wonder, would I be standing here right now if it weren't for the big Black women who refused to have their voices be suppressed? … When people try to suppress something, it's because that thing holds power. They are afraid of your power. Whether it's through music, protest, or your right to vote, use your power."
I loved seeing the mayor of Atlanta, Keisha Lance-Bottoms, presented the first ever Billboard Change Maker Award to rapper Killer Mike. He accepted the award with his gorgeous wife at his side. Killer Mike also recently started an online banking site that supports black owned banks. Billboard and NBC donated 1 million dollars to that initiative.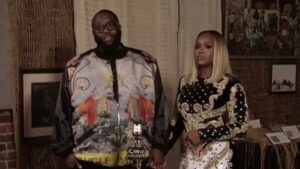 My Favorite Performances
One of my favorite performances of the night, though, was by Alicia Keys, who performed her song "Love Looks Better". Another performance that I enjoyed was Post Malone's stage where he performed "Circles" with Tyla Yahweh, from an "undisclosed location" in California. Brandy performed a medley of some old and new songs, with an appearance from Ty Dolla Sign. Then we got a moving sentimental performance from John Legend, performing his song "Never Break" and dedicating it to his wife Chrissy Tiegen.
And lastly, BTS accepted their fourth Top Social Award, and performed their top charting hit "Dynamite" with full band and background singers. They apparently performed from the Incheon Airport back in South Korea, which did make for a pretty cool backdrop. The guys have definitely made their impact on the industry, beyond topping the Billboard 100 chart. I personally felt like this was a very "different" performance of "Dynamite", but the matching burgundy suits was the cherry on top for me.
Awards & Other Highlights
Top Billboard 200 Album – Billie Eillish
Top 100 Song – Lil Nas X ft Billie Ray Cyrus
Top Female Artist – Billie Eillish
Top Country Artist & Performance – Luke Combs
Top Song Sales Artist – Lizzo
Top Latin Artist & Performance – Bad Bunny
Top Male Artist – Post Malone (he would take home 8 other awards that night, including Top Artist)
Cher presented the Icon Award to Garth Brooks & he performed
Top R&B Artist – Khalid
Billboard Breakout Artist performance – Saint John
Chart Achievement Award – Harry Styles
Top Social Artist (as voted online by fans) – BTS
*Those were the only categories that were shown during the show. There were, surprisingly, a lot of things left of what was actually televised.