On Friday, February 21st (2020), my best friend and I were in Dallas, Texas for a Fan-Girl Chronicles experience with some of our favorites, VAV. The excitement (and nerves) building up for this was REAL. Plus we had VIP so we would be interacting with them as well. But we were also dealing with a new venue and promotion company (Studio PAV) so we had no idea how things would go. This is going to be a long one so you can either watch the video or read my story below…
Nothing Ever Goes As Planned…
I was hoping to get to the venue for around 4p at the latest but after getting ready, trying to take my time and not rush us, we got there closer to 5p. The line was pretty long and we had to figure out how to check-in and get our VIP lanyards and pre-ordered merchandise. While getting our VIP lanyards, I was told that I was the very first person to buy VIP and that I should've gotten there earlier…
While standing in line, in the already dropping temperature, for the next two hours, a lot happened. One – one of the girls behind us was talking about my state (Louisiana) and basically calling us "piss-poor" alcoholics, as compared to MS, where she is apparently from. Two – some of the staff insisted on talking to us like children, yelling at us to push the line back and get off the sidewalk, just to be told to move the line up again *annoyed*. Staying positive was getting difficult.
The VAV VIP Experience: Hi-Touch, Group Photo, & Snapshots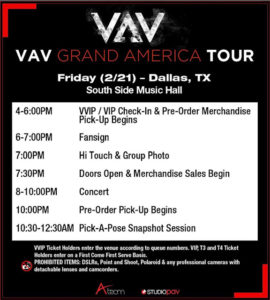 The VIP tickets/ passes that I purchased came with Hi-Touch and a Group Photo with the boys. For the Hi-Touch, after being rushed and damn-near running to get to our spots, we literally lined up and high-fived each member then lined up behind their chairs for the group photo, with about 8-10 other people. We were literally dead center (I was behind Baron) which I wasn't mad at. I just hope that the picture came out well since we won't get to see them until April, once the tour is over.
Now, the polaroid snapshot tickets weren't really a part of VIP, but it was a special experience. We could choose to take an individual polaroid photo with one or more members. I ended up choosing to take one with my Bias, Ayno. I don't know what got into me but I was really nervous, got shy, and hardly said anything to him.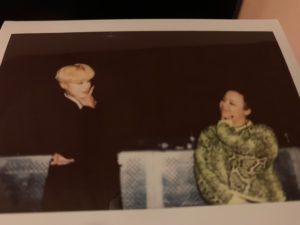 He was really sweet, though, and I did get a smile/ smirk out of him. He also told me "Have a good night" and we touched hands. There is more of a story to this but it'll be in the video.
VAV in Concert!
The show really was great, even though I had a lot of tall people in front of me, who kept moving. They all looked so amazing, even more handsome in person; pictures don't do them justice. I knew they were great performers but I still walked away so impressed with them and their stage presence. I was super excited when they did Ayno's song "Runway", walking up the stage like models – ACE showing off his bare, muscular back, and Jacob lifting up his shirt *still swooning*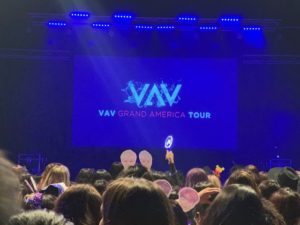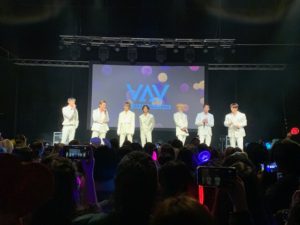 They did have a Q&A portion as well as a part where they brought 7 fans up on stage to choose a wish that a member they would pick, would have to fulfill. That was definitely entertaining LOL. But, probably my favorite moment was when a little birthday girl was chosen and had to choose a member to have a staring contest with, and she chose St. Van (someone a lot of us probably wouldn't last 5 seconds with). Of course she won and he ended up picking her up and spinning her around (cutest moment ever!).
Here is the ONLY video that I took that night. It is one of my favorite songs "Senorita".
I honestly loved the fact that they highlighted the members' songwriting. They mentioned Ayno's mixtape "I'm Not Okay" (which I was hoping for so I was happy) and "Runway" from Poison, Ace's song "Sweetheart" also from their album Poison, Baron worked with the singer Crush, and Lou's official introduction as a songwriter. All of those moments definitely made me emotional, and I felt the tears coming for sure. I can't explain the sense of pride I felt for them.
Final Thoughts!
It was definitely a night to remember and I am missing the boys horribly but a part of me keeps replaying it, making me regret some things. I don't feel like I was 100% my true self, I was so much shyer than I had hoped I would be. Was it because I was nervous since it was my first K-Pop VIP experience? Was I just nervous to be that close to my bias and didn't want to make him uncomfortable due to our cultural differences? Or did I just feel rushed by the Studio PAV staff?