Happy Monday!
This is actually the 1st MCM Post I did but I made a few updates and thought it was a good time to share this with you guys (AGAIN)…
I want to introduce you to (if you don't already know who he is) one of my favorite rapper/ singer/ songwriter/ producers/ all-around Hipster Luke Christopher 🙂
Here's a Quick Bio:
Name: Luke Christopher
Age: 22
Birthplace: San Fernando Valley, CA
Music: Hip Hop/ R&B/ Soul
Record Label: ByStorm Entertainment/ RCA Records
Mixtapes/ EP Releases: Building Skies (2012), TMRW TMRW (2012), The Wonder Years Pt. I (2013), TMRW TMRW Pt.II (2014), TMRW & YSTRDY (EP, 2015)…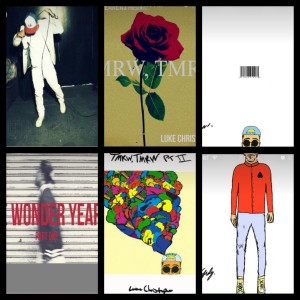 Growing up in a mixed parent household, Luke was influenced by different types of music. But it wasn't until he received Tupac Shakur's "All Eyez On Me" that made him more interested in Rap/ Hip Hop. As a teenager, he worked on his music in a make shift studio under his bunk bed.
Luke was signed by Jimmy Iovine with Interscope Records before graduating from high school. After that, he would skip college to pursue music full time and would end up signing with Bystorm/ RCA. The rest is history.
How I Became a Fan
I started listening to Luke over a year ago. I had never really heard of him until I was up watching videos on VH1 and his video for "Ms. Holy Water" came on. He's obviously a cutie but I was feeling the song and thought the video was fun and different . That made me look up his Twitter then I looked for his music on SoundCloud and more videos on YouTube. I was surprised to find out that he had already released a handful of mixtapes. Of course I started downloading them along with hunting down some of his other songs on SoundCloud.
After reading and watching a lot of Luke's interviews, one thing that I really love and respect about him is the full creative control he demanded when he was signed. And I admire his creative process. His music reflects on some old school with some a new age edge to it. He is also an amazing story teller. It's hard to not be hooked on his every word and wonder what his material is inspired by.
He really is making a lane for himself and I cannot wait for him to release more music and hopefully do more live shows and appearances. I feel like if we can get him to come down to Louisiana, it could be a huge step in the right direction for us music-wise. We definitely need some more fresh faces like him down here.
Check Him Out on Social Media 🙂
Facebook: www.facebook.com/lukechrismuzic
Twitter @LukeChrisMuzic
Instagram @aylukechristopher
SoundCloud: www.soundcloud.com/lukechristopher
Check out his latest video for one of his many inspiring songs, "Lot to Learn" off of his TMRW EP.