I honestly didn't think I'd have another Fan-Girl experience to share with you guys so soon, but sometimes things just end up working out. Now, even though I have known about the Backstreet Boys bringing their DNA Tour to Lafayette since last year (probably), the closer it got, the less I was sure about whether or not I wanted to get tickets. Also, after getting a chance to see Monsta X in July, I really wasn't sure what I wanted to do. But working in radio has its perks and I was able to get some tickets before leaving work for the day.
My "initial" plans didn't exactly work out and I ended up going by myself. But, I did end up meeting with a good friend/ co-worker and we were able to sit together; which definitely made things so much more fun. The concert started around 8 and I probably got there close to that time and was dropped off. I didn't miss anything which was awesome.
The Backstreet Boys Concert Experience!
The opening act was BSB member, Brian Littrell's 16-year-old son Baylee who is more on the Country-side. It was so crazy because he looks just like his dad and definitely reminded us of when we were around his age, freaking out over his dad and the rest of the group LOL. Baylee is super cute and talented and kept the audience engaged his entire performance. My friend and I were very impressed with him and his set.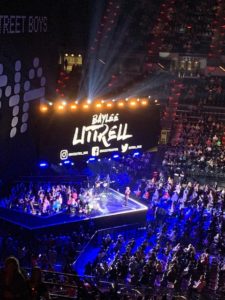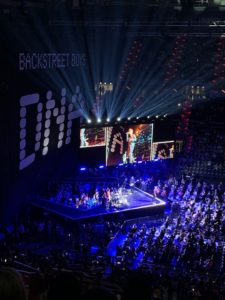 As for when the Backstreet Boys were about to come out, I absolutely loved their intro video. Everything about their stage, lighting, outfits, and visual effects were AWESOME! They looked and sounded amazing, never missing a beat. I still have my same favorites from when I was a teenager, Kevin and AJ. They sang a lot of songs from their new album DNA, along with the classics.
Final Thoughts!
Oh, and did I mention that this is my first time seeing the Backstreet Boys? Yea, I was always more of an NSYNC girl back in the day, even though I loved BSB and wanted to see them too. But at the time, it was one or the other and NSYNC won every time. But getting the chance to experience it now, was such a beautiful experience.
Everything that I love about music and concerts pretty much started with groups like NSYNC and Backstreet Boys. They've always been known for 5-part harmony, synchronized dance moves, creative wardrobe, breathtaking live shows, and beautiful visuals. So many people to this day refuse to give groups like them the respect they deserve because of the stigma of being called a "boyband". The K-Pop groups are dealing with that now. It's disappointing because they are downplaying their talent because of the music they make and/ or the fan base that they think is only full of young, obsessed female fans.