As I was trying to get back into TikTok, just scrolling, it seemed like every other video on my "For you" page was about BTS and their recent PTD Live on Stage in LA concerts. Of course, I wish I could've gone to at least one show but I'm not mad at those who were able to go. My only issue is that it seems as if a lot of them couldn't just enjoy seeing BTS live for the first time in two years. The guys looked like they were over the moon to be able to perform in front of ARMY again.
Before I really get into this, though… This is just my opinion and based off the individuals that I saw online. This is not an attack on any person, or entire fandom. Every fandom has "bad apples" and this is no different.
The Focus was…
Some newer ARMY only knowing "Dynamite", "Butter", and "Permission to Dance"; and none of their older songs
The crowd being almost silent during the concert, especially for the older songs
Older (not in age) ARMY saying that if you only know 3 songs, and no fan chants, then you shouldn't have even gone to the concert
ARMY at the concert Vs. ARMY NOT at the concert
The fact that the set list was the same for all 4 days
Some ARMY complaining about BTS cursing, Meg Thee Stallion (being HER amazing self) in her "revealing" outfit, some racist comments coming out, etc…
My Thoughts…
How else are artists supposed to gain new fans and attention if only their current fans who know everything attend? Let the guys be great and let others get a chance to see that for themselves.
Concerts are an EXPERIENCE and can be overwhelming for some who either haven't been to one before or who haven't been to one where they're surrounded by a stadium full of people.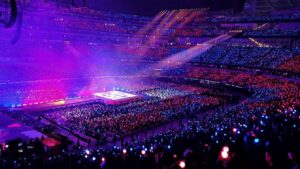 Who are you to police who can and can't go to a concert? You already spent your money, so it's not your business about what others decided to do with theirs.
If you were lucky to attend ONE show, why not spend that energy being grateful and enjoying the moment of seeing BTS live for the first time in 2 years? If you couldn't attend, it's okay to feel sad and disappointed, and maybe even a little envious, but use THAT energy to plan for next time.
The set list is usually the same for multiple days because not everyone has the luxury to attend every show. They do that so the fans who get to come to one show get the same experience.
When it comes to BTS cursing, they are GROWN. What is the problem with 22+ year old men cursing when they get hype or excited? If the issue is because children were there, then that's the parent's responsibility to make sure the child does not repeat what is said.
The interaction BTS had with Meg Thee Stallion was beautiful to see, not just because of race but as artists who appreciate each other's presence. They are fans of each other. Can they fanboy openly, without you verbally attacking the person they are fans of?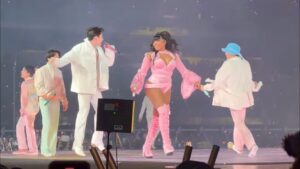 I think that's most of it…
But, SERIOUSLY?! If I was there, do you think I would be worried about anyone else except for those 7 amazing and talented men on stage? The guys didn't seem disappointed at anything during those concerts, from what I have seen. THEY were just appreciative of being able to hold those concerts and see ARMY in person.
I did buy an online streaming pass so I did get to check out Day 4 live, and it was amazing! Looking forward to watching the play back next weekend. Maybe I'll do a post about the concert itself. But after how long this post ended up being, I'll have to think about it.
Final Thoughts!
I'm glad that all of it is over, even though many fans are still talking about it, which is fine. I've seen everything, kind of, unfold from all sides. But at the end of the day, if the real fans enjoyed themselves then I am happy for them. I am hoping to see the guys soon myself, and yes if I can go to multiple shows then I will.
Also, I literally just read that BTS will be going on vacation after this US/ LA schedule, which will be their first extended vacation since their attempt in 2019, and their first time spending the holidays with their families since they debuted. So, it's obviously well-deserved, and I hope they are able to rest and re-charge mentally, physically, emotionally, and creatively. It has also been said that they will be working on a new album and preparing for their concert(s) in Seoul in March of next year (2022). I'm trying to not be greedy, but I hope that means a world tour for the rest of us is coming as well.