The Billboard Music Awards took place on Sunday, May 22, 2016 LIVE on ABC from the T-Mobile Arena in Las Vegas, Nevada. It honored some of the hottest names in music today. The finalists are based on vital fan interactions with music, including album and digital songs sales, radio airplay, streaming, touring and interactions on Facebook, Twitter, Instagram, YouTube, Spotify and other popular online music sources. It was hosted by rapper/ actor/ mogul Ludacris and singer/ songwriter/ dancer Ciara.
I just want do a recap and highlight, while giving my opinion on, some of my favorite moments from the show.
The show opened up with a performance by the "Pop Princess" herself, Britney Spears who was also the recipient of the Millennium Award. She is the 3rd person to win this award. She began her performance with "Work B*tch" and "Womanizer". She continued her medley of hits with "I Love Rock n Roll", "Slave 4 U", and "Toxic" to name a few. She looked amazing and still puts on a real show. She still lip syncs and dances very stiff and like she's counting steps in her head. I promise I'm not hating, but it's just been obvious over the years. If you look back at the peak of her career, she was known for that. Still love you Britney girl!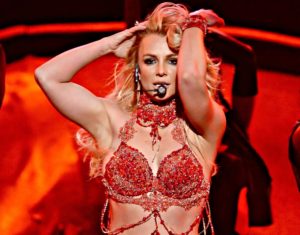 Ludacris and Ciara came out to officially start the show. I was honestly not a fan of their back and forth on stage. It wasn't that funny and you can tell the Weeknd wasn't entertained either, especially not with Ciara singing and dancing to one of his songs (Whoops!)
Speaking of the Weeknd, he was the first award of the night for Top Hot 100 Artist.
Then cutie Shawn Mendes performed a switched up version of "Stitches" where he went from singing and playing the guitar to playing the piano. It was a more soulful and slightly upbeat version of the song and he did great. He is such a great, young, talented artist.
Top Hot 100 Song went to Wiz Khalifa and Charlie Puth for "See You Again".
Fifth Harmony performed their hot single "Work From Home" featuring Ty Dolla Sign. My ladies were fierce as always. It is so refreshing to see a young, positive, powerful, girl group these days.
On to another powerful female, Meghan Trainor came out right after to perform her hit "No" which is still one of favorite songs. I wasn't loving the outfit but she still rocked it and killed her performance.
Top Country Song went to Thomas Rhett.
Everyone's favorite motivational dj (LOL) DJ Khaled came out and did what he does best, getting the crowd hype… For Justin Bieber. He started out with "Company" which is definitely one of my favorite songs off of his album Purpose. And I am actually really feeling his new buzz cut. He still has his baby face but he almost look  little more grown with this cut. I like it. Then he went into a dance break (my favorite part) with his amazing dancers. He ended with "Sorry" which I always love to see him perform. I just wish he would bring out the girls from the video though.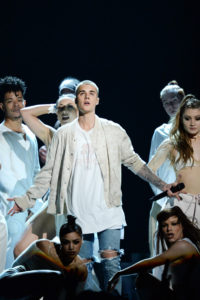 Pink performed, debuting her new single "Just Like Fire". You know she came out with the acrobatics! She was fierce, gorgeous, and so powerful in her performance. The fact that she can sing live while hanging upside down, flying over the audience is mind-blowing to me. One of the several reasons I have always loved her. She is just so exciting and inspiring to watch. (Not sure why Biebs was watching all crazy but oh well lol). Pink's set was F**king amazing, as well as her costume. She is so underappreciated.
Top Male Artist was given to Justin Bieber and it was given to him by the beautiful Jessica Alba. She reacted the same way I would have, all giddy and excited like the fan-girls most of us are lol 🙂
Now to one of the performances (other than Biebs) that I was looking forward to… Nick Jonas and Tove Lo performing my song "Close". It's such a sexual, passionate song; even the fans in the audience were getting into it. And being that Nick and Demi Lovato are doing a tour together, she came out to perform right after. She sang "Cool for the Summer' which really isn't one of my favorite songs by her but I'm still a fan. She is such a powerhouse vocally.
Lukas Graham also performed on one of the smaller stages, doing his very popular song "7 years old". I am still not completely a fan of this song but a lot of people have been talking about it and playing so Kudos dude! The music and melody is nice though.
Blake Shelton and his boo Gwen Stefani performed their duet. It was just cute and you can tell how smitten they are with each other. (That's what it looks like when you're in love folks).
Then Joe Jonas came out with his group DNCE and they performed "Cake by the Ocean". This song is just so much fun and watching them perform makes it a party. It was so cute to see Joe's brother Nick singing and dancing along.
Top Billboard 200 Album went to Adele for 25. She was not there to accept her award(s). But she left a thank you video and premiered her new video for "Send My Love to Your New Lover". Adele was jamming in that video! It definitely has a Pop/ R&B vibe to it.
Then Kesha came out on the small stage with Ben Folds. She did a tribute to Bob Dylan and it was beautiful. She looked so different then what I'm used to seeing from her but she still looked really pretty. I'm honestly happy she was able to perform, even after all of the drama with her ex-producer Luke.
The Weeknd won another award, Top R&B Song for "The Hills".
Rihanna came out to perform her song "Love On The Brain". Her performance gave me chills. She looked and sounded perfect! She left her heart and soul on that stage. She was just breathtaking.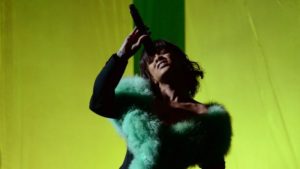 Celine Dion was given the Billboard Icon Award. She performed Queen's "The Show Must Go On" and was presented the award by her son. It was so beautiful to see, especially after Celine lost her husband recently.
For Kia's One to Watch, Troye Sivan performed his song "Youth". He is so freaking adorable! And I love his album Blue Neighborhood. He is definitely someone you guys to check out and watch out for.
The legendary girl group The Go-Go's reunited, performing their hit "We Got the Beat". They are going on a farewell tour this summer. They are the only girl group to top the Billboard charts who wrote their own music and played their own instruments.
Rihanna won the Billboard Chart Achievement Award.
Then Ariana Grande performed. I haven't been that big of a fan of her lately. I loved her first album but was unsure after that. I still haven't listened to her new album Dangerous Woman yet but I will soon. Be looking out for a Music Review 🙂
Adele won another award, Top Artist.
I really hate to even talk about this, but to end the show, Madonna did the tribute to Prince, performing his cover of "Nothing Compares to You" (yes she did a cover of a cover). She did bring out Stevie Wonder who I still adore, but even he couldn't save that performance. I am still in shock. This is PRINCE we are talking about! Maybe if they would have had multiple artists instead of JUST her. But it was one of the worst tributes I have seen. It's like it was thrown together. And what made it worse for me was that they ended the performance with "Purple Rain" and didn't come close to doing that song any justice. But BET is already throwing some shade by hinting at doing a better tribute. I guess we'll see.
This was such a crazy awards show. It definitely had its moments. I was going to try to condense this but so much was worth talking about. I hope you enjoyed it.
I'll be back with more soon 🙂