Well, I guess it was time for me to pull away from my precious KPop for a minute and check out some other music. And something brought me straight to the gem that is GoldLink's new album Diaspora. I have definitely gotten to the point where I need a particular vibe from music to really make me sit and listen. Honestly, I can tell within a few seconds if I'm going to like something or not, even though most times I will continue to listen to give it a chance.
About GoldLink…
D'Anthony Carlos aka GoldLink is a rapper, out of Virginia, who debuted in 2014 with the mixtape The God Complex. The next year (2015) he was selected to be a part of the XXL Freshman Class. Later that same year, he released his second mixtape And After That, We Didn't Talk. In 2016, he signed to RCA Records and began work on an album. And that is just a quick back drop to his music releases.
Since his debut he has created quite a buzz with his presence and music. He was mentioned in many top music publications on their charts. And of course him making the XXl Freshman list was huge, and is for a lot of new, young artists. This new album further solidifies his presence in the industry and I look forward to what he does next.
My Thoughts (& Feelings) on Diaspora…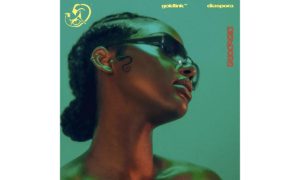 I can definitely say that after taking some time away from new and "popular" releases recently and going on a KPop binge, this new album from GoldLink was very refreshing. It's like a mix of my favorite genre's and music elements. It has Hip Hop, R&B, Caribbean, and he even has a feature with a KPop artist (I'll mention them in a bit). The whole album is amazing, from start to finish.
The first thing that I noticed was all of the collaborations, most of which I was actually familiar with. Diaspora has Khalid, Bibi Bourelly, Pusha T, Tyler the Creator, Jay Prince, and Jackson Wang (Got 7) to name a few. My favorite collab tracks have to be "Days Like This" with Khalid, "U Say" with Tyler the Creator and Jay Prince, and "Rumble" with Jackson Wang and Lil Nei. Jackson Wang is a KPop artist who is also in the boyband Got 7.
Every song was an instant addition to my playlist. I've listened to it a lot in the span of 2 days so it's safe to say that this will be a go to vibe for me. It's hard to describe where I am when it comes to music right now (other than my KPop obsession). I guess I'm just on the quest for something different. If you guys have any cool suggestions, please let me know!
Follow Him!
Twitter & Instagram @goldlink
Soundcloud: www.soundcloud.com/goldlink
Youtube: www.youtube.com/channel/UCLrYAuxT8pJjckotkBgvw1A