If  any of you have been keeping up with me for the last year or so then you should already know what's about to happen when you see Monsta X in the title LOL. They have become my favorite artist and people in this short amount of time. I have watched them grow and become this phenomenon overseas and they are definitely picking up speed here in the US. So I am excited to talk to you guys about their first full English language album All About Luv!
All About Luv… The Review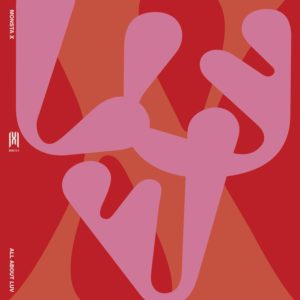 Since I am impatient when it comes to these favorite men of mine, I couldn't wait for the music to be available but they did post the un-released tracks on Youtube. I wish I could've recorded my reaction LOL. I will say that, even though I knew I was going to support regardless, I wasn't sure what direction they were going to go, being that they are being backed by US record label Epic Records. Of course I have heard them sing in English prior to any of their recent releases, but I didn't know how they were going to be "marketed" here in the states.
I honestly feel like they are being marketed like an American boy band, which is not a bad thing. "Someone's Someone" and "Middle of the Night" definitely give me those vibes. I seriously love the more R&B songs like "Who Do U Love?" and "Beside U" featuring Pitbull. And "She's the One" is more of a ballad and it's so beautiful. "Misbehave" is another slow tempo song but the lyrics are definitely "cheeky" and intimate.
The rest of the songs are heavily Pop influenced with a little R&B mixed in. I do miss hearing Joohoney and IM rap but I adore their singing voices just as much, if not more at times. This just shows their range. And it's also pretty cool that within the last year, they've released albums in Korean, Japanese, and English.
Final Thoughts!
I swear I am not trying to make this post super long but I always have so much to say when it comes to Monsta X. It has been a rough 4 months or so with Wonho leaving, toxic fans and industry people, Joohoney taking a leave of absence due to anxiety, and basically 2 non-stop comeback schedules. I am so proud of how they have handled it all and all of the Monebes who have stuck with them through it. We still don't know what the future holds but I look forward to seeing their faces in June on tour 🙂
Follow Them!
Official: monstax-e.com/
Twitter @OfficialMonstaX
Instagram @official_monsta_x
Youtube: www.youtube.com/channel/UCqHnXpWR6PGgkIGrPp_aLxg
Some of my other Monsta X-related articles to check out!