It honestly feels like it's been longer than it actually has. This internship is definitely keeping me busy, but I am learning so much. And I am forever thankful for being able to get some articles published because of it (I'll put the links below). I have been trying to keep up with the new music releases; I just haven't had the chance to blog about it.
So, I guess this post will be more of an update and telling you guys about some of the music that I have really been enjoying since December. It won't just be K-Pop either (shocker, right?! LOL). And I am also trying out this "Muzik Play-Back" theme, so keep reading to find out more 🙂
Monsta X New Japanese Single "Wanted" and I.M. Solo Project!
My ultimate Favs, Monsta X, are back with a new Japanese single and video for "Wanted". They have kept the sexy coming, similar to their Fatal Love comeback. Other than new music, they have been apart of the new 'Universe' app that is supposed to bring Idols and fans closer together. I haven't tried the app but the content I've seen so far seems pretty interesting.
Also, the maknae (youngest) out of the group, Changyun aka I.M., will be coming out with a solo album next month (March), called Duality, and I am so excited. He has come out with solo music before, two songs with R&B singer ELHAE. The fact that he is becoming more comfortable with his beautiful singing voice makes me even more anxious for this one. Now, there has already been some drama with his comeback photos (disrespectful cultural aesthetics), but I am glad that those photos were removed pretty quickly; but the record label and stylists should really know better by now.
Follow Them!
Instagram @official_monsta_x
Baekhyun Releases 2nd Japanese Album!
It looks like a lot of my Favs are coming out with music for their Japanese audience. I always look forward to these as well as any Korean or English releases. Baekhyun has been doing stuff with his group EXO, as well as SuperM, on top of his solo projects. After hearing and seeing the video for the lead single "Get You Alone", I just knew I was going to love this album.
This album, of course has an R&B feel, but I'm also getting some Jazz vibes from him. Baekhyun really is a force vocally, though. I was going to list another favorite song or two, other than that lead single, but the more that I listen to the album, the harder it is to pick favorites. If you want grown and sexy vibes, and goosebump-inducing vocals, Baekhyun is your guy.
Follow Him!
Instagram @baekhyunee_exo
MCND Releases 2nd Mini Album!
I keep looking at them as if they're a rookie group, but they aren't and this is their 2nd mini album. What got my attention with them, is their single "Crush", and the video was super cute. But they really impressed me with their dancing and performance throughout the video. MCND is more on the Pop side, and give me NCT vibes at times, while still having some unique qualities.
Follow Them!
Instagram @mcnd_official
CIX Releases 4th EP Album
Just to refresh, CIX is pronounced as C-I-X, short for Complete in X, and is a five-member South Korean boy group formed by C9 Entertainment back in 2019, I believe. They actually worked with a favorite of mine, Maurice Moore. But they are back with their 4th EP Album 'HELLO' Chapter 0. Hello, Strange Dream. So far, I have loved all their music.
I seriously love their song "Cinema"; it's just so cute to me, with its soft Pop/ Dance feel. And they'll catch you off guard with "Round 2" which is slower and a little more R&B than the others. Then you have "Young" that has almost a soft Rock sound to it. Trust me, though, if you actually dive into their music, you'll find that they are very unique compared to some other groups.
Follow Them!
Instagram @cix.official
J.Cob Releases New Single "Right Now"!
I first heard of J.Cob from his feature on Rakiyah's album. Rakiyah actually sings in Korean on the song that features J.Cob, which makes it so much more amazing. J.Cob is a Korean R&B artist and I fell in love with his voice right away. Apple Music has it classified under "Pop" but it is definitely more R&B/ Soul than anything, with it's sexy, slow jam sound.
Follow Him!
Instagram @j.cob_kr
N.O.M Releases 3rd Digital New Single "I Can't Wait"!
This is another one of those random discoveries, and I don't even remember how I found N.O.M (Nature of Man). They are an older 3 member Korean boy group, though, and have been around for a while, debuting in 2013. Their newest single is available on Spotify and video is up on Youtube. They blew me away with their openly sexual lyrics and performance.
Their overall look caught my eye as well, consisting of tight, leather clothing, and heels (yes I said heels). I'm sure that conversations are and will be had regarding their sexuality and the whole "gender norm" thing, but I think they are wonderful. And, honestly, many other K-Pop groups and artists are playing around with gender roles and showing that it shouldn't matter. Maybe we can talk more about this in another post.
Follow Them!
Instagram @n.o.m_official
New Music from Maurice Moore!
There really isn't too much more to say about this guy that I haven't said already. He recently dropped a heart-string pulling single called "Tell Me It's True". It's always exciting when there is a new release from Maurice, just because I feel that he is truly special and talented. He has the ability to pull you into a song and feel like you are apart of the story.
Follow Him!
Instagram @mauricemoore
Cecil John is Back as PONO and with a New Single!
I have mentioned PONO before, but he was going by Cecil John at the time. He is a singer, songwriter, and producer, working out of Los Angeles, CA. I found him when he was working with Luke Christopher, who I am also a fan of. He made his debut as a solo artist back in 2014 with some song releases on Soundcloud.
He produces, writes, records, mixes, and masters all of his music. Cecil also is a part of an elite collective, Grand Cru Entertainment, of Grammy winning and nominated songwriters. For more on PONO, see the link to my article about him below. Also, don't forget to check out his beautiful new single "How You Doin".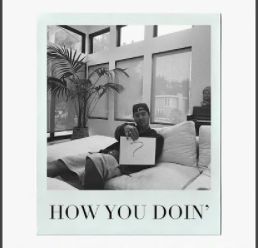 https://muzikjunqie.com/cecil-john-soliloquy/
Follow Him!
Instagram @iampono_
Also! Check out my new Spotify playlist that kind of goes along with this post. I've included songs from the artists that I mentioned above, as well as some others. I am hoping to make this a regular thing, so you guys can actually listen the way that I do.
Check out the playlist below!