Happy Monday! I honestly love moments like this when I get to talk to you about someone whose music I truly adore. In this case, this particular artist, Kalin White, is my Music Crush and Man Crush. And since I am done fan-girling over him on my social media for the moment (at least I hope so), I thought I would stop and talk to you guys about him 🙂
Meet Kalin White
Kalin White is a 21 year old artist, formerly of the duo Kalin and Myles (Parrish), who announced their break or split earlier this year. Both boys are from the Bay Area in California and were working on their own individual projects before meeting and deciding to work together. They released about 4 EPs, their most recent and last one being their first official studio album self-titled Kalin and Myles (this one being my favorite for sure) from when they started up until their recent break-up. They released their last EP on November 20th 2015 before separating from their record label and deciding to go their separate ways as artists this past March.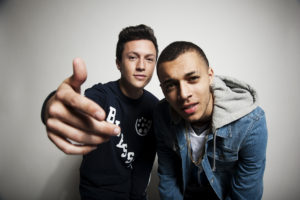 Now, before I continue, I am very upset with myself for not being all that familiar with these adorable, talented boys until recently LOL. I did know of them and had heard a couple of songs but just like some other younger artists out at the time, I kind of was just like "Oh they're cute but I'll leave that to this younger generation"… I don't know why I thought like that but that's how I was feeling at the time. I guess because of the music generation I grew up in, I feel a bit out of touch when it comes to new music trends or whatever. I'm not that OLD to where it would be weird for me to listen to younger artists who are coming out, but the times are so different from when I was the age a lot of their younger fans were and still are now.
Okay, enough of me making myself feel old LOL, let's get back to Kalin and his music…
Getting to the Music
So, one night last week, I was up late, struggling to fall asleep. And usually when this happens I go searching for music to listen to, preferably something new. I came across Kalin and his new single "Twisted" (which was released earlier this month) while I was looking through my Apple Music. I recognized him and decided to check out his song. I was instantly hooked. The music is amazing, his voice and the lyrics are super sexy. He described the concept behind the song to Fader Magazine saying "…'Twisted' is about me approaching a female that I've had my eyes on throughout the night at a club and trying to take the party somewhere else with her… Sometimes I'm too shy to speak up but there are other times where I can't let shorty go…". It's definitely a song you can dance to or just chill and vibe out to.
You can check out the rest of that article at < http://www.thefader.com/2016/09/16/kalin-white-twisted-video-solo-interview >
I didn't know what to expect going into it so I was definitely impressed. After listening to the song a couple of times, I went hunting for his social media, Soundcloud, and You Tube. When I really start getting into an artist I like to know more about them as a person as well as how they got to where they are now.
Then he released a new song last Thursday night called "Savage" and I was literally counting down the hours from when he first announced that he would be dropping it yesterday. Crazy I know but I just wanted to hear more after already being hooked on "Twisted". Right off, I got a Drake "Controlla" vibe from the island music & drums and his melodies. But Kalin still has his own sound and swag that he brings to the table so it's not a direct comparison and is still such an amazing song.
Final Thoughts!
From what I can see already, Kalin is very talented, has an amazing voice, is an impressive dancer, charismatic, and is so sweet to his fans and supporters. I know that there is so much more to him, but those traits alone are incredible, especially since he is just 21 years old. He has so much life to live and music to make. I have a feeling that he is really going to be something special.
I also love the fact that a lot of his supporters have grown with him and followed him to this point in his life and career. I am a new fan, an older fan, but already excited for him and what the future has in store.I look forward to seeing him release an album and hopefully go on tour, making his way to the South so I can see those gorgeous green eyes in person (sorry, fan-girling again LOL) 🙂
And while you are checking him out, listen to his cover of Miguel's song "Simple Things" on his Instagram… The fact that he covered one of my favorite songs so well just makes me adore him even more 🙂
Listen to the song "Twisted" here…
And check out the video here…
Check Him Out!
Official: www.kalinwhite.com
Twitter & Instagram @kalinwhite
Soundcloud: www.soundcloud.com/kalinwhite
** Remember that  "Twisted" and "Savage" are available on ITunes/Apple Music, Spotify, and Soundcloud!