Me being a fan of iKON is one of those situations where I started as a casual listener. I even mentioned them in a blog post a while back, but never openly fangirled about them. But after something sparked my interest in them again, I revisited their music and officially became an iKONIC (their fandom name). Also, just for context, I am currently waiting on 2 albums and a new light stick lol 🙂
Get to Know iKON…
For those who don't know, the K-Pop boy group IKON debuted in 2015 as a 7-member group under YG Entertainment. They were created from the survival show Mix & Match (the second survival show they competed in before debuting). Their leader B.I. left in 2019 in a situation that still hurts fans to this day, but he is currently a successful solo artist, songwriter, and producer. The group currently consists of Bobby, Jay, JUNE, Song, DK, and Chan.
They left their original agency at the end of 2022 and joined a new agency, 143 Entertainment, at the beginning of this year (2023). They are entering a new era and are more hands-on in every part of the process. It's something a bit new for them but they welcome it with open arms. And as a fan, I couldn't be happier for them and this journey they are on.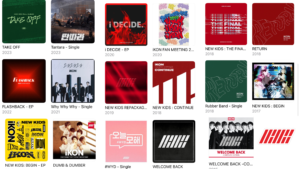 The New Album Take Off! My Review!
The lead single "Tantara" had everyone, including myself, extremely excited for this comeback. And after seeing the video, one of the things I loved the most was the choreography, and the fact that members of an all-woman dance crew choreographed it. The opening line is full of attitude and alerts everyone that they're back! Everything about this song and video was the perfect way to launch this new era for them.
The second single and music video that was released is titled "U". This song is more of a Pop/ Dance track as compared to the old school Hip Hop influenced "Tantara". And I feel like the music video sums it up perfectly, ending with the boys performing a concert for fans. They look and sound so happy!
Another concept for this album is that most of the members have their own songs and/or participated in the writing process; like "FIGHTING" from Song, "Kiss Me" from DK, and "Want You Back" from Ju-ne. Bobby, of course, had his hand in most of the songs on this album, which is something he has done for a lot of his and iKON's career. There are slower tempo songs that show off their vocals, and the lyrics continue to show us this next, more grown, chapter in their career. I honestly have no favorites right now because I love everything and there are no skips for me.
New K-Drama Alert!
My iKON Bias, JU-NE, has been doing his acting thing recently. His first K-Drama role is in the current series True to Love or Bo Ra! Deborah! That is airing on Amazon Prime. It is simulcasting and even though I had some conflicting feelings in the beginning, it's growing on me. As well as playing a special role in the series, JU-NE also did a song for the soundtrack.
I was already a K-Drama fan, so you know I was excited for this. And apparently, he is working on another series that is said to be coming out in the Fall, but nothing is confirmed. So, he's been busy with iKON and this new comeback, while also preparing for tour. I am still waiting for more information on the US leg of the tour, but I am beyond excited to see them live for the first time.
Follow Them!
Instagram: https://www.instagram.com/Withikonic
Twitter: https://twitter.com/ikonic_143