I feel like I haven't done one of these in a good little while. I used to love doing these music reviews for you guys. It did start to get difficult because I wasn't finding albums I enjoyed or felt enough about to write about them. Also, I wanted to switch things up for a while to keep things fresh and interesting.
But I am happy to say that I have found an album that I enjoy and an artist that I am excited to talk about. This album is somewhat different than what I have been talking about lately. And I have never really talked about this artist, even though I have been a fan of him and his music for a while now. So, today I am going to talk to you guys about Calvin Harris and his new album Funk Wav Bounces Vol. 1.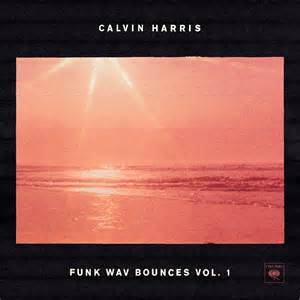 But First, Who is Calvin Harris?
Adam Richard Wiles, known in the music world as Calvin Harris, is a Scottish record producer, DJ, singer, songwriter, and musician. He released his debut album in 2007. His track record in music is amazing and ridiculously long (LOL). If I sat here and listed all of his collaborations and projects, this post would be much longer than it needs to be.
To me, he is the Pop/ Dance/ EDM version of DJ Khaled (if that makes sense). He doesn't sing or dance but is an amazing producer and DJ (like his peer Khaled). He has worked with artists from pretty much every genre; Rihanna, Ne-yo, Ellie Goulding, and Tiesto to name a few. And he has headlined some of the biggest music festivals, pulling record number crowds; including Lollapalooza, Austin City Limits Music Festival, the iTunes Festival in London, Electric Daisy Carnival and the iHeartRadio Music Festival.
Funk Wav Bounce Vol. 1… My Review
Before I even go into this review, I just want to say that I was actually pretty excited about this album before it even came out. The name of it definitely caught my attention as well as the first single off of it, "Slide" featuring Frank Ocean and Migos. I have been in love with that song since I first heard it. Frank Ocean killed it as always and Migos' verses were really good and catchy. I love unexpected collaborations and that's pretty much what this album is.
The whole album is great and has such a feel good, summer vibe to it. I don't really have any complaints about any of the songs. I will say, though, that my least favorite song is "Skrt on Me" with Nicki Minaj, Future's verse on "Rollin", and Young Thug's verse on "Heatstroke"; which is more of a personal preference, I guess. I haven't been as into Nicki lately because, to me, she's selling the same thing and it's getting old. As for Future and Young Thug, I just need to hear some real music and lyrics from them, and I will leave it at that.
I love Schoolboy Q on "Cash Out", Pharrell Williams on "Heatstroke" and "Feels", Khalid on "Rollin", Travis Scott on "Prayers Up"… The song that impressed me the most was probably "Faking It" featuring Kehlani and Lil Yachty. I have finally come around when it comes to Kehlani and I really love that chick and her voice. Now, with Lil Yachty, who is a part of this whole "mumble rap" movement, I haven't been able to really listen to his music. But, whatever Calvin Harris did or inspired him to do on this record, he needs to do it more often. The song is awesome, Kehlani sounds perfect, and Yachty sounds like a real Hip Hop artist with some range.
I really do love everything about this record as a whole. It's the perfect chill, summer soundtrack and everyone should give it a listen. Hopefully this isn't the last time I get to talk about Calvin Harris like this. I really enjoy talking about Dance/ EDM genres. It definitely keeps things fun and interesting.
Take a listen to "Slide" featuring Frank Ocean and Migos below…
Facebook: www.facebook.com/calvinharris
Twitter & Instagram @calvinharris
Youtube: https://www.youtube.com/user/CalvinHarrisVEVO