This kind of post happens when you need to find new music to get through the afternoon at work LOL. I had heard of this mixtape for a little while but just never got around to listening to it; it's only been out a month or so. And this new artist, Bobby Feeno, isn't very new at all, especially not to me, but I was a fan of his when he was known simply as Arian Foster, the NFL ball player; not even knowing he could make music like this. You got to love when sports and music come together like this.
Arian Foster… The Football Player
I am going to try my best to not make this super long but between my history of being a fan for as long as I have and this new information that I discovered, it's going to be a challenge. But to start, for those of you who don't know, I am huge sports fan, especially when it comes to basketball and football. Watching Arian Foster play for the Houston Texans was always a necessary Sunday activity during football season (after watching my New Orleans Saints of course). And his story was a bit different than what you might expect, especially as talented as he was.
Arian ranked 24th among the running backs that were available in the 2009 NFL Draft (as documented by Sports Illustrated). He was projected as a fifth-to-sixth round pick, but went undrafted. Foster was signed by the Houston Texans as an un-drafted free agent on May 1, 2009. He was later released by the team in September that same year, but then was signed to the Texans' practice squad not long after.
He was later signed to the Texans active roster in November. Arian made his NFL debut on November 23, 2009. He would go on to break many of the Texans' franchise records. But with all of that success and million dollar contracts came many season hindering injuries. He would end up signing a one year contract with the Miami Dolphins in 2016, only to end up retiring a few months later.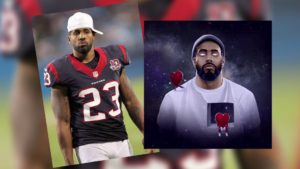 Credit: < http://cw39.com/2018/05/14/former-texan-arian-foster-releases-hip-hop-album/ >
Bobby Feeno… The Alter Ego & The Music
From a young age, Arian expressed an interest in other, non-sport related activities, such as poetry in elementary school, and improvisation and theater in high school. He got a real taste of acting, though,  before making his TV debut on a field, and had a few more opportunities while out due to injury. He definitely enjoyed the experience and entertained the thought of taking on more if given the chance.
In an interview on the subject he stated, "I thoroughly enjoyed my experiences in the film industry thus far. So I don't see why, if an opportunity presents itself again, I wouldn't jump on it, but it won't get in the way of my football career because that's first and foremost. That was my dream since I was seven years old.
Arian even started his own podcast called, Now What? with Arian Foster, in the fall of last year (2017). The podcast features Foster conversing with guests on a wide range of topics. On April 26 of this year (2018), he independently released his debut rap mixtape Flamingo & Koval under the stage name Bobby Feeno on Tidal. He recorded the mixtape under LeBron James' record label Uninterrupted (that I didn't even realize LBJ had). Arian documented his process and journey into the music industry in the docu-series named Becoming Bobby Feeno which was produced by Arian and Lebron James, along with a few other notable names in that space.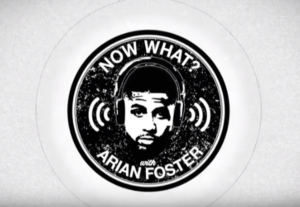 Check Out this article from The Undefeated, done by one of my favorite women in this industry @JameleHill …
< http://theundefeated.com/features/arian-foster-retired-nfl-running-back-can-rap-for-real/ >
Flamingo & Koval
I wish you guys could've seen my face when I first started listening to this LOL. I still can't believe how FIRE this record is! Arian (aka Bobby Feeno) is just EVERYTHING. There are a lot of artists that want to be athletes and vice versa, but most of the time it's better if they stick to what they're already doing; but in this case, he could've done either one and been great as well.
Okay, enough of my Fan Girl version of this review and the fact that I am all in my feelings as I listen to this again and again. This album has some REAL music on it, though, with real life situations, issues, emotions, and struggles. Arian's delivery of every lyric is raw and powerful, allowing you to feel where he's coming from, whether you agree or not. This music is definitely one of those times where you realize that this is the music that you didn't know you needed.
I don't want to say that I have a favorite track on this mixtape, but "Gawd" is really close to becoming that. I don't know what it is about it but maybe it's the cockiness coming from Arian in it; and the music is just dope. And I will say that the last track "Suicide Note" hit me more than some of the other music, as well, self-explanatory. This album is a story that needs to be heard…
Check Out the Trailer for Becoming Bobby Feeno!
Follow Him!
Official: www.bobbyfeeno.com
Facebook: www.facebook.com/ArianFoster23
Twitter & Instagram @arianfoster
Final Thoughts!
Arian/ Bobby is another artist that means more to me than just the sports or the music. He is another 30-something, like myself, trying to figure things out. I love seeing young people, my age, going through self-discovery, learning more about themselves and the world, while using their creative talents to make a difference. I'm trying to get there, so I admire watching those who are really making it happen.