Hope that you guys are ready for some more new music!  This amazing group, the New Respects is still pretty new to me but this album, Before the Sun Goes Down, is definitely Music Crush worthy. I know that I have been doing more music reviews than music crush's lately, even though this one is pretty much a music crush.They remind me of some of my favorite people so I had to talk about them.
*Picture courtesy of www.nocountryfornewnashville.com*
The New Respects… The Young Artists from Music City
The New Respects consists of twin sisters Alexandria and Alexis Fitzgerald, their brother Darius Fitzgerald, and cousin Jasmine Mullen. These 20 year olds from Nashville, Tennesse, came together as a band when they were teenagers but with no real idea of what kind of band that they wanted to be. We all can see that it didn't affect the quality the music that they have blessed us with. The quote below describes that perfectly…
"…as teenagers that there was really no established template for the band they wanted to be: a coed quartet of Tennessee-bred, African-American kids initially playing a variation on folk-rock. Their response was to keep at it, experimenting with whatever styles struck their fancy at the moment and sifting through the influences they'd absorbed from their upbringings…"
There isn't too much out there about the group yet but if you guys are as curious as I am then you can check out their official website and social media pages to get a better picture. And I honestly don't want to drag out this post with a lengthy bio for them when their music is more than capable for speaking for itself. We as music fans always learn more about these artists the more that we listen to their music. But for now, you can check out the rest of their interview with NPR below…
< https://www.npr.org/sections/world-cafe/2017/02/07/513775378/world-cafe-nashville-the-new-respects >
Before the Sun Goes Down… My Review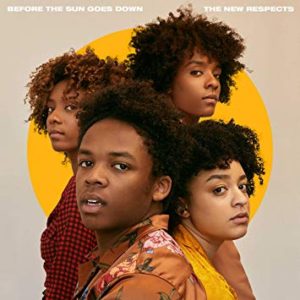 From the very first song "We Ain't Goin Nowhere", The New Respects reminded me of Janelle Monae's music, and that R&B, Soul, Funk, Rock n Roll, Pop genre all together. Their music reminds me of that old school, feel good music from like, the 70s / maybe 80s mixed with current genres. Please correct me if I'm wrong. I can always appreciate when music doesn't follow current trends.
The second track "Before the Sun Goes Down" is an instant mood booster, laced with heavy funky guitar elements. "Trigger" has a little more attitude so it's definitely a favorite. While "Hands Up" is more of an uptempo, dance/ party track; super fun vibes throughout the entire song. Then we go right back to another song with attitude "Freedom", a little harder hitting than the songs listed previously. The fact that the songs switch up is super refreshing.
The tempo switches again, slowing things down a bit with "Come As You Are" and "What Makes the World". Even though it is hard to find set favorites from this amazing album, I do have a few, other than the ones I mentioned in the above paragraph. I guess it's still such a crazy feeling to hear a younger generation show so much love to this genre that reminds me of the music my mom would listen to. I really hope that you guys check this album out, it's one of those albums that you need to experience.
Check Out their video for "Before The Sun Goes Down " below!
Follow Them!
Official: www.thenewrespects.com
Facebook: www.facebook.com/thenewrespects
Twitter & Instagram @thenewrespects