Before I really get into this, I need you guys to understand how much I love series like this. I grew up watching your usual cartoons, lots of anime and watched the more adult series as I got older. You are never too old to watch anything animated; especially when life gets stressful and sometimes you just want to go back to when you were a kid and times were simpler. And, just for the record, ANIME IS NOT THE SAME AS A CARTOON! (I do mention them both but keep that in mind). 
About the Series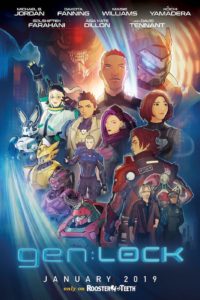 Gen: Lock is an animated web series created by Gray Haddock and produced by Rooster Teeth and Michael B. Jordan's Outlier Society. It is set on Earth, 50 years into the future where an international coalition known as The Polity fights a hostile, invading force known as The Union. The show follows the gen: LOCK program and its daring recruited members, who participate in the development and testing of an experimental technology in which their unique minds are uploaded to giant suits of mecha armor.
The concept for Gen: Lock originated in 2016 as a "cautionary tale about cultural warfare". The writers were also influenced by other anime series Ghost in the Shell, Gundam, Aldnoah Zero, and Kiznaiver. I am a huge fan of Ghost in the Shell and Gundam by the way. And I think it's pretty awesome that the characters, and the actors who voice them, strongly encourage diversity.
My Thoughts (No Spoilers)
Now, one of the things that I love about Gen: Lock is that it reminds me of the Saturday morning cartoons/ anime series that I used to watch. Another thing that I love about this series is that Michael B. Jordan and his production company Outlier Society, are involved with this project. I appreciate everything that Michael and Outlier Society has been involved in so far; and when it comes to this series, Michael coming from the same generation as me, growing up watching some of the same shows, I know he gets it.
But as for the series itself, the characters and storyline pull you in; I definitely became emotionally attached. Just the whole story of having your mind connected to mecha like that, and learning how to center yourself in order to connect to this gigantic piece of machinery, as well as connecting to your teammates is so real. A lot of it has real-world applications. The mind is a powerful thing.
The series finale is live on rooster teeth now! Catch up on all of the episodes!
Official: roosterteeth.com/series/gen-lock
Instagram @roosterteeth
@michaelbjordan