With the strong and very positive impact of Black Panther (Marvel) then series like Luke Cage on Netflix (Marvel) and Black Lightning on the CW (DC Comics); seeing black superheroes is becoming more of a "thing", to put it lightly. I am totally here for it! Everyone else should be too, no matter your race or background, these characters are for all of us, even though, yes, this is really the first time, young black kids can see themselves in a more positive and powerful light. So, with that being said, I had to step away from the music reviews for a second to share something I love other than music, comic books, and the movies/ TV shows inspired by them.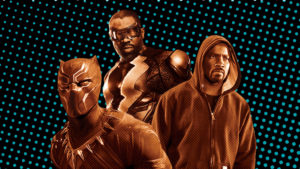 (The Variety article that goes with the picture above is great… Check out  'Black Panther,' 'Luke Cage' and the Rise of Black Superheroes on Screen )
Luke Cage, Seasons 1 & 2… My Thoughts
Luke Cage was the third show introduced after Daredevil and Jessica Jones, that would lead to The Defenders, that also included Iron Fist. Luke Cage made his first appearance in Jessica Jones season 1, but we weren't brought into his world of Harlem until his series debut. In season 1 we are introduced to Carl Lucas aka Luke Cage, the old characters who play a large part of who he is, as well as the new characters who enter his life. The women who come into his life, Claire and Misty, soon end up playing very vital roles.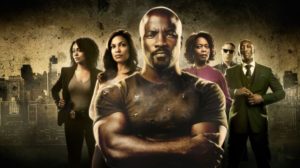 Honestly, it took me an episode or 2 to really get into it all, but then I was hooked. And I loved season 2 even more. The introduction of John McIver aka Bushmaster (Mustafa Skakir) and the Jamaican community surrounding him, was one of my favorite additions to the story line. Watching Luke Cage and Bushmaster go toe to toe a few times, dare I say it, reminds me of Black Panther and Killmonger. And the fact that Bushmaster was also trying to reclaim his "throne" (Harlem) and avenge the death of his mother was so similar to what Killmonger was trying to do, hit me.
The Soundtrack
Now you know that I had to bring up music at some point LOL, especially when this show has had awesome music guests, and a pretty great soundtrack. Season 1 was inspired more by Hip Hop, old school and new school. The main antagonist, Cornell Stokes aka Cottonmouth, was a huge Hip Hop head, and had a large Biggie Smalls portrait behind his desk where he ran Harlem's Paradise, and the city. That theme was strong in this first season.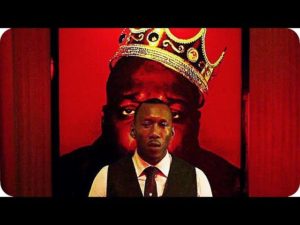 Hip Hop and R&B was strong in season 2 as well, but Blues, Jazz, and Reggae was added to the mix. Now with Mariah Dillard (Stokes) in charge, everything was changing, including the music that was played at their nightclub. The more Mariah got into her "Crime Godmother" role, the more she embraced Hip Hop. But I have to say that I loved all of the Reggae music, especially when Stephen Marley performed at the club. Music always helps you follow a story, and it played a huge part in Luke Cage, both seasons.
Check out the Trailer for Season 2 below, if you haven't 🙂
Final Thoughts!
There are so many other things I could say but that would make this post longer than it needs to be and I hate to ramble LOL. I love the similarities between Luke Cage and Black Panther. The powerful women in both are amazing to see and what I love the most is that no matter how strong the main male character is, the women can either soften him or encourage their strength. The women are also strong on their own, without any help, and are always there for others when needed.
I also adore the real people behind these characters. It's so fun to watch them transform into these characters and find out how they were able to channel this other side. Lately, I've been reading about and watching videos of Mustafa Shakir (Bushmaster, season 2) where he talks about how he prepared for his role. He is already athletic so the physical didn't seem too out of the ordinary for him, but how he picked up the Jamaican dialect, and how it was more than a language but a feeling and vibe.
Excited to see what they do for Season 3… Too many characters being developed in this last season to not do another one 🙂
For more on the series and characters, check it all out here!
Official: www.marvel.com/universe/Cage,_Luke#axzz5KOSaw94P
Netflix: www.netflix.com/title/80002537
Twitter & Instagram @lukecage