Just a little FYI… This KOD Tour Experience is not going to be one of those "Fangirl" moments or experiences. I only say that because I didn't meet anyone, or experience anything other than just going to the actual concert. It wasn't a boring experience by any means, but the perspective may come across a little different compared to some of my other concert experiences, which is not necessarily a bad thing. If you are a J. Cole fan or are just curious about what's it's like to attend one of his shows, then you definitely want to keep reading 🙂
The traveling part wasn't that eventful especially when the traffic is crazy and you are going with someone who doesn't get excited about concerts (LOL). Dallas, Texas is about 5 hours (add for stops and traffic) from where I live in Louisiana, so it was a pretty long drive. I wanted this trip to get away from home for a bit and it was also a little early birthday gift to myself (birthday August 30th). Also, he DID come to New Orleans but it fell during the week and I didn't feel like traveling to and from in one day, plus make it to work the next morning.
The KOD Tour… My Experience!
Opening Acts
We made it to the hotel a bit later than I was hoping so I had to get ready pretty quick. Then my bf checked the weather and saw the weather was making up so if we were going to get an Uber and head out, we needed to do it fast. With all of that, we made it to the American Airlines Arena in good time. I'm not quite sure if everything started right at 7:30 or what but we got to catch most of Jaden Smith's set.
*Pic courtesy of www.complex.com*
I wasn't surprised with how great of a performer Jaden was. He had so much energy and stage presence. I felt proud because I was one of those who has been seeing him on everything since he was little. He's definitely come into his own as an artist, and I love his song "Icon" even more now, since I got to see him perform it live.
Now when it comes to Young Thug, I didn't know what to expect. I wouldn't call myself a fan, but there have been some songs of his that I like. His live presence surprised me, and I enjoyed his set. A lot of the people I was around, myself included, weren't that fond of his "hype man". He had no energy and was kind of all over the place; he did work the stage, though.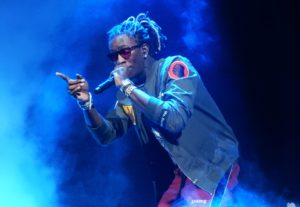 *Pic courtesy of the Tampa Bay Times*
The Main Event! J.Cole aka Cole World
I knew that I was going to be excited to see J. Cole, but that was definitely an understatement once he appeared on that stage. But me being me, I had to take in his appearance first 🙂 I've always thought that he was cute and he looks even better in person, on stage. His hair is dreaded and getting long plus I was really digging his outfit; nothing flashy but still dope.
As I try to remember the set list for Cole, I do remember that he opened the show with "Window Pain (OUTRO)" from KOD. His voice on that song always makes me feel some type of way, good though. But he did perform songs from every album that he has released. It felt good to be a part of the group of fans who have been supporting since Cole World – The Sideline Story (2011) or the mixtapes that came before that.
I put a little video together with the footage that I did get from the concert. It isn't the best quality and the lighting from the stage was crazy so I hope you guys can still watch it with no issues. I've really been trying to not watch concerts from my phone so that I can get the full experience, especially with seeing J. Cole for the first time. But I feel that I caught enough video to show what it was like 🙂
Who the F*** is Kill Edward?! (LOL)
So, apparently, we did miss one of the opening acts, Kill Edward. Kill Edward was introduced as a feature on "The Cut Off" and "FRIENDS" on KOD. The last couple of days I was really sitting here, like, who is Kill Edward… Is it Cole, himself, or is it an actual artist signed to Dreamville. I was even searching to see concert footage, trying to see if it looked like Cole or not LOL.
Then I came across J.Cole's interview with Angie Martinez where he talked about Kill Edward and his identity. I felt so stupid because a part of me felt like I had heard him mention who he was before, and he did. In this dope, intimate interview, Angie gets a lot of him, including who Kill Edward REALLY is. Check the video out when you get a chance; it's a great interview.
Final Thoughts!
I realized that I forgot to mention some things about J. Cole's set. Other than getting to see his personality and sense of humor more, it was amazing to hear him speak so passionately about things that affect us. He did speak to us in between songs about some life things, but also getting to experience the passion behind his songs, hearing it in his voice, live was something special. I would've loved to see him again, but hopefully I can catch him on another tour; but he is so worth it.
Follow Me if you haven't yet 🙂
Facebook: www.facebook.com/muzikjunqie
Twitter @CreoleChic24
Instagram @muzikjunqie
Youtube: www.youtube.com/channel/UCO4erzBeTT75rcz8pzk0Nhg?view_as=subscriber