This past Saturday night was the iHeartRadio Music Awards. Here is my version of a Recap.
Of course the show opened with its host Jason DeRulo doing a little dance routine with a crew of dancers. He really is an amazing dancer and awesome entertainer. It was dope the way they danced to songs of a lot of popular artists who were either there and/ or nominated for an award.
Shortly after Jason finished, he introduced Justin Bieber aka "Biebs" who started playing the guitar, singing "Love Yourself". I am not in love with the whole sloppy, I didn't wash or comb my hair look (Yes he is currently dreading his hair) on him but I still love him though (Love ya Biebs!). Then he went into his song "Company" which is one of my favorites off of his album Purpose. His dancers are freakin' adorable and have ridiculous swag by the way 🙂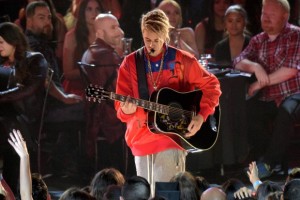 Brad Paisley gave Taylor Swift her award for Female Artist of the Year.
Megan Good introduced Meghan Trainor who sang who new single "No" which is super catchy and I just love it. It's pretty much a chick anthem. I was pleasantly surprised that Meghan even busted out the choreography on this performance. She looked amazing and killed it!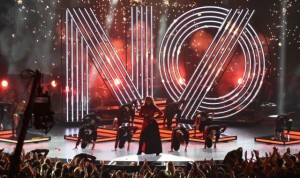 2 Chainz gave Chris Brown his award for R&B Artist of the Year. And can I say how hot Breezy looked. He has a new look with the cutest new hair cut. He came across super humble and adorable. Even though he has been a bit off the wall, I was happy for him.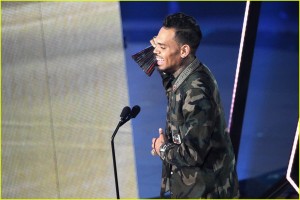 Pete Wentz came out to award Biggest Triple Threat to Selena Gomez. I don't quite understand this pick, especially compared to everyone else who was nominated.
Then Jason, Kenny, and Charles introduced Pitbull from the March Madness stage in Texas. And in typical Pitbull fashion he brought Miami to the stage.
After commercial break, Fetty Wap came out on dirt bikes with his crew while he sang "Again" and finally came out onto the actual stage.
Julianne Hough came out to award the Dance Artist of the Year to Calvin Harris (also known as Taylor Swift's new boo).
Kelly Osbourne helped introduce Demi Lovato and Brad Paisley who performed a special duet of "StoneCold". I agree with Kelly, Demi definitely has one of the most powerful voices out there right now. And it's a really beautiful song. Demi has a way to make you feel every word that comes out of her mouth when she sings. I got goosebumps listening to her sing this song.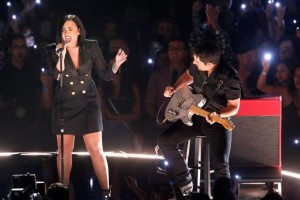 Then my favorite person EVER Justin Timberlake (last year's Innovator recipient) came out to give out the award for Best Tour to Taylor Swift. He gave a beautiful and of course hilarious introduction. I knew she was big but never realized how big and crazy her most recent tour 1989 was. Everybody loves her and it's not hard to see why.
Trey Songz came out to hand out the award for Song of the Year to Adele for "Hello" who was not there but sent her thanks from her current tour.
Jason DeRulo came back out to introduce Diplo who then introduced Chris Brown. He started with "Liquor". Chris always has dope dancers too. Then he jumped into "Back to Sleep". His singing and the track seemed a little off with the echoing and everything. Breezy still sounded pretty good though. He then went into "Wrist". He ended his performance with "Anyway" where he really did what he does best… Dance!
Wiz Khalifa came out to hand out the award for Best New Artist to Fetty Wap.
Jason came back sending it back to Jason, Kenny, and Charles who were joined by Pitbull to hand out the award for Latin Artist of the Year who was… Pitbull.
G-Eazy was introduced with BeBe Rexha who performed "Me, Myself, & I". This is definitely one of my favorite songs off of his album When It's Dark Out. This is my first time watching him perform live on anything. I love it!
Pharrell Williams, another one of my favorite people, to hand out the Innovator award to U2. They were going a little too fast with the teleprompter for Pharrell but he got through it LOL.
Big Sean came out to hand out the award for Dance Song of the Year to Skrillex, Diplo, and Justin Bieber for "Where Are U Now". I love that song!
Keke Palmer introduced DNCE who performed their hit single "Cake by the Ocean". My bf looks at me crazy when I sing and dance to this when it plays on the radio LOL… I can't help it. It makes you want to dance! 🙂 And they went into "Le Freak" by Chic which is the music DNCE sampled for this song.
Kat Graham and Derek Hough came out to give out the award for Male Artist of the Year to Justin Bieber.
They went back to Texas where Maroon 5 was performing on the March Madness stage.
Nicky Jam came out to introduce Jason DeRulo performing his new song "If It Ain't Love". That boy can dance! He may not be one of my favorite artist (nothing personal) but I respect that dude for being the talented entertainer that he is.
My crush from CSI: Miami Adam Rodriguez came out to hand out the award for Latin Song of the Year to Nicky Jam ft. Enrique Iglesias.
Zendaya of course came out to introduce the person I was waiting for this whole show… ZAYN. This was his first ever solo live show performance. He performed "Like I Would". His high notes and vocal runs are ridiculous! Just WOW! And this is just the beginning for him. So proud of you Zayn!!! 🙂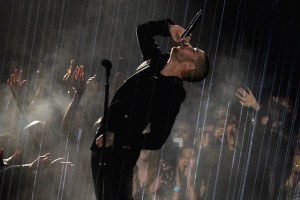 Jason introduced The Weeknd who was performing "Acquainted" and at the Canadian Juno Awards.
Selena Gomez handed out the award for Album of the Year to Taylor Swift for 1989.
Demi Lovato introduced Iggy Azalea who performed her new single "Team". It's weird seeing her perform on anything. The song is nice though. I guess we'll see what happens as she releases more singles and an album. Maybe she'll focus on just the music this time and leave the pettiness and drama alone.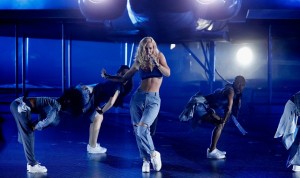 I really did enjoy the show. It's different from a lot of the other awards shows. iHeartRadio seems to focus more on the music and the fans who listen it. Being someone who works in the radio industry, it's pretty cool to see the recognition Radio gets because of shows like this.
I may have left out some things so feel free to comment and let me know what I missed or didn't notice. Also, you can check out iHeartRadio's official website:
http://www.iheart.com/?cmp=iheartradiocom
For the full list of winners… You can check it out here:
http://news.iheart.com/articles/ent-news-470435/2016-iheartradio-music-awards-winners-14561927/
Hope you guys enjoyed my Awards Recap 🙂 I will try to do more of these if you enjoyed this one.