So, today I am finally going to give you guys my Recap of the American Music Awards that took place a couple of Sundays ago. It took me a while to sit and watch the whole thing and be able to give you a good post about it.
Before I start with the actual recap, I want to give you guys my honest opinion on awards shows in general. Growing up, I used to look forward to every awards show, whether it was because I was excited to see the performances or to see my favorite artists win an award. But as I got older, these awards shows became more and more scripted and corny with less performances and more talking. I understand if it's like the Academy Awards or something like that but when it comes to Music Awards' shows, what do they think people want to see?
We want to see performances and people in the industry or at least those who love and respect the industry. It's bad enough that many of the musicians that I love and respect don't get much love on these shows, much less on the actually music charts, but to have these shows promote what's really wrong in the industry is just sad. And I think the next big music awards' show is the Grammy's and I would be lying if I said that I wasn't worried about what that's going to look like…
Anyway though, let's get into my little recap of the AMA's and talk about some of my favorite moments…
Show Opener
The show opened up with Bruno Mars singing his new hit "24K Magic". I already love Bruno, his band, and background singers and bomb a** backup dancers… Not to mention their awesome matching outfits 🙂 And don't get me started on the dance breakdown! Bruno will always be one of my favorite live performers. He kills the stage every time! And I really hope to see him live on this tour he has coming up in 2017.
This year's hosts, model Gigi Hadid and comedian Jay Pharoah, were brought back out to officially start the show. But I am pretty much going to skip everything having to do with them. I already have a hard time watching Awards shows because of the poorly written scripts and bad jokes. This show was no different and I will leave it at that. #NoShadeButShade
Twenty One Pilots won the first award of the night for Pop/Rock Duo/Group. And I am very happy for them because I am a huge fan of their music. They were so awkward and cute 🙂 But you should definitely check out their music when you get a chance.
Niall Horan's (One Direction) performance was next and even though the introduction they gave him was horrible, I melted a little when they first showed him. He performed his new, chart-topping single "This Town" with a small band while he played the guitar. He sounded amazing and looked so adorable (as always). The song is incredible and I'm so proud of him. He only has this single out and he has already done so much because of it.
After Niall they went straight to Fifth Harmony and their performance of their song "That's My Girl". I do respect them as a talented and powerful girl group since we don't really have many of those but I guess I just wasn't as blown away by them like everyone else was. They are great but no chills for me on this end.
Drake was presented with the award for Rap/Hip-Hop Album for "Views".
After that, our hosts came back out to introduce The Chainsmokers featuring Halsey and Travis Barker (on drums) to perform their single "Closer". They are quickly becoming a favorite of mine. And I actually really do love this song even though I hear it all the time and should get tired of it but I haven't 🙂 Their setup/ props and the dancers were really great.
Next performance was James Bay who I have not really seen before. The song he sang sounded pretty familiar though. I really like his voice, it's very unique. I'll definitely have to go and check him and his music out soon.
Part 2
After commercial, Shawn Mendes was introduced and performed his song "Treat You Better". I still think he's a cutie and super talented. His performance was pretty simple (except for the crazy screen effects of course) and he sang while playing the guitar. Then he ran over to a piano where he started to play it and sing his song "Mercy" before standing up for the rest of the song. His live performances are always great though so I wasn't surprised. I definitely enjoyed watching him.
Then the Chainsmokers won their first ever AMA award, award period actually, for Electronic Dance Music.
Part 3
After another commercial break, The Weeknd was introduced and came out to perform his new single "Starboy". I'm still getting used to his short hair but I really do love it on him though. He basically performed most of the song in this crystal light cave thing LOL. The effects were pretty awesome though.
Fifth Harmony won the award for Collaboration of the Year for their song "Work From Home" with Ty Dolla Sign.
Tim McGraw won the award for Favorite Country Song.
Then they went to another live performance, Ariana Grande and Nicki Minaj with their song "Side to Side". Right off the bat, let me say that the dancers were amazing, especially the guys 😉 Ariana's voice was perfect as always and Nicki was scandalous as usual but all together, I thought the performance was pretty dope.
And finally the award that was I waiting on all night, Artist of the Year, where the winner is voted for by fans, was presented to Zayn Malik (yes MY Zayn Malik LOL)! I voted so much over the course of the last week or so and I was ecstatic for him. The whole #Zsquad was excited. We are so proud of our little baby. It's been a while since we've really seen Zayn on anything especially up on a stage to perform or be presented with an award, especially with him being solo.
And trust me, I had been trying so hard to detach myself from Zayn and being such a huge fan girl when it came to him but as you can see, it didn't work LOL. There's just something about him that makes me love him as the amazing human being that I believe him to be. He just seems like he has such a beautiful spirit. Okay, let me stop before I really get carried away. But congrats to you Zayn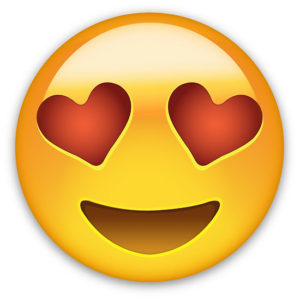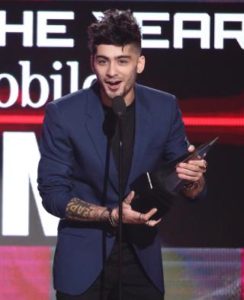 The next performance of the night was Twenty One Pilots. They performed their song from the Suicide Squad soundtrack called "Heathens". These two guys are super talented. I love how they're so creative and different. Then they went into my favorite song by them, "Stressed Out" before gradually mixing it with "Heathens". The music has such as eerie feel to it but I love it so much.
Drake won another award for Rap/Hip Hop Artist.
After that award, they went to Justin Bieber (aka Biebs) via satellite who is currently on tour. He performed "Let Me Love You", his song with DJ Snake. His show looks unbelievable and I wouldn't mind seeing him live one day. No matter how much drama seems to follow him, he is a talented singer and amazing performer. So, I definitely feel like he's worth seeing at least once.
Then the award was given for Favorite Soundtrack, it was given to Prince for Purple Rain (RIP King). His sister accepted it on his behalf. Her speech was beautiful and definitely gave me chills. If you are a younger fan of music and aren't that familiar with Prince, please go and check out his music. He has inspired so many people and musicians and paved the way for a lot of sounds you hear today.
Lady Gaga performed her new song "Million Reasons" from her new album Joanne. Her setting was pretty simple, in an outside-like setting among grass and under a simulated starry sky where she sat and played the guitar. It's almost weird to see her "normal" because the Gaga I was used to was over the top with crazy colorful wigs and insane clothes that always caused shock and awe. But her voice is still great. But she is another artist who I respect musically but I am not into her as much as everyone else seems to be.
Florida Georgia Line won Favorite Country Duo/Group. I don't listen to Country a lot but I am a fan of these guys. I love how they don't look or sound like what you would think Country should sound like plus they're really cute LOL 🙂
Twenty One Pilots won another award for Favorite Alternative Rock Artist.
Then the legendary rock group Green Day performed and it was typical Green Day performance which is not a bad thing at all. I've been a fan since the late 90s or so. They are still great and have not aged one bit.
Robert Downey Jr. presented the American Music Award of Merit to Sting and introduced him so he could perform before accepting the award. Sting has been and always will be a music legend as well as all of the humanitarian deeds he has done. Look him up too…
Part 4
Now we get to everyone's favorite DJ, DJ Khaled who came out to perform his single "Do You Mind" with features from Nicki Minaj, August Alsina, Future, Rick Ross. I love this song and Khaled always has the best collabs. But this performance was a little all over the place. And there was a little drama after the awards show ended. Apparently people were jumping on August because you could tell he was lip-syncing and it was pretty bad.
August came out to defend himself, saying that someone was told to cut off his microphone right before the performance. Now, there is so much I could say about August and this situation. I will say that I was a fan when he first came out but after not liking his 2nd album and the fact that there was always some kind of drama that just didn't make sense. I just left it all alone.
Selena Gomez won Favorite Pop/ Rock Female Artist.
Ariana Grande won Artist of the Year.
To close the show Maroon 5 performed their new single "Don't Wanna Know" which features Kendrick Lamar so of course when it was time for that part Kendrick made an appearance. He made the whole performance for me. I just love the fact that he is not over the top, keeps it simple, and just does his thing. He is ridiculously talented and it's hard to not pay attention to him.
I hope you guys enjoyed this little recap of the 2016 AMAs. I hope I didn't get too carried away with some of my opinions LOL… If you got to the see the show, let me know what you thought. Also, let me know your opinion on awards' shows. I'd love to hear what you guys think…