I am usually pretty hesitant to do awards show recaps/ posts. But when I am actually able to sit and watch the majority of one and/ or actually enjoy it… Why not share? I was not sure what to expect from this one, even after some of the performers were announced. This year's spectacle was actually pretty impressive so if you're interested in a little recap along with my thoughts, then keep reading 
History in the Making
Last year's Grammy's lacked inclusion, especially when it came to women being represented in the many different categories. And Hip-Hop artists, such as Jay-Z and Kendrick Lamar had the most nominations, but Kendrick receiving a few and Jay going 0-8 in Grammy trophies. All of those things possibly being the cause for this year's audience lacking Beyonce Jay-Z, Kendrick Lamar, and Childish Gambino to name a few. Maybe the Academy got the memo for this year's show.
For starters, other than women being represented more than ever, Cardi B won her first Grammy and won for Best Rap Album for Invasion of Privacy and became the first solo woman to win in that category. There are many out there who argue that she shouldn't have won, and I am on the fence about it as well. But I am still happy for her and believe that her winning opens up even more doors for artists just like her. Also, Childish Gambino's hit track "This is America" won for Song of the Year and is the first rap song to win record of the year.
Tributes & Performances
The night was full of tributes to some legendary artists. A few of my favorites were The Diana Ross Medley, the tribute to Aretha Franklin and Motown. I was happy to see some of the tributes done right, except for Motown, though, which was performed mainly by Jennifer Lopez. I would've been okay if she wasn't the ONLY one doing the medley of Motown songs, but there are so many more artists who should've been given the opportunity to perform these classic hits.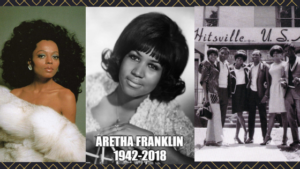 Cardi B performed her hit single "Money" and I liked it, especially the opening with the amazing classical piano player with some attitude. Janelle Monae's performance of one of my favorite songs, "Make Me Feel" was amazing; I loved everything about it, from her wardrobe, the stage, down to her moonwalk. Then there was H.E.R, who I think blew everyone away with her voice, stage presence, and amazing guitar solo; she also won 2 awards. Lastly, Alicia Keys, the mistress of ceremonies for the night, and her mind-blowing performance of medleys while playing two different pianos.
Final Thoughts!
There will always be hits and misses with these awards' shows but it's still a pretty fun night for artists and fans alike. The Academy still has a lot of work to do especially with situations where artists try to speak up, like Drake before he was rudely cut off with a commercial. Maybe one day they get it right, keeping the good moments and fixing the bad. I'm still a music fan and look forward to seeing the most deserving artists get recognized in some way for their contributions to the industry.
Check Out Billboard's Recap Video Below!