Hi everyone! I am back with another concert experience. I know that Memorial Day was a whole month ago, and I am a bit late with this. But, I am here to talk to you about how I spent that Memorial Day weekend… In New Orleans to see Ari Lennox live at the House of Blues.
The weekend was full of anxiety for me and I am not 100% sure why but I'm just glad that I made it and was able to enjoy the concert. It was nothing too crazy to get to the venue plus we ate in the restaurant there before having to get in line to actually get in. We did have reserved balcony seating right on the side of the stage which was cool. The benches up there were hella uncomfortable, though.
Mikhala Jene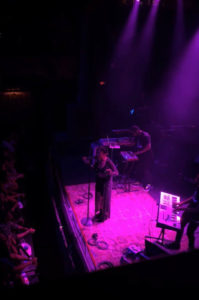 Unfortunately, I do not remember the name of the guy who came out first. I just remember that he is a songwriter and producer for J.Cole and Ari (I believe), and he is going to be coming out with his own music. Also, he had a cup of something and you could tell he was "lit" the whole time. He was still dope, though, and I always appreciate the producer side of things.
But, I do remember the lovely lady that came after him, Mikhala Jene, and she was amazing. The second she started singing, I was blown away by her voice. She is a solid R&B artist and her songs are super relatable. And you could tell that the crowd was supportive and open to her, which I love to see.
Check out her album and follow her!
Twitter & Instagram @mikhalajene
Youtube: https://www.youtube.com/channel/UCx8Oi22AHLSthtJBlj5iM2Q
Baby Rose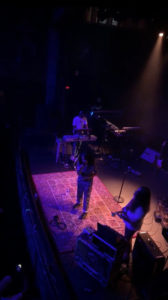 I was a little surprised at all of the opening acts but I was not mad about it. The third and final opening act was Baby Rose and I fell in love with her voice instantly. She has this almost Macy Gray vibe, raspy but powerful. And I loved her look, the blown out natural hair, camouflage jumpsuit, and combat boots.
Her music was very relatable also, but on more of a deeper almost pain-filled level. That's the kind of music that hits you deep and I love it. I was pretty much just watching her in awe and taking in every song. I just really loved her set.
Check out her music and follow her!
Twitter & Instagram @babyrosemusic
Ari Lennox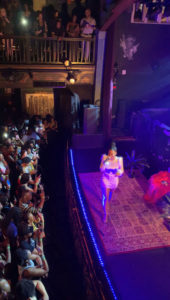 While we were waiting on Ari to come out, they started setting up her backdrop which was super adorable. It was basically laid out like a small apartment, which definitely goes with her new album Shea Butter Baby. But we were all getting anxious for Ari, especially when she peeked out from the upstairs area above the stage and waved to us. Ari was so freaking precious, though, from the time that she came out to the time that she left.
She performed a lot of songs from this new album, Shea Butter Baby, as well as from her hit debut album, Pho. I really loved when she sang "Static" which is basically about dealing with anxiety. It's a proud moment when you bring someone with you who is unfamiliar with the music but they end up loving it. We left after what I thought was her last song, but she ended up coming back out and performed one of my favorites, "BMO (Break Me Off)" so I was dancing on my way out LOL.
Everyone in the crowd was so interactive and she was having literal conversations with them. And when it came to her singing and performing, she blew me away. Her voice sounds like the album, if not better, and she's as sexy as all of her songs. But she is still so real and laid back on top of it all.
Follow Her!
Official: www.arilennox.com
Twitter & Instagram @arilennox
Youtube: https://www.youtube.com/channel/UCOn2dX5vvY9OAVJMx2ti2RQ