For this Awards' show recap, I am going to do things a bit different. I've seen so much negative feedback around the Grammy's before, during, and now after the show. So, I've decided to focus more on some artists' and people's reactions. Even though many awards' shows, especially the Grammy's have been called unfair and "rigged", things seemed a lot more aggressive this year, on top of it already being the first of its kind due to COVID.
Reactions to the Grammy's on Social Media
One of the first things that I saw, long before Grammy day, was how The Weeknd was going to boycott the Award ceremony from this point on. I don't know if ya'll remember the whole mess with him performing at the Super Bowl, and not being able to perform at the Grammy's. He also received not ONE nomination, even after the record-breaking year he's had. I'm sure that there's a lot more to all of that, but I will have to side with Weeknd on this one.
Zayn Malik, former One Direction member, tweeted about his "dislike" for the Grammy's as well, using the trending hashtag #F***theGrammys. Zayn joined the chorus of artists asking for diversity and transparency from the Recording Academy just days after this year's lineup of performers were announced. He, like the Weeknd, specifically called out the Grammys' "secret committees", which whittle down the submissions to a list of seven or eight nominees. It's more than just not being nominated or invited to perform for these artists.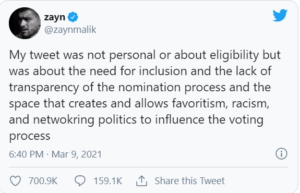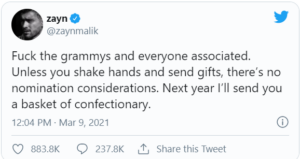 See Full Article Here > https://www.vulture.com/2021/03/zayn-malik-tweets-f-the-grammys-clarifies-criticisms.html
BTS Fans and Rap Fans Join Forces
(via @rapdaily)
#Scammy's trending on social media because many fans feel like artists were snubbed; especially from BTS' fandom, ARMY, as well as Rap/ Hip-Hop fans. Some of that stems from how out of the 70 or so Grammys given out during the "pre-show", most of the categories were Black/ POC genres. So, many feels like they were purposely left out of the main event that is more widely televised.
I can see their argument in that, and this wouldn't be the first time that has happened. What I don't agree with, though, is that a lot of the fans are dragging down other artists who did win because they feel they didn't deserve it.
When it comes to BTS, they were nominated for the first time, first group of their kind to do so, and also performed. It may not seem like much, but it does mean a lot; and the boys said so themselves. That loss won't stop them and I'm pretty sure they know how this industry works and knew what they would be facing, whether they won or not. Give them more credit than that.
Also, not winning a Grammy does not take away from everything that these artists have accomplished. Some deserving artists did walk away with an award, so the system isn't entirely broken. More songwriters, producers, and engineers deserve their own categories and recognition too, though. They tend to get the credit after the fact, which is wrong.
Good Moments!
One of the biggest, most talked about moments, is how Megan Thee Stallion owned the night. She is a first-time nominee and walked away with 3 trophies. She also performed a couple of songs, including "WAP" with Cardi B, setting the stage on fire without a doubt. I am so proud of her, and there is still so much that she can do.
Here is a list of all of the winners > https://www.billboard.com/articles/news/awards/9540098/2021-grammy-awards-winners-list
Beyonce walked away with 28 wins, breaking a Grammy record for artists PERIOD, and her baby girl Blue Ivy became the 2nd youngest to win a Grammy. Jay-Z and Nas won as well, which is huge. I was also happy to see H.E.R, PJ Morton, and Jon Batiste walk away with Grammys as well. I enjoyed BTS and Silk Sonic's (Bruno Mars and Anderson Paak) performance as well.
Final Thoughts!
I saw a tweet earlier that said: "According to CBS the Grammys did 8.8m US viewers last night across TV, CBS app, and Paramount+… It's the lowest Grammys audience on record" (via @cantorpedia on Twitter). Are we really surprised, though? Most awards shows, especially music shows have lost viewership. It's just not the same as it once was, YEARS AGO, and it's the same re-hashed show over and over. Things need to change and fast if they want to gain their audience back.
Follow Muzik Junqie on Social Media For More!
Facebook: www.facebook.com/muzikjunqie
Twitter @muzikjunqie
Instagram @muzikjunqie
Pinterest @muzikjunqie
Red Bubble Shop: Official Muzik Junqie Merchandise