Can you guys believe that 2016 is pretty much over?! It feels like it went by so fast but I am honestly glad that it is over. The last half of the year has been rough for me and I just want to put it all behind me and work on my future. There are so many things that I plan on accomplishing in the new year, one of those being putting out more and better content for you guys. I learned a lot this year and I will use those skills to improve this blog.
But let's get into what this blog is really about, what the hell happened this year?!
Music
Being that this is a music blog, I will start on that topic and tell you guys about some of my favorite moments from the music world. Below are many of my favorite albums that were released this year (not all but most of them)…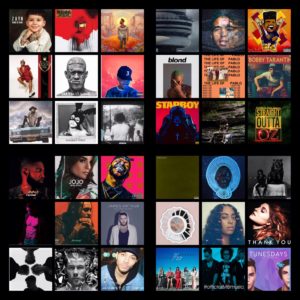 Let me first start by saying that having Apple Music has been a dream for me. I am granted unlimited access to pretty much everything that is released. It really gave me a chance to listen to artists that I may not have given the chance because I would have had to buy the album without knowing whether it was good or not. But the year kind of started for me when Rihanna released her album ANTI in January. This is honestly my favorite album of hers next to Unapologetic. In typical Rihanna fashion, she gave us raw, emotional, and bad-ass female empowering songs.
Some other female artists' albums that I checked out this year were: Meghan Trainor's Thank You, Ariana Grande's Dangerous Woman, Fifth Harmony's 7/27, Britney Spears' Glory, M.I.A.'s AIM, and JoJo's Mad Love. I really liked Ariana, M.I.A., and JoJo the most. Their albums had many different musical elements to it and kept it interesting and relatable. They also all have very strong and unique voices.
February gave us Kanye West and his album Life of Pablo. I was very hesitant at first but I listened to it and was pleasantly surprised. For those of you who read my music review, I am a huge fan of his earlier albums but I kind of stopped listening to him once he came out with Yeezus. With Life of Pablo, it sounded like he was getting back to his "old self". But now, after all of this Kardashian drama, tour drama, and him supposedly dealing with his mental health; I don't know how to feel about him. I honestly feel like he is worried about the wrong things. I will will leave this here because he has gotten enough attention from the media this year.
The Year of Zayn
Now onto someone who I loved talking about this year, ZAYN. He released his debut album Mind of Mine in March, exactly a year from the day that he officially left One Direction. That definitely rubbed some "Directioners" the wrong way, along with his new solo career. 2016 (or Z016 as us Zsquad like to call it) was very interesting for our Zayn. It was full of drama from the One Direction fans/ Zayn fans, his budding relationship with Gigi Hadid, a bitter ex-fiance, and his limited TV and live show appearances. He was also dealing with anxiety and depression around his new solo career and performing for millions alone that caused him to cancel a few shows. Then he released his autobiography in November and made his presence known in the fashion world.
Zayn released some amazing music videos and music projects throughout the year including songs for a Netflix TV show soundtrack and 2 movie soundtracks. He charted several times and made music history with many of them. I am honestly proud of him for getting through all of that and I hope that 2017 brings him peace and confidence in himself and his abilities. He deserves to be happy and to be able to share his music with the fans who have been there and supported him through everything.
Old Favorites
A few of my "old" favorites released albums this year as well: Usher with Hard II Love, Sammie with Indigo and I'm Him, and Bruno Mars with 24K Magic. All 3 of those men are special to me because I have been following them since the beginning of their careers. They never let me down when it comes to music. Usher always outdoes himself, keeping up with current music trends, while still keeping that smooth, sexy R&B vibe that he's always given us.
Bruno does the same thing but staying true to his Funk, old school Soul inspirations. I still keep 24K Magic on replay most days. Plus, he is going on tour in 2017, coming to my area in October so I definitely plan on catching that show. Lastly, I am so happy and proud to talk to your guys about Sammie because I was a teenager when he first came out and even though he's been through a lot to get to this point, he still stayed true to himself, his music, and his fans. I love him for that and he released 2 amazing R&B albums this year.
New Favorites
This year I discovered a couple of somewhat new artists for myself, Jon Bellion and Kalin White. They are 2 completely different artists but they are people who I am very excited about and can't wait to see what else they come out with in the future. First, Jon Bellion released his album The Human Condition in June. I had never heard of him until I saw him on Apple Music as a new release. I was curious so I checked him out and I was in love instantly. His music is so different and his voice is amazing. He does EVERYTHING himself from the lyrics to the production, he does it all.
Now when it comes to Kalin White, I had actually seen and heard of him before when he was still a part of a duo with Myles Parrish (Kalin & Myles). But, I was on Apple Music late one night looking for some new music to listen to and I came across Kalin's recent single "Twisted". I listened to it and loved it. Then I looked him up on social media, followed him, and tweeted about how excited I was about the song. He ended up responding to me, thanking me. I definitely had a Fan Girl moment LOL but he's a cutie and super sweet.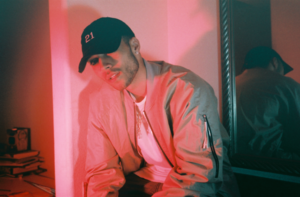 YouTube / Social Media
Where do I even start when it comes to Social Media and YouTube? I have learned so much about both and discovered so many new things and people that I have come to love so much. Because of Social Media, I have found many independent artists that you may not know of as well as bloggers, vloggers who I was able to connect with and make friends with. I was also able to interact with a few of my favorite athletes and musicians. I love meeting new people and learning about them.
I have watched so many YouTube videos this year LOL. I discovered the "new trend" of boys in makeup, which is a lot of guys getting into the makeup industry, becoming well-known makeup artists, being promoted by popular makeup companies. It all started with them doing makeup tutorials on YouTube. A few of my favorites are Malibu Dollface (hair and makeup), Manny MUA and Patrick Starr. They are just so real and amazing. I love their tutorials for one thing, but I love their personalities and confidence. (Lft to Rt: Manny, Malibu):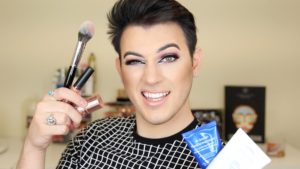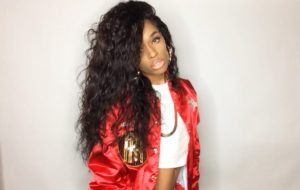 Now onto the Entertainment side of it. One of my favorites are the Dolan Twins. I just discovered them recently, in October/ November and I just adore them so much. They are these 17 year old twins who make hilarious videos. I wish I was like them when I was that age but they still inspire me now as an adult. I look forward to what 2017 has in store for them because they said themselves that it's going to be a big year for them and their channel.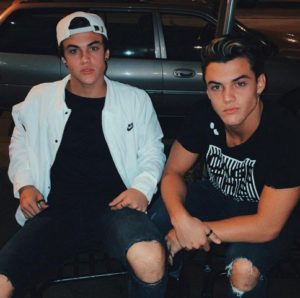 My Favorite Moments
One of my favorite moments from 2016 is when I got to see Todrick Hall's show Straight Outta Oz in New Orleans back in July. It was such a fun and amazing experience. I also had the chance to meet him and I don't think I have ever met someone so humble and sweet. He wanted to make sure that I enjoyed the show and took his time. Plus he gives the best hugs 🙂 I had loved the YouTube mini-movie and soundtrack that he released before the tour so of course I was excited to see it live. Todrick is so talented and I have been so proud to watch him be so successful this past year.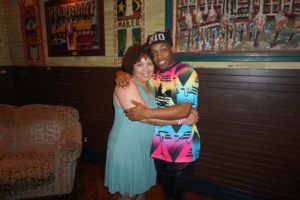 Another one of my favorite moments is when I brought my best friend Rachel to see and meet a group called the Da Outsidaz in New Orleans back in July. It started with them following me on Twitter and us eventually interacting because I told them that I loved their music and was going to spread the word.They were so thankful and appreciative of my support. When they had a show in NOLA, they invited me, putting me on the list and everything. There were many other local artists there as well and they were all amazing. Da Outsidaz were even better live and were so cool and sweet when we met them after the show.
Unfortunately, the boys are no longer together as a group. But they are still doing music , just individually. One of them in particular, Swagg, came out with an EP recently, and it's really good. I wish them all success in whatever they decide to do with their talents. I'm glad I was able to meet them and know them, and I will still watch them and support them along the way.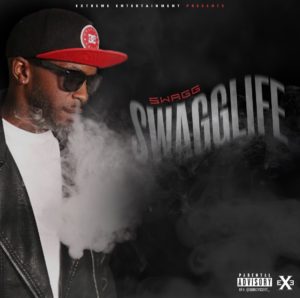 Check it out on Audio Mack at m.audiomack.com/album/extreme/swagglife
Looking Forward to 2017
2016 has been a crazy year for everything, especially music and entertainment. And even though life was a bit difficult and overwhelming for me at times this year, I refuse to take that negativity with me into the new year. There are so many things that I want to do and will do everything in my power to make those things happen. I will stay positive and achieve the goals I have been setting for myself.
As far as music goes, I want to go to as many music events as I can this year. So far, I am planning on going to see Bruno Mars in October. But I hope that I get a chance to see many of my other favorites as well, including Luke Christopher, Zayn, Kalin White, and maybe even the Dolan Twins. I also want to go to more music and culture festivals. I want to experience as much as I can so I can come back and talk to you guys about it. If you like to go to concerts as well, please feel free to share those experiences and maybe I can combine those stories and put them up on the blog throughout the year. Let me know what you guys think 🙂
Thank you so much for reading. I know it hasn't been perfect but like I have been saying, I am still learning. I will continue to work on my writing and content, and make it as perfect as I can for you guys to enjoy. Your love and support means a lot to me 🙂 Enjoy the rest of your Holiday and I will see you guys in the New Year!
You guys can follow me on Twitter @CreoleChic24 and Instagram @creolemasterpiece 🙂