So… I had actually recorded this video about a week after the concert but have been going back and forth about whether I should post it or re-record it. Even though I have been posting a good amount of videos, I am still not 100% confident in how I come across on video. And when you add Fan-girling to the mix, I feel like I just sound crazy and all over the place. But, I liked some of the things that I said in this one so I kept it.
Now, the reason that I decided to do a part 2 about my Monsta X 'We Are Here' experience. is because there were so many other, super cute, things that happened, before, during, and after the songs. I do mention these in the video…
You can check out my Part 1 here
'We Are Here' Precious Moments
One of the coolest things about this concert being completely about Monsta X was the videos/ skits that we got to enjoy in between sets/ stages. One skit they did was where each member had their own segment: Shownu – ASMR, Kihyun – Making coffee, Wonho – Working out, Joohoney – Cooking, Minhyuk – Makeup, and Hyungwon – Fashion. Another skit was "7 Deadly Sins" where each member would confess which sin that they were portraying. It was so dark and sexy, and super relatable; it was almost scary.
One of my favorite moments was when Hyungwon and Joohoney switched parts on "Mohae" so Hyungwon did the rap part and Honey looked so proud. Another moment is after the individual stages, and the boys were waiting on Shownu and Wonho. They do the water bottle flip challenge, most of them missing and apologizing but after they missed, they did the dance moves from Joohoney and IM's stage. And when Wonho came out, he nailed the bottle flip LOL.
And nothing will beat what they all said at the end of the concert. They all had beautiful things to say about Houston Monbebes. Hyungwon spoke a lot in English, without the translator, and said how much he loved the city and it felt like home (Kihyun too). Minhyuk kept saying how he felt like Monbebes always give 100% but he feels like he only gives 50%. Jooheon gave a beautiful speech about being happy and doing whatever ti takes to make yourself happy, and staying positive.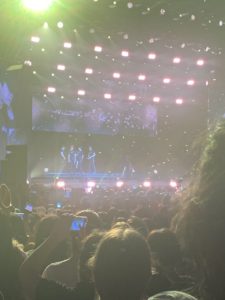 Final Thoughts!
I'm sure that I can speak for most Monbebes out there when I say that we are all so proud and thankful for these beautiful young men. They are all so talented and put in so much work to put on a great show. But with all of that comes a lot of sacrifice on their part, including their health. At our show in Houston, you could tell that Wonho wasn't his usual bubbly self and he admitted at the end that he wasn't feeling well. Then he collapsed from pain at their Atlanta show but finished the show anyway.
*Also, Hyungwon was ill towards the beginning of the tour while still overseas and Kihyun got injured recently, before their last show in LA*
So much goes into what they do for us and they still don't feel like they're good enough. The genuine fans out there want them to rest, be healthy, and happy. We'll wait for them without questions, if it means that they're okay. The relationship between Monsta X and Monebebes is a special thing and I am proud to be a part of it all. Monsta X… Fighting!
Follow Me!
Twitter @CreoleChic24
Instagram @Muzikjunqie