I am doing my best to keep up with as many of Awards' shows as possible, at least for this year. They still aren't my favorite thing to watch, for reasons I have mentioned too many times before, but it is nice to see some of my Favs perform. The American Music Awards are no different and they do have Taraji P Henson hosting this year. So, if you want to know about the show, the moments that stuck out to me, and my thoughts on everything else, keep reading 😊
Taraji P. Henson Hosts…
Last night was the American Music Awards Live from the Microsoft Theater in Los Angeles, CA. It was hosted by one of my favorite actresses, and people in general, Taraji P Henson, who is fresh off of her appearance Meg the Stallion's video for the new single "Body". Even though it was Taraji, that opening is exactly why I don't like awards' shows. They did dance to Prince, though, so I guess I wasn't all bad.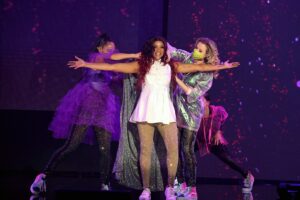 Also, there was a decent sized crowd up in the balcony area. Apparently, small groups of people, in the same family, were invited. Of course, they had on masks and were separated per social distance rules… Okay, I guess… But there was this one girl that I heard throughout the whole night, but I can't be mad because once we get to go to things again, that's going to be me.
Attention-Catching Performances!
The performances are my favorite when it comes to these shows, so here are some of the ones that I enjoyed. Justin Bieber and Shawn Mendes opened the show, performing separately then coming together for their song "Monster".  I surprisingly enjoyed it, and to be honest, I had always kind of been a fan of Justin, so it was cool to really watch him perform now that he's grown up a lot. Billie EIllish's stage as she performed her song "Therefore I Am" was pretty dope.
Meg thee Stallion performed her new single "Body" and killed it (her dancers too)! I would expect nothing less from our resident Hot Girl and a woman crush for most of us. We even got a very sexy performance from Latin powerhouses J.Lo and Maluma. And two artists I have never heard of, 25K Golden and Iann Dior, gave us a super cute performance of their song "Mood".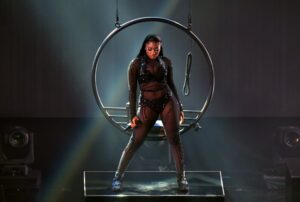 BTS was saved for last, as usual. They performed "Dynamite" and their new single "Life Goes On", from their recent release BE, from South Korea. The guys won awards for Favorite Social Artist as well as Favorite Pop/Rock Duo or Group, their time winning that one. I will always get so emotional and feel all fuzzy inside when I see them perform like this. Why am I like this?!
Some of My Favorite Moments…
One of my favorite moments of the night was that we got a couple of throwback performances from Nelly and Bell Biv Devoe (originally of New Edition). Nelly performed "Country Grammar". It's been 20 years since its release. Bell Biv Devoe performed "Do Me" and "Poison". No matter what, whenever these songs come on, I will still recite the lyrics word for word with the same energy as when I first heard them LOL.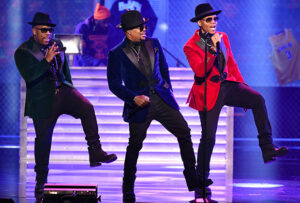 Another moment is when they shined some light on Latin music and the amazing artists that make it. Starting with this awards show, the Latin genre categories have been expanded. Becky G won the first one of the night for Best Latin Female. The next one, Best Latin Album, was given to Bad Bunny, as well as Best Latin Male Artist.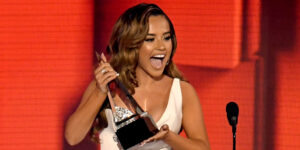 A big winner of the night was The Weeknd, who walked away with most of the Soul/ R&B awards. The whole beat up, bandaged look, that he had in his video, still baffles me, but oh well. An Instagram post (@rnbradar) that I saw brought up the question whether or not the Weeknd is a "real" R&B/ Soul artist or just a Black Pop artist. Not to take away anything from him, because he can be categorized as Pop/ R&B but compared to the others in his category, he probably shouldn't have won those.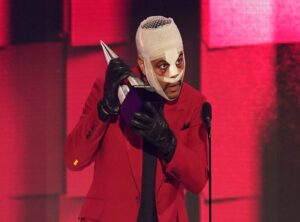 Can we please talk about Taraji saying that "They all can get it, when they're old enough… How old are ya'll? Wait, can ya'll cut that?" when introducing BTS? Because YES GIRL! I honestly love her for that, and those of you who hate on that can all go somewhere. It's all honestly for fun, but there really is something special about BTS, and a lot of these other K-Pop groups.
More Winners…
(19 winners were announced off air)
Favorite Rap/ Hip Hop Song – Cardi B & Meg thee Stallion "WAP"
Artist of the Year  – Taylor Swift
New Artist of the Year – Doja Cat
Collaboration of the Year – Dan + Shay feat. Justin Bieber "10,000 Hours)
Favorite Music Video – Taylor Swift "Cardigan"
Favorite Male Artist Pop/ Rock – Justin Bieber
Favorite Female Artist Pop/ Rock – Taylor Swift
Favorite Album Pop/Rock – Harry Styles "Fine Line"
Favorite Song Pop/Rock – Dua Lipa "Don't Start Now"
Favorite Male Artist Rap/ Hip-Hop – Juice WRLD
Favorite Female Artist Rap/ Hip-Hop – Nicki Minaj
Favorite Album Rap/ Hip-Hop – Roddy Rich "Please Excuse Me for Being Antisocial"
Favorite Song Rap/ Hip-Hop – Cardi B feat. Meg Thee Stallion "WAP"
Favorite Female Artist Soul/ R&B – Doja Cat