I have been working on a New Muzik post, mainly with Jay B's new solo debut album in mind. Then I realized that a lot of the other new releases I have been enjoying had something in common. They all belong to the same "family" of record labels, H1GHR Music and AOMG owned by Jay Park. So, this will be more K-Hip Hop and R&B than K-Pop. Enjoy!
To get to know Jay B and his journey so far, check out my last post on him here.
Jay B Debut Solo Album SOMO:FUME!
By now, most of you should know that I have been waiting for this. Jay B is in my top 2 Bias', which may not mean much to you, but to me it's A LOT 🙂 We have so much in common when it comes to taste in music, so I've always felt "connected" to him, in that way. That alone makes me excited for everything he releases, whether it was his own song or something he had written for GOT7 or another artist.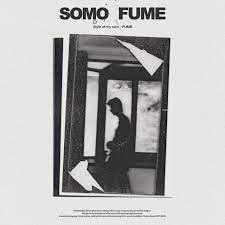 Let me start by saying that I always need more when it comes to Jay B and hearing his voice. Other than being a big fan of K R&B, this 6 song EP makes me so happy. Many of us know that this is the music he's always wanted to make, giving him a little more freedom to be creative and explore where he wanted to go creatively. And you know Mr. CEO, Jay Park, had to be featured on the lead single "B.T.W", but it's a bop, so no surprise there.  
And other than "Switch It Up" (featuring Sokodomo), I also am drawn to "FAME" featuring JUNNY, with its funkier, upbeat vibe. But then there's "In To You" (featuring g1nger), which is the type of song I was waiting on, because of its sexy, slow tempo R&B music he enjoys listening to as well. "Count On Me" has more of that Spanish guitar sound. This whole EP is  great and I am just so proud of him!
Follow Him!
Twitter @jaybnow_hr
Instagram @jaybnow.hr  
YouTube: https://www.youtube.com/jaebeomlim0106
Here is some more music from Jay Park and some of the other dope artists on H1GHR Music and AOMG 🙂
Jay Park Drops Updated "DNA Remix"!
This video is so much better than the first, and I feel that it represents their Korean pride much better. As a fan of K-Hip Hop/ R&B, I love seeing all of these different artists showing off their individual styles throughout the video. The overall aesthetic of the video keeps you engaged, well me, anyway. Hopefully Jay will continue to move like this, and understand why feedback like that is necessary.
Follow Him!
Twitter @jaybumaom
Instagram @jparkitrighthere
YouTube: https://www.youtube.com/jaybumaom0425 
Newest Addition to H1GHR MUSIC, JMIN!
Since I have become a pretty big K-R&B/ Hip Hop fan the last couple of years, it's been exciting to see who gets added to Jay Park's H1GHR MUSIC/ AOMG rosters. From start to finish, this new album, Homecoming, from JMIN has surprised me (in the best way). I wasn't quite sure what to expect but I'm feeling it. You can definitely hear the influence of the current trends with American Hip Hop artists in his music.
Follow Him!
Twitter & Instagram @jmindontleave
Youtube: https://www.youtube.com/channel/UCsWb… 
GRAY Releases First New Album in 10 Years grayground!
I recently watched Gray read "thirst tweets" for Buzzfeed on Youtube, and that was definitely interesting lol. I've been getting more into Gray, especially outside of the music. But when it comes to the music, this album especially, I love his voice and overall vibe. He has that Chill/ R&B/ Lo-Fi vibe going on, so you should be able to find something to fall in love with 🙂
Follow Him!
Twitter @callmeGRAY
Instagram @callmegray
New Music from pH-1 "ALL IN", Featuring Jay Park
The way the music starts gives me chills, and I love it. I finally checked out the song by watching the video first, and all of it fits together so well. Jay Park and ph-1 make a great duo, and both of their styles fit together perfectly. You guys really need to check it all out for yourselves, but it's one of those songs that's an "experience" when you listen to it.
Follow Him!
Twitter & Instagram @ph1boyyy