Hello my beautiful people! Today I want to do music review for you guys, something I feel like I haven't done in a while. The artist I want to introduce you to today, if you haven't already heard of her, is the amazingly talented 17 (will be 18 at the end of this month) year old singer/ songwriter Daya and her new album Sit Still, Look Pretty.
This is Daya's studio debut album and was released last Friday, October 7th. I first heard her when I was listening to Pandora and heard her song "Hide Away" then of course once I heard her latest single "Sit Still, Look Pretty" I fell in love with her sound. She has such a special and unique voice, especially for someone so young. She has the perfect Pop sound but she also has an edge to her to where her music isn't just "Bubblegum" Pop.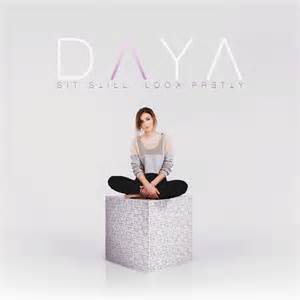 My Review
Sit Still, Look Pretty is full of attitude, love songs, positive/ empowering songs, and everything in between. I don't really have a favorite song off of the album yet but it's mainly because the entire album is amazing from top to bottom. The songs flow into each other so seamlessly. It's perfect to ride around to or when you're getting ready to go out and want to dance and sing along in front of the mirror (we all do it LOL).
Daya's album is a must listen, especially if you are a fan of Pop music and/or you are looking for something that's Pop but still a little edgy and doesn't sound like anyone else right now. You should also check out her song with The Chainsmokers (Love them!) called "Don't Let Me Down".
Watch her music video for "Sit Still, Look Pretty" here…
Check Her Out!
Official: www.theofficialdaya.com
Facebook: www.facebook.com/theofficialdaya
Twitter & Instagram @daya