*Picture courtesy of www.fashionista.com*
So, another Wednesday, another inspirational woman I want to share with you guys. After talking about Marvel's recent blockbuster Black Panther and my last WCW Inspiration Ava DuVernay, it's only right that I talk about Ms. Ruth E. Carter. She is another strong African American female working behind the scenes in the film industry. She also designed the costumes for Black Panther.
More About Ruth E. Carter
Ruth E. Carter is a costume designer for film and television, over 40 films to her name. She grew up in Massachusetts but moved to California to pursue her career further. She is known for flawlessly capturing the look of multiple periods and genres when it comes to the clothing and overall appearance of the characters/ performers she is dressing. Since beginning work as a costume designer, she has earned two nominations for an Academy Award for Best Costume Design for her work on Malcolm X (directed by Spike Lee in 1992) and Amistad (directed by Steven Spielberg in 1997).
She continued to work on many more projects with Spike Lee; including School Daze (1988), Do the Right Thing (1989), Mo' Better Blues (1990), Jungle Fever (1991), and Malcolm X (1992). The fact that I have watched all of those movies previously mentioned, multiple times, is so crazy to  me. I guess it's like when you realize that you have admired and appreciated someone for a long time without even knowing them. But those movies had a big impact on African American culture, especially when it came to the film industry.
Changing the Game with Black Panther
Ms. Carter's most recent work was on the, now Blockbuster, Marvel film Black Panther (2018) that was directed by young African American film-maker Ryan Coogler. For inspiration, she traveled to southern Africa to "draw aesthetic inspirations and to receive permission to incorporate traditional Lesotho designs into the film's costumes. In one of the articles I listed below, Ruth discusses how she had to develop somewhat unconventional African costumes that were fit for a superhero movie, still showing respect for the culture, as well as adding some modern elements to it. Her description of the ideas for the characters are simply brilliant.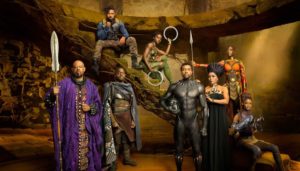 As someone who has always loved fashion, and I had dreams of being a fashion designer when I was younger; this topic excites me. A part of me still wouldn't mind being a part of that industry, the process, or at least getting to see someone like Ruth in action. The fact that she basically had to create a culture for this movie, for one of the biggest film franchises, is remarkable. This film, Ryan Coogler (director), Ruth, and all of the cast will go down in history because of the impact that this is movie is having on our culture; and it's such a beautiful thing.
Some of my favorite articles about Ruth and her designs for Black Panther:
She talks about 8 specific looks from the film and how they came to be < http://www.vulture.com/2018/02/black-panther-costume-designer-ruth-e-carter-on-8-looks.html >
An interview about how she got the Black Panther gig and what her inspiration was fro alot of the looks < https://www.forbes.com/sites/danidiplacido/2018/01/31/costume-designer-ruth-e-carter-talks-the-inspiration-behind-black-panther/#76848794d254 > 
And my favorite which focuses on the female warrior costumes in the Black Panther & importance of showing another side to the African American female on screen < https://www.washingtonpost.com/lifestyle/style/feminine-masculine-beautiful-and-strong-the-vision-behind-black-panthers-stunning-look/2018/02/22/08dbe4a8-0126-11e8-9d31-d72cf78dbeee_story.html?utm_term=.a8022dde0669 >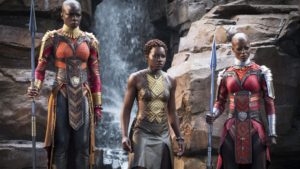 Check Out Miss Ruth E. Carter!
Official: www.ruthecarter.com
Facebook: www.facebook.com/
Twitter & Instagram @iamruthecarter