This was originally going to be a small part of a bigger compilation post about all the new music that has been released this past week. After watching some of the reactions to Jay B's debut, on social media I had to make this a longer post. I am here to show as much love and support for Jay that I can. For those of you who may not pay attention to my K-Pop ramblings, I LOVE me some Jay Park and Jay B 🙂
From JB to Jay B…
I became a fan of JB as the leader of K-Pop group GOT7. He stuck out to me, with his amazing vocals, dance skills, and powerful presence on and off stage. His overall vibe, from his personality to his clothes, to his taste in music, makes me a fan. He's also released music on Soundcloud under his Producer name DEF or DEF SOUL, and everything is more R&B.
I guess my "concern" is that some of his younger fans are going to give him problems as he breaks away from that Pop Idol image. He's always been blunt and open. They recently went after him for some more "provocative" pictures of women in his studio, which turned out to be professional fashion photography. These younger fans saw it as a problem, and messaged H1GHR MUSIC with their concerns.
Here was the response…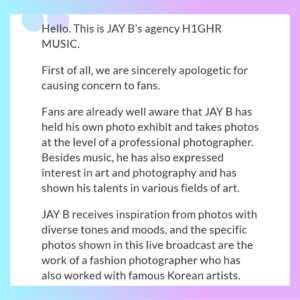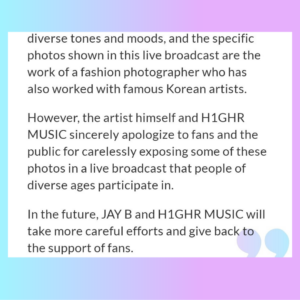 Joining Jay Park and H1GHR Music
Jay Park signed Jay B to his label H1GHR MUSIC (international label) as a solo artist. Jay B will be joining his fellow GOT7 member, Yugyeom, who is signed to Jay's South Korean based label AOMG. I was so excited to see that announcement earlier this week! Seeing the three of them together is beautiful to see, and I am also hoping for another Jay B and Yugyeom's collaboration.
I feel that Jay B joining Jay Park is the perfect fit. Not just because Jay B has always been more Hip-Hop and R&B influenced but because he and Jay Park have a b-boy background as well. And being that Jay Park was once the leader of a K-Pop boy group under JYP as well, he can teach him a lot.
My Thoughts on "Switch It Up"!
For his solo debut under H1GHR MUSIC, Jay B has released his first single, called "Switch It Up" and the live performance video to go with it. Let's talk about this song first, though. This is the kind of sexy that I was expecting from Jay B, and this type of sound is a little different for him, but it still fits him. It's a more sensual song and the lyrics may shock some, but Jay B is grown and should be able to sing about intimacy, openly.
I could do without Sokodomo's rap verse, it just wasn't needed. The video is dark and set in a forest setting with an artsy backdrop, as Jay B does his live performance. At the end of the video, we get some smooth choreography with some backup dancers. I am so proud, and happy to see him being promoted properly by Jay and H1GHR MUSIC.
Follow Them!
H1GHR MUSIC
Official: www.h1ghrmusicofficial.com
Twitter & Instagram @h1ghrmusic
Youtube: www.youtube.com/channel/UC6TJkBRLMFJ-9c7pXehoZwg
Jay B
Twitter @JAYBDEF__
Instagram @jaybnow.hr