I won't even lie that I have been pretty much staying away from a lot of the promo for new one, PROOF. It was, and still is, too much whining and complaining for me, so I just didn't want to deal with it. But I am still a fan of BTS and love the guys so much, whether I want to be identified as a member of the fandom or not. And I did pre-order a version of the physical copy, so I am currently waiting for that to come in.  
3 New Songs… My Review!
Now, even though many fans expressed disappointment with PROOF, not getting an album full of new music, the guys did include 3 brand new songs. I, personally, am happy that we are done with the "Dynamite", "Butter", and "Permission to Dance" era. I loved "Butter", as it was a better representation of them and their style, but the others were almost over-played, and over marketed (remix versions and tons of merchandise with simple designs). There's nothing wrong with that, but it wasn't a "proper" comeback for them, their last one being with BE towards the beginning of the Pandemic. 
1st up is "Yet to Come"– I didn't know what to expect but I really love it.  It has this slow, almost old-school Hip Hop/ R&B vibe to it. Everyone sounds amazing on this one, and I love the lyrics. And the music video made me smile so much, especially since they included some elements from some of their older music videos. It does feel like one of "See you later" type songs, so it makes sense.
2nd we have "Run BTS" – This is one of those songs that was made for the rap line. The vocal line did their thing, especially Jungkook and V, who's voices, and range on this one, just fits. The way they say "run" on the chorus is one of my favorite parts lol. But overall, I really love the rock-ish/ hip hop vibes.
Last is "For Youth" – An emotional song to say the least. It starts off with the fans singing along to "We Are Young". The song and lyrics are so beautiful and heartfelt. I'd expect nothing less from these guys, especially when it comes to their fans/ supporters.
My Overall Thoughts on Proof…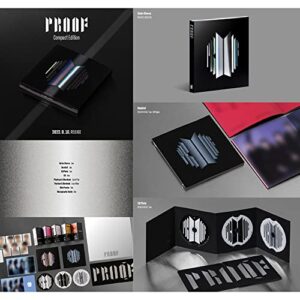 Proof comes with 3 discs: 2 of those discs have some of their most popular tracks from all of their albums over the years. One my favorite non-released tracks that made this anthology is "Born Singer", using a sample from one of my favorite J.Cole songs (and albums), "Born Sinner". The other disc that is only on the CD, has the original demo version of a lot of their songs. I am looking forward to finally hearing those the most.
And unlike a lot of their fans, I love the idea of this Anthology album. It was a way for the guys to finally leave this chapter of their lives and careers. This will allow them to push forward in a way that they've always wanted to. I couldn't be happier for them.
Not Quite a Hiatus…
After watching their Festa event on Youtube earlier, to kind of celebrate Proof, I'm glad that I waited to do this post. Other than celebrating their experiences and music over the last 9 years, they announced that they would be taking time away from group activities. They will be taking a step back as BTS, and using that time to re-focus, and work on solo projects. I definitely have mixed feelings on this one; happy that they get this break and sad because I don't know if or when I'll ever get to see them.
 I didn't think that I would tear up like I did while watching it. One of the reasons for my emotions is because of their reasons for taking this time for themselves and why they waited so long. Another reason is because I am happy to see them taking charge of their careers and pursuing things how they want to. Also, it made me think about how they aren't the only group who is probably processing similar emotions.
My next post will go more into detail on that last sentence. 3 of my favorite groups, BTS included, have been through a lot, so I still have a lot of thoughts on that.
Stay Up to Date on the Guys!
https://www.youtube.com/user/BANGTANTV
http://instagram.com/BTS.bighitofficial
https://www.tiktok.com/@bts_official_…