The MTV Video Music Awards was live on Sunday, August 28th 2016. It was held at Madison Square Garden, a new venue for the VMA's. It was very interesting to say the least so I am going to give you a nice little recap in case you missed the whole show or just parts of it 🙂
Rihanna opened up the show with a medley of 3 of her hits. Her theme, background reminded me of the 90's… All one color (pink) and a lot of inflatable/ balloon-like props, similar to a lot of fun furniture in the 90's. And this performance would be her 1st of 4 for the night.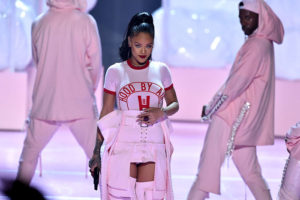 Many of the night's commentators were introduced to us including DJ Khaled, Jay Pharoah (and his many celebrity impersonations), and Key and Peele to  name a few…
Puff Daddy came out (wearing a Kimono by the way) and he presented the award for Best Hip Hop Video. Drake won but hadn't made it to venue yet… He was supposedly stuck in Traffic (Yea, okay).
DJ Khaled and Hailey Staffield updated us about the Best New Artist Fan Voting which was down to 2 artists: Bryson Tiller (Who i voted for) and DNCE.
Then Chance the Rapper came out to introduce Ariana Grande and Nicki Minaj. They performed their song "Side to Side" from Ariana's new album Dangerous Woman. It was a gym theme with gym equipment props and lots of men (no complaints here 😉 ).
Alicia Keys came out to present the award for Best Male Video to Calvin Harris for his song "What You Came For" featuring Rihanna; He accepted his award via video. And being that it was the 53rd anniversary of Martin Luther King Jr.'s "I Have A Dream Speech", she recited her own powerful poem. Now, even though Alicia gave that powerful speech, the only thing people seemed to take away from it is that she was not wearing makeup and attacked her for it. Honestly, without makeup, she puts a lot of celebrity women to shame. But it's her choice to not wear makeup or be "glammed-up". She is not doing it to shame those women who do wear makeup seeing as it is their choice as well.
Now, in pure MTV fashion, decorated Olympian Michael Phelps came out to introduce Future. His connection to Future though, is that Michael listens to him before he competes. He talked of his love for hip hop and r&b. As for Future's performance, I was not impressed. And if it wasn't for the dancers, it really would've been bad. I am not a big Future fan but I give him and his music a chance. But, honestly, all of his music sounds the same and you can hardly understand what he's saying. I'm just not a fan.
After a commercial break and intermission of sorts, Kanye West entered the building. He was there to premiere his new video for "Fade" from his new album Life of Pablo. He started by saying "… I came to present my music video but first I'm gone talk…" and that he did. He talked about his music, fame, the state of affairs in our country, his wife, etc… It was great honestly. I'm glad MTV let him do that. Now, as for the video (which you can watch below)… At first it's like WTF! But Teyana Taylor who WAS the video is just amazing. She is unbelievably sexy and talented. Everyone has been raving about her body especially since having a baby. But people fail to realize that she's been BAD, she's been a BOSS. But real talent always seems to get buried under all of this other fakeness that we call talent nowadays so people are thinking she's new. Look her up… She's been doing it!
*Watch at your own risk LOL*
Then it was time for Rihanna's 2nd performance and she was introduced by the legendary, still gorgeous Naomi Campbell. Rihanna came out with a Reggae/ Dance Hall party theme on stage. She performed a medley of "Rude Boy", "What's My Name", and "Work". It was such a fun performance.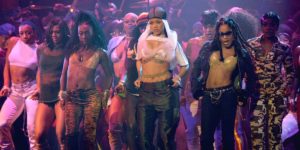 Not long after, Nick Jonas was introduced and he performed his song "Bacon" from his new album Last Year Was Complicated. He started out in a kitchen that soon led diner where there were some random people, dancers, and celebrities. After singing and dancing in the diner, he walked outside where Ty Dolla Sign was outside with cars and girls to do his verse (amazing as always). Nick finished his performance on a stage that was the bed of an 18-wheeler trailer and the top of a firetruck. It was one of the coolest performances of the night. It's hard to not like Nick Jonas 🙂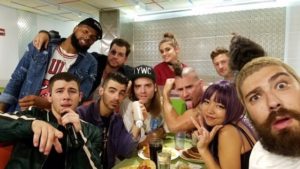 Then it came time for the most anticipated performance of the night introduced by Serena Williams. Beyonce performed several songs off of her new visual album Lemonade. She won several awards that night including Breakthrough Long-Form Video and 3 other professional category awards. Even though I do not consider myself a real Beyonce fan or part of the Bey-Hive, I can respect her talent and creativity. Her performance was fierce and breath-taking. The theatrics were spectacular and the costumes were bad-ass.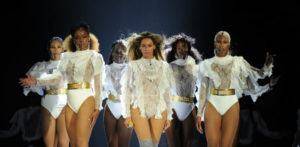 Jaden Smith and Shameik Moore (from new Netflix series The Get Down) came out to present the award for Best Collaboration Video. The winner was Fifth Harmony for their song "Work from Home" featuring Ty Dolla Sign.
Kim Kardashian West introduced Britney Spears. Now, I do love Britney but I wish she would stop with all the lip-synching. I understand if it's not broke then don't fix it, but it's more than obvious now. It makes her look bad. But she did bring out G-Eazy for her song "Make Me" and they did a part of his song "Me, Myself, and I" which was really great. And I think she really sang during that song. Overall, the performance was great and I enjoyed it. I really love G-Eazy too so of course I was happy because of that 🙂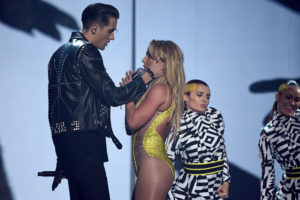 Then the cuties from the U.S. Women's Gymnastic team aka The Final Five came out to present the award for Best Female Video to Beyonce. The look on the girls' faces when Beyonce hugged them was the cutest thing. And you could tell that Beyonce couldn't get over how adorable the girls were.
Tracey Ellis Ross (love her!) introduced Rihanna's 3rd perfomance where she performed a medley of "Pour It Up", "Needed Me", and "B**ch Better Have My Money". The theme was a bit darker and almost walking dead/ zombie vibes but it was cute. The outfits on RiRi and her dancers were hot. She easily killed this performance along with her other 2.
It was then time to announce who was voted Best New Artist. Fifth Harmony were the presenters and DNCE won this one. I was a little disappointed because I feel like Bryson Tiller is so overlooked and underrated. It doesn't seem like he's done much since he dropped TrapSoul he just moves quietly. His talent really does speak for itself though.
The cute and super-talented Troy Sivan and Alessia Cara came out to introduce the Chainsmokers ft. Halsey. They performed their song Closer and it got pretty intimate but it was a great performance. I am really becoming a big Chainsmokers fan, especially after that perfomance 🙂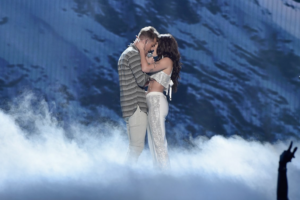 Jimmy Fallon came out on the stage dressed as Ryan Lochte. Now, if you have been living under a rock, Ryan is a decorated Olympic Swimmer but got himself into a lot of trouble in Rio this summer. He lied to authorities about being robbed at gunpoint to cover up for him and a few of his teammates who got drunk and destroyed a gas station bathroom, refusing to pay for the damages. So, Jimmy made a few jokes before presenting the award for Video of the Year Award to Beyonce for her song "Formation".
And last but not least, Rihanna came out for her 4th and last performance of the night. She performed her song "Love On the Brain" (one of my favorites) and killed it! She looked and sounded beautiful. Now, all of this was leading up to her receiving the Michael Jackson Vanguard Award. She even said herself how much of an honor it was to be receiving such a huge award at just 28 years old. And to make this moment even more special, it was given to her by Drake, her rumored boyfriend. After watching them together that night especially everything Drake said, including "… I have been in love with her since I was 22 years old" (cue the AWWWs)… And seeing them together out and about after that night, it definitely looks like they are officially together. But, either way, they are adorable together as friends or more and I am happy for them both. We should just let them do them and enjoy each other without putting a label on it just because WE want them together.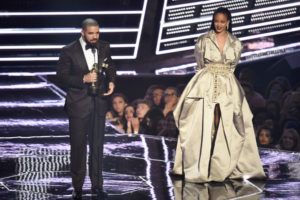 So, that was the show. Crazy, right?! I can't really get into award shows too much anymore unless someone I absolutely love (Zayn lol) is going to be performing or something. This year's VMA's was pretty cool but not something I feel like I will talk about a lot once all of this dies down. It was fun to watch though. And I am very happy for Rihanna 🙂
I hope you guys enjoyed reading his very long recap and my opinions about it all. Let me know what you thought in the comments…